St. Louis entrepreneur, Missouri S&T benefactor Fred S. Kummer dead at 92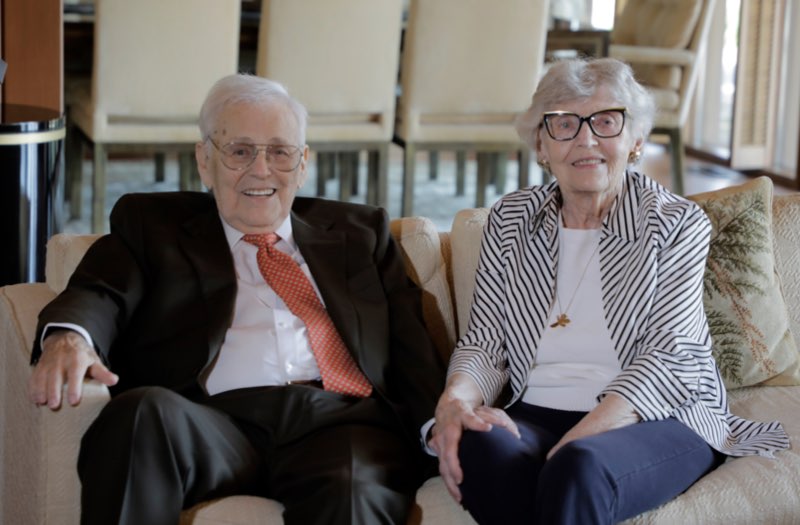 Fred S. Kummer, a Missouri S&T graduate who built his general-contracting business into the world's largest design-build firm for health care and financial facilities, died Friday, April 30, 2021, in St. Louis. He was 92.
Kummer and his wife June donated $300 million to Missouri S&T last fall to establish the Kummer Institute for Student Success, Research and Economic Development. Their donation is the largest single gift ever to any public or private university in Missouri and one of the largest ever to any university.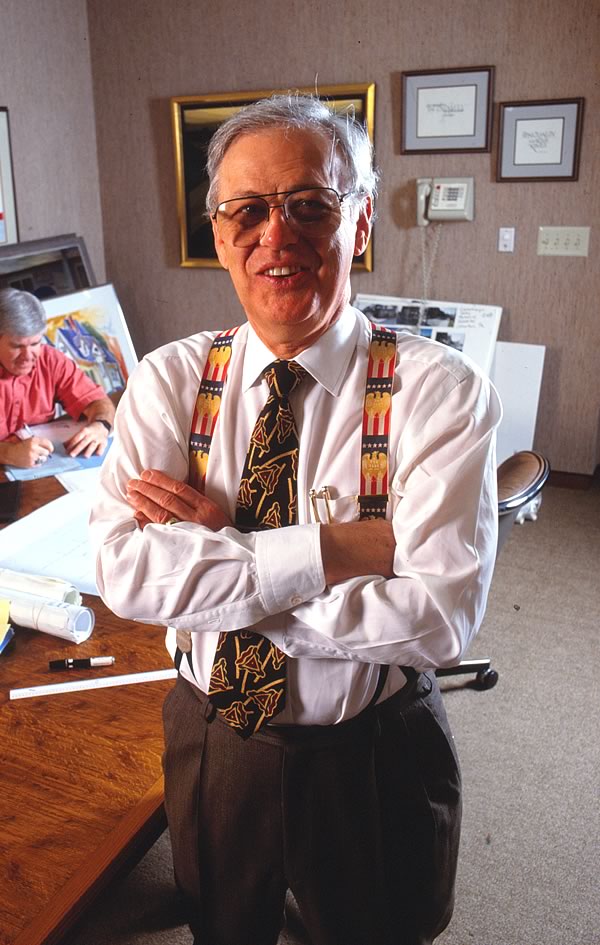 "We have lost a true champion for S&T and for higher education," said Missouri S&T Chancellor Mo Dehghani. "No individual was more supportive of this institution, and no individual more passionate about advancing this university's mission, than Fred Kummer.
"Even before his transformative gift last October, Fred's contributions to S&T over the years have touched the lives of thousands of students," Dehghani said. "His support for our student design teams, academic programs and buildings, scholarships, and alumni initiatives have touched many lives. And now, through the Kummer Institute initiatives, Fred's influence continues. We send our sincere condolences to June and the entire Kummer family."
A graduate of Stuyvesant High School in Manhattan, Kummer was living with his mother in Queens and working as a plumber in 1951. He also was taking courses at City College of New York when he decided to transfer to Missouri S&T, then known as the Missouri School of Mines and Metallurgy, a decision he described as "almost inexplicable."
He earned a bachelor's degree in civil engineering from S&T in 1955, and in 1960 he founded Hospital Building and Equipment Co., which later became known as HBE Corp., from the basement of his Crestwood, Missouri, home.
Kummer soon recognized the industry's need for a single-source planner, designer and builder that could effectively combine cost control, function and budget. This approach helped him grow his St. Louis-based company into the world's largest design-build firm for medical and financial facilities. Included in the company's construction portfolio were more than 1,000 hospitals and health care facilities as well as buildings on the Missouri S&T campus, including the Gale Bullman Building and Curtis Laws Wilson Library.
In 1973, Kummer expanded into the hospitality business, launching Adam's Mark Hotels & Resorts, a chain of upscale hotels that eventually grew to 25 properties in 13 states.
The Kummers have been among Missouri S&T's most generous donors over the years. They provided the lead gift for the Kummer Student Design Center, which houses Missouri S&T's 19 student-run design teams. They also supported the expansion in the 1990s of Butler-Carlton Civil Engineering Hall and, in the early 2000s, of Toomey Hall, which houses S&T's mechanical and aerospace engineering programs. In recognition of June's passion for landscaping and gardening, the Kummers provided a gift to name the Fred and June Kummer Garden at S&T's Hasselmann Alumni House.
Kummer was born April 23, 1929, in New York. His father was an engineer with a New York hotel company, and Kummer developed his business savvy in the hotel basement, where he and a high school classmate ran a printing press to create menus for restaurants in other neighborhood hotels.
While in college at Rolla, he worked for St. Louis-based Ittner Architects, which had a project in Rolla. It was there he met June Balmer, an architect at the firm and a graduate of Washington University in St. Louis. He left S&T in 1952 to join the Army, where he attained the rank of First Sergeant and was stationed at Fort Dix, New Jersey. He married June in 1954 while in the service and returned to Rolla that same year to complete his civil engineering degree.
Kummer was a past member of the Missouri S&T Board of Trustees and the University of Missouri Board of Curators. He and June were founding members of the Order of the Golden Shillelagh, an association composed of S&T's most loyal and generous donors. He also was a member of Missouri S&T's Academy of Civil Engineers. In 2011, Kummer was named to Missouri S&T's Alumni of Influence inaugural class in recognition of his business success and philanthropic contributions.
In October 2020, the Kummers' $300 million gift established the Kummer Institute to support S&T's efforts to encourage more students to pursue degrees in science, technology, engineering and mathematics (STEM), elevate the university's reputation and research profile, and strengthen the economy of the Rolla region and the state.
"I owe much of my success to the education I received at Rolla," Kummer said in announcing the gift. "My Rolla experience taught me how to think, how to work hard and how to manage my own career. June and I believe in the mission of this great university, and that's why we have chosen to invest in S&T's future success. We believe that Missouri S&T's best days are ahead."
The Kummer Institute includes four new research centers focused on infrastructure, advanced manufacturing, artificial intelligence and autonomous systems, and environmental and resource sustainability. Complementing these centers is a research and development focus designed to transfer the discoveries of these four centers and other S&T entities into marketable technology and products.
The institute also establishes a new college within the university – the Kummer College of Innovation, Entrepreneurship and Economic Development – which will combine business-related academic programs with new programs related to innovation and entrepreneurship.
The Kummer gift also establishes a new scholarship program for incoming freshmen, called the Kummer Vanguard Scholarships, and the Kummer Innovation and Entrepreneurship (I&E) Doctoral Fellows Program to attract Ph.D. students with an interest in technological innovation and entrepreneurship. The first class of Vanguard Scholars and I&E Doctoral Fellows will enroll at S&T this fall.
He is survived by June M. Kummer (nee' Baumer); daughter Caroline Croswell and son-in-law Tom Croswell, son Fritz Kummer and daughter-in-law Tess, and daughter Melanie Brewer and son-in-law David, as well as several grandchildren and great-grandchildren.
Funeral services were held May 6, 2021, at Village Lutheran Church, 9237 Clayton Road, Ladue, Missouri. At the family's request, memorial donations may be given to Shriners Hospital for Children-St. Louis, MO, 4400 Clayton Ave., St. Louis, MO 63110, or online at: shrinershospitalsforchildren.org/st-louis. All donations must mention St. Louis for the funds to stay in St. Louis.