Katherine Grote is Missouri S&T's 2021 Woman of the Year
Missouri S&T celebrated Dr. Katherine Grote, associate professor of geosciences and geological and petroleum engineering, as the 2021 Woman of the Year today (Wednesday, April 21) during a virtual ceremony.
The Woman of the Year award is given annually to a female full-time tenured or tenure-track faculty member in recognition of her efforts to improve the campus environment for women and minorities.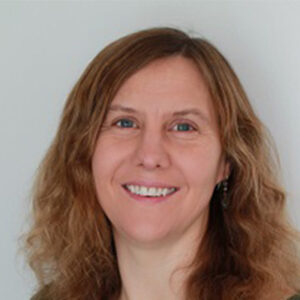 Grote joined Missouri S&T as an associate professor in 2015, and her research focuses on using ground penetrating radar to estimate soil moisture and using unmanned aerial vehicles (UAVs) to remotely sense geophysical data. Prior to joining S&T, she worked as an assistant and associate professor at the University of Wisconsin-Eau Claire and as a hydrogeologist at Weiss Associates at the Lawrence Livermore National Laboratory.
Grote's colleagues and students praised her as a role model for women in STEM and as a dedicated mentor and instructor in the geological engineering program.
"She has worked tirelessly to advance the participation of female students in science and engineering fields, and she serves as a strong example of female leadership on our campus," wrote a colleague in their nomination letter. "Her work on issues that affect women's lives and her willingness to speak out on such issues are closely intertwined with her teaching, mentoring, and outreach efforts."
"It was her dedication in the classroom as a teacher and outside as a mentor that inspired my decision to join the geological engineering program as a graduate student," says one student who nominated her. "In all my interactions with her in various roles, it has become clear that she values students above all. While she maintains a high standard for the coursework she expects from students, she also expresses a great deal of empathy and flexibility especially considering the challenges that the pandemic has created for both faculty and students."
"I have heard from several peers how she has helped them navigate personal decisions and how they felt heard and understood," wrote another one of Grote's students. "No matter the student, whether they be from a non-traditional, traditional, LGBTQ+, international, or different socio-economic background as her, she finds a way to connect with them."
Grote has served as the associate editor of FastTimes Journal, held several positions in the Environmental and Engineering Geophysics Society, served on numerous campuswide committees. She earned the S&T Dean's Educator Award in 2019, and has advised 57 online master's degree students in geological engineering and 34 undergraduate students – approximately half of all the geological engineering students majoring in the field.
Grote earned a Ph.D. and master of science degrees in in geosystems engineering from the University of California-Berkeley in 2003 and 1998, respectively. She earned a bachelor of science degree in geological engineering from Missouri S&T in 1997.
About Missouri University of Science and Technology
Founded in 1870 as the University of Missouri School of Mines and Metallurgy, Missouri University of Science and Technology (Missouri S&T) is a STEM-focused research university of over 7,600 students and part of the four-campus University of Missouri System. Located in Rolla, Missouri, Missouri S&T offers 99 different degree programs in 40 areas of study, including engineering, the sciences, business and information technology, education, the humanities, and the liberal arts. Missouri S&T is known globally and is highly ranked for providing a strong return on tuition investment, exceptional career opportunities for graduates, and an emphasis on applied, hands-on learning through student design teams and cooperative education and internship opportunities. Missouri S&T is the top public engineering university of 2021 as ranked by College Factual. For more information about Missouri S&T, visit www.mst.edu.