Researchers awarded $2.2 million grant to develop sensors for steelmaking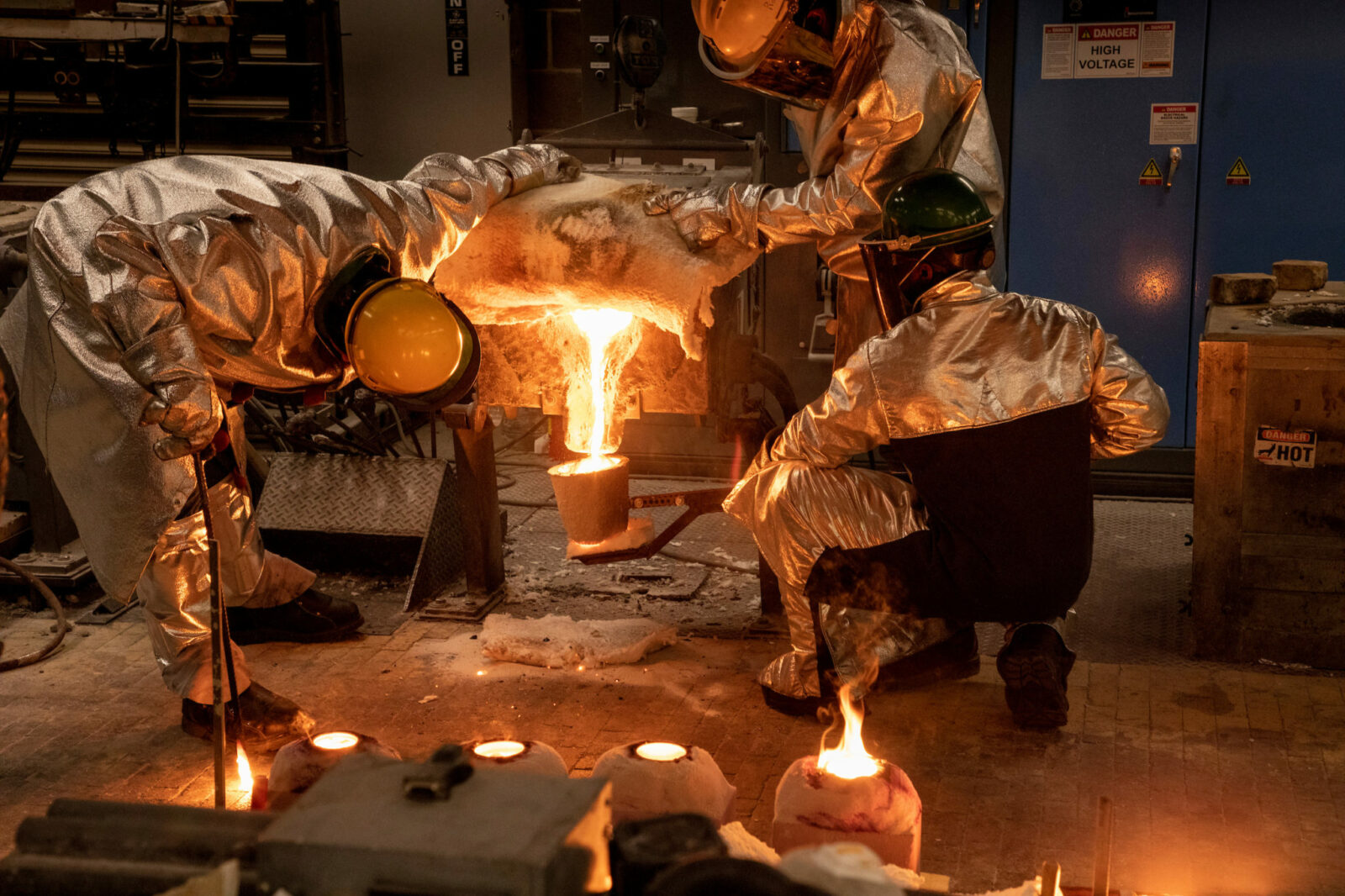 Steelmaking involves the handling of corrosive metal and oxide fluids at extremely high temperatures – about 1,600 degrees Celsius, which is several hundred degrees hotter than fresh lava from Mount Kilauea in Hawaii. Measuring the temperature, chemistry and fluid flow of molten steel under these conditions in real time is important to enable rapid responses to the changes in the steel during its production, according to researchers. The U.S. Department of Energy has awarded Missouri S&T part of a $2.2 million grant to develop new, more efficient ways to measure temperature, flow and chemistry during steelmaking to cut costs and improve worker safety.
"We use embedded fiber-optic sensors to provide high-resolution, real-time measurements at high temperatures," says Dr. Ronald O'Malley, the F. Kenneth Iverson Endowed Chair of Steelmaking Technologies at Missouri S&T. "Fiber optics traditionally used for temperature and strain measurements use silica fibers, which can withstand 600-800 degrees Celsius. We have an approach that allows us to use high-temperature alumina fibers that can withstand temperatures of greater than 1,600 degrees."
O'Malley has been working on alumina-fiber sensor development with Dr. Jie Huang, assistant professor in S&T's electrical and computer engineering department. Huang, the director of the Lightwave Technology Laboratory, invents and develops fibers and the associated analysis equipment, and O'Malley and his team test the fiber sensors in applications conducted in S&T's high-temperature foundry.
Huang explains that the mission of the Lightwave Technology Lab is to invent and develop novel optical and microwave sensors to advance new research frontiers through the sensors' ultra-high sensitivity and resolution, miniature size, mechanical and chemical robustness, and multi-point, spatially distributed sensing capabilities.
"I'm pleased that our fiber-optic sensors systems are being used for advancements in the steelmaking industry," Huang says.
These sensors not only measure temperature and fluid flow, but they can also give information about the life expectancy of equipment, O'Malley says. Fiber-optic sensors can be used to measure temperatures in the linings of vessels used in steelmaking and to gauge wear and erosion, which enhances worker safety, he says.
Companies can use measurements from a single optical fiber capable of providing tens of thousands of measurements along its length, as opposed to traditional single-point sensors, to feed artificial intelligence control systems that use the data to control the process in real time, a change that could result in cost savings, O'Malley says.
"You have to understand how these processes work and then combine this knowledge with high-resolution, real-time sensor data to feed artificial intelligence control systems," O'Malley says. "This is where we will see real benefits in productivity and quality."
Fiber optics can be used for real-time chemical analysis of slag systems as well by sending spectral measurements directly to a spectrometer, O'Malley says. He says slag chemistry influences all aspects of steelmaking, and the potential for real-time chemical analysis is creating a lot of interest in the industry. Currently, samples must be extracted, cooled, crushed and ground for analysis, which takes time that could be saved by using fiber optics.
The research is generating greater interest in university-industry collaboration, O'Malley says. Of two research programs currently underway, one is funded by industry members of the Kent D. Peaslee Steel Manufacturing Research Center at S&T. O'Malley, who is director of the center, says most of the major steel producers in the U.S. are members.
"These are the kinds of programs that really excite people in the industry and get them involved with the university," he says. "They can see tangible benefits from the research."