Missouri S&T announces 2019 Honorary St. Pat and Honorary Knights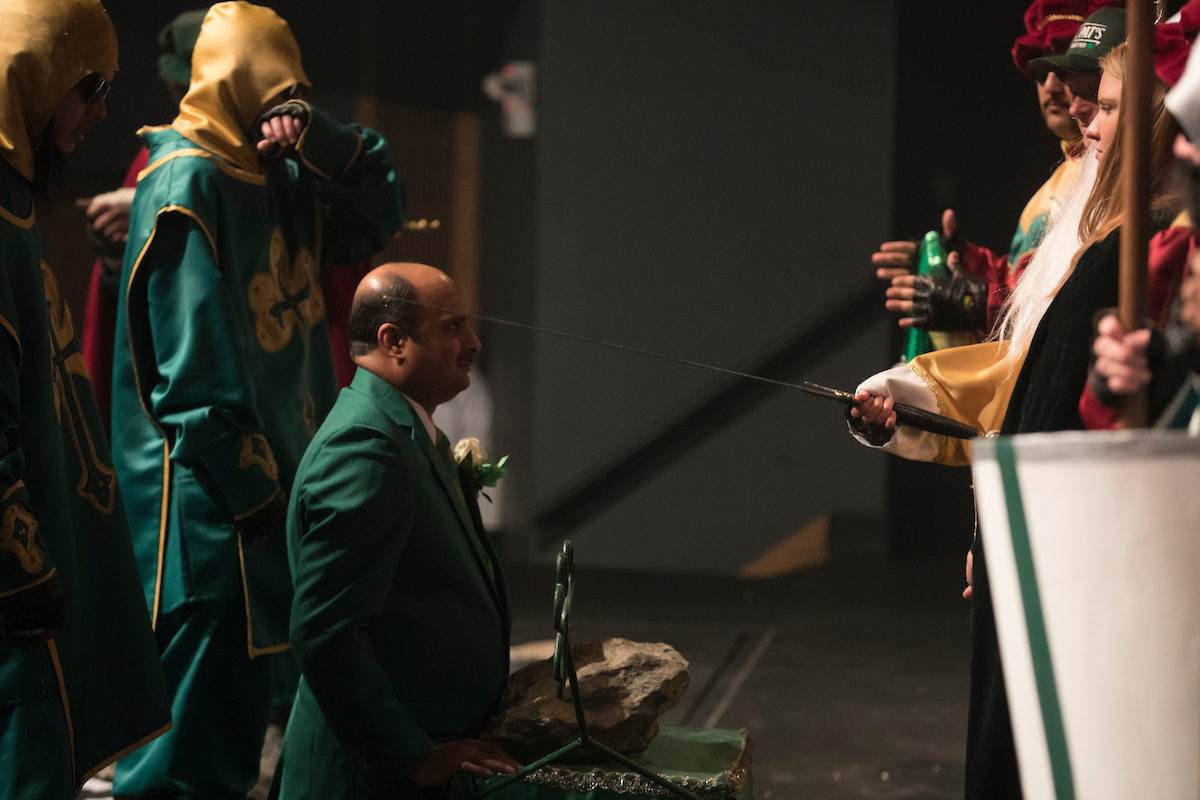 The St. Pat's Celebration Committee at Missouri S&T has announced Bill Jenks will serve as Honorary St. Pat and parade marshal for the 111th St. Pat's celebration.
The committee also announced the 2019 Honorary Knights of St. Patrick. The eight Honorary Knights are Dr. Joel Burken, University of Missouri System President Mun Y. Choi, Ken Clayton, Tyrone Davidson, Connie Goodridge, Steve Malott, Dr. Jeff Schramm and Bill Stoltz.
The new knights will be honored during a public coronation at 9 p.m. Friday, March 15, in Leach Theatre of Castleman Hall on the Missouri S&T campus.
The Honorary Knights will also be a part of the 2019 St. Pat's Parade, which begins at 11 a.m. Saturday, March 16, on Pine Street in Rolla. Biographical information is as follows:
— 2019 Honorary St. Pat and parade marshal Bill Jenks
Bill Jenks, of Rolla, Missouri, is the retired owner and president of Jenks/Long Insurance Inc. He is a member of the Rolla Area Chamber of Commerce Ambassadors and serves on the boards of the Court Appointed Special Advocates (CASA) for abused and neglected children and the Rolla Regional Economic Commission. Jenks earned a bachelor of arts degree from Westminster College in 1967 and in 1968, he joined the U.S. Army as a second lieutenant, serving in Vietnam with the First Air Calvary Division. His military career included command positions of platoon leader, company commander and brigade commander, as well as staff assignments of battalion and brigade operations officer, brigade logistics officer, and brigade personnel officer. Jenks helped found the Rolla Rural Fire Protection Association Inc., and served as Mayor of Rolla from 2006 to 2014. In 2011, Missouri Gov. Jay Nixon appointed Jenks to a three-year term on the Missouri Small Business Regulatory Fairness Board.
— 2019 Honorary Knight Dr. Joel Burken
Dr. Joel Burken, of Rolla, Missouri, is Curators' Distinguished Professor and chair of civil, architectural and environmental engineering at Missouri S&T. Burken joined the S&T faculty in 1997. His research and teaching has focused on low-impact and natural treatment systems. Burken created four entirely new courses at Missouri S&T and helped initiate the environmental engineering program. His research in phytoremediation of organic contaminants and work in sustainable infrastructure and remediation has led to over 75 publications and a patented environmental assessment method to detect potential exposures to contaminants. Burken earned a Ph.D. from the University of Iowa in 1996. He has earned numerous awards for his work, including the inaugural 2018 Science Award from the American Academy of Environmental Engineering and Science, the ASCE Rudolf Hering Medal, a CAREER Award from the National Science Foundation and was appointed a Fellow of the Association of Environmental Engineering and Science Professors.
— 2019 Honorary Knight University of Missouri System President Mun Y. Choi
Dr. Mun Y. Choi of Columbia, Missouri, is the 24th president of the University of Missouri System. Choi advocates on behalf of the four universities of the UM System by working with state and national business, political and civic leaders to achieve excellence. In partnership with university leadership, Choi introduced a new collective vision for the UM System: to advance the opportunities for success and well-being in Missouri, the nation and the world through transformative teaching, research, innovation, engagement and inclusion. Prior to joining the UM System, Choi served as an assistant and associate professor at the University of Illinois at Chicago, department head of mechanical engineering and mechanics at Drexel University and dean of engineering and later provost and executive vice president at the University of Connecticut. Choi is married with three children.
— 2019 Honorary Knight Kenneth Clayton
Kenneth Clayton of Rolla, Missouri, serves as a Phelps County Associate Circuit Judge. A longtime resident of Phelps County, Clayton has spent most of his career in public service. After graduating from Rolla High School and earning degrees from both Northeast Missouri State University and the University of Tulsa, he began practicing law in the region. Clayton has served as a public defender, prosecuting attorney of Phelps County and assistant prosecuting attorney in Pulaski County and has been in private practice in Rolla, operating the Clayton Law Office for the last four years. He has assisted Missouri S&T's summer leadership programs from 2013 through 2017 as a community leader resource. Clayton is married to Carla Clayton, and they have three children. He is an active member of the Rolla Lions Club and is the club's 2021carnival chairman.
— 2019 Honorary Knight Tyrone Davidson
Tyrone Davidson of Rolla, Missouri, is co-director of academic advising in academic support at S&T. Davidson, a native of Jamaica, moved to the United States when he earned a basketball scholarship to Missouri S&T. He earned a bachelor of arts degree in history from Missouri S&T in 2008 and later earned a master of education degree in adult and higher education. After earning his bachelor's degree, Davidson joined the S&T staff and has worked at the university for over nine years. For the past five years, he has also served as an assistant coach for the S&T men's basketball team. He and his wife, Lynne, have been married for over seven years and have two children – 7-year-old Tylin and 4-year-old Taye. Outside of work, Davidson enjoys playing basketball, trout fishing and taking piano lessons.
— 2019 Honorary Knight Connie Goodridge
Connie Goodridge of Rolla, Missouri, is executive assistant to the Chancellor at S&T. Goodridge has more than 36 years of experience at Missouri S&T, with 29 of those years in the chancellor's office. She is responsible for financial operations, events, special reports and projects, as well as other duties for the office. Goodridge studied office and business practices at Rolla Technical Institute and is a Rolla High School graduate. Outside of work, she has served as music director of her church for many years. She enjoys music, reading, cooking and spending time with her children and grandchildren. She is married to Joel Goodridge, an advancement officer at S&T. She and her husband are longtime members of the Rolla community, where they raised their two sons, Joshua and Ryan.
— 2019 Honorary Knight Steve Malott
Steve Malott of Rolla, Missouri, is retired vice president for finance and administration for the South Dakota School of Mines and Technology. Malott served as vice chancellor for administrative services at Missouri S&T from 2001 through 2012. He oversaw finance, contracting, facilities, police, procurement, and environmental health and safety. While at S&T, Malott was president of the Rolla Breakfast Rotary Club and as president of the Rolla Area Chamber of Commerce Board, and was a member of the Rolla Regional Economic Commission, a city Tax Increment Financing Commission, the Ozark Actors Theatre board of directors and other local groups. Prior to joining S&T, he was a diplomat for the U.S. Department of State and was stationed around the world. He is married to Leslie Malott, who taught in the S&T mathematics department from 2005 to 2012. They have two adult children, both graduates of Rolla High School, William and Mary Margaret.
— 2019 Honorary Knight Dr. Jeff Schramm
Dr. Jeff Schramm of Rolla, Missouri, is an associate professor of history and political science at S&T and faculty advisor to the St. Pat's Committee. Schramm teaches courses in U.S. history, the history of technology, history of modern architecture and history of science at S&T. He earned a bachelor of arts degree in history from Missouri S&T in 1992. He earned master of arts and Ph.D. degrees in history from Lehigh University in Pennsylvania in 1995 and 2003, respectively. Primarily a historian of industrial technology, his scholarly research to date has focused on technological change and the 20th century railroad industry. His book, "Out of Steam: Dieselization and American Railroads, 1920-1960," was published in 2010. Besides advising the St. Pat's Committee, he also serves as advisor to Kappa Kappa Psi, an honorary band fraternity, and KMNR 89.7 FM, the S&T student radio station. He has earned several teaching awards, including both the Missouri S&T Faculty Teaching Award and the Outstanding Teaching Award.
— 2019 Honorary Knight Bill Stoltz
Bill Stoltz of Rolla, Missouri, is the Phelps County Assessor. Stoltz has worked in real estate assessment since 1995, when he joined the staff of Stoltz Appraisal as a residential property appraiser. He joined the staff of the Phelps County Assessor's office in 2013, and was named deputy assessor. In 2016, he ran for county office and was elected Phelps County Assessor. A member of Lambda Chi Alpha fraternity, Stoltz studied English and history at Missouri S&T. For the past several years, he has served as a driver for new Honorary Knights in the St. Pat's parade. A member and past president of the Rolla Lions Club, Stoltz served as chairman of the annual Lions Club Carnival in 2011. He and his wife, Mary Helen, a 1995 S&T graduate, have been married for 23 years. Mary Helen was named an Honorary Knight in 2018. Their daughters Emma and Sydney have each served as flower girl during Coronation, and Sydney was a Queen's Page in 2018.
Need to get in touch with our media relations team? For non-urgent requests, please email news@mst.edu or call 573-341-4328. Or contact one of the staff members below during or after office hours.