S&T powers high-tech, living laboratory with new microgrids to study advanced lead battery technologies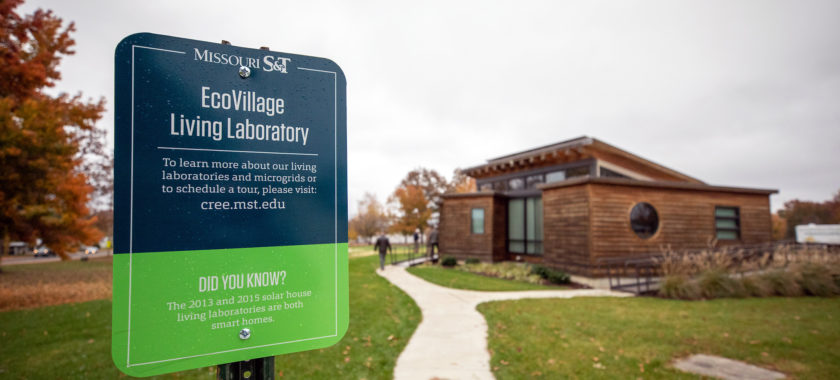 Missouri S&T has installed two new advanced lead battery microgrid systems at the campus's EcoVillage, a living laboratory of solar homes S&T students designed and built to compete in the U.S. Department of Energy's Solar Decathlon.
Missouri S&T's Microgrid Industrial Consortium is using the EcoVillage to test advanced lead battery energy storage in stationary grid-tied applications for potential use as a renewable energy source for communities of the future.
Most similar research to date has been with lithium batteries, according to Dr. Mehdi Ferdowsi, director of Missouri S&T's Microgrid Industrial Consortium and a professor of electrical engineering and computing. "We're also able to conduct research on potential peer-to-peer energy transactions that could result from this use — that is, the energy trading between consumers and 'prosumers,' those who both produce and consume the energy," Ferdowsi says.
The EcoVillage's two solar homes are connected to separate microgrids where they receive electricity from a battery monitoring system. Students occupy the homes and participate in research from the microgrids and other research associated with smart living.
The EcoVillage homes are part of S&T's Solar Village Living Laboratories, which includes four additional solar homes powered by a single lithium ion battery microgrid.
Lead-powered microgrids offer potential viable, renewable energy  
Lead batteries are typically known as a tried-and-true rechargeable energy source. According to the International Lead Association (ILA), up to 90 percent of modern lead usage is in the production of batteries. It states that more lead is produced by recycling than is mined, making it ideal for a circular economy. A 2017 study commissioned by Battery Council International states that lead batteries are the most recycled consumer product in the U.S. with a 99.3 percent recycling rate.
"With lead as a Missouri natural resource, this project provides opportunities to better serve our state's economy and environment through energy research," says Dr. Christopher G. Maples, interim chancellor of Missouri S&T. "This project perfectly aligns with S&T's mission to integrate education, research and application to serve the state and solve the world's great challenges."
Missouri S&T Microgrid Industrial Consortium
The Missouri S&T Microgrid Industrial Consortium research alliance includes the Advanced Lead Acid Battery Consortium (ALABC), a research program of the International Lead Association; The Doe Run Co., a Missouri lead mining and battery recycling company; Ameren, Missouri's largest energy utility provider; the Missouri Public Utility Alliance (MPUA); and the Missouri Department of Economic Development Division of Energy (MO DED). Missouri S&T's Center for Research in Energy and Environment (CREE) manages the Solar Village Living Laboratories.
ALABC members NorthStar Battery and EnerSys, both global battery manufacturers, and The Doe Run Co. donated the equipment and funding to construct the new microgrids.
"All of us involved in Missouri S&T's Microgrid Industrial Consortium are tapping the potential of advanced lead batteries to create knowledge of how they can help meet the global need for renewable energy storage," says Stephane Menand, director of S&T's Solar Village Living Laboratories and microgrid research, operations and outreach. "The two new microgrids allow us to expand our unique facilities and expertise and educate everyone on what the future of smart communities could look like."
The project has a three-year timeline for research and study, and should be completed by 2021.