Missouri S&T to break ground on Clayco Advanced Construction and Materials Laboratory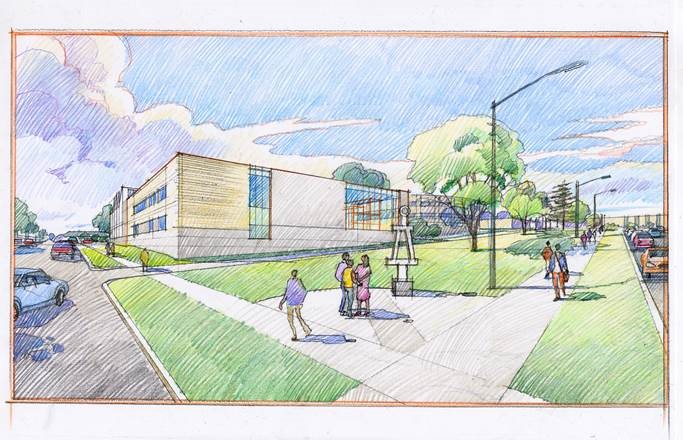 Construction of a new $6.5 million lab that is expected to strengthen Missouri University of Science and Technology's position as a national leader in addressing the challenges of aging public infrastructure officially begins Friday with a ceremonial groundbreaking.
A ceremonial cornerstone pour for the Clayco Advanced Construction and Materials Laboratory (ACML) is scheduled for 4 p.m. Friday, Oct. 12, at the High-bay Structures Laboratory in Butler-Carlton Civil Engineering Hall. The event is part of Missouri S&T's Miner Fest Homecoming weekend.
When completed, the ACML will expand the High-bay Structures Laboratory in Butler-Carlton Civil Engineering Hall to provide 16,000 square feet of research space for developing and testing new construction materials and methods.
Clayco Inc., one of the nation's largest privately owned real estate and design build firms, donated $2 million to complete fundraising for the new lab. The project also received a $3 million gift from the estate of James A. Heidman, a 1965 civil engineering graduate of the university, as well as a $1.6 million commitment from the University of Missouri System in June 2017, a $300,000 gift from St. Louis-based ARCO Construction Co. and a $100,000 gift from the Sunderland Foundation, the charitable arm of Ash Grove Cement Co., based in Overland Park, Kansas.
Clayco, with headquarters in Chicago as well as offices in Atlanta, St. Louis and Greenville, South Carolina, employs many Missouri S&T alumni, including chief operating officer and shareholder Steve Siekhaus and his brother, Tom, executive vice president and shareholder.
The lab marks the final phase of a $10.5 million initiative to advance S&T's leadership in infrastructure engineering. The first phase consisted of a $3 million U.S. Department of Transportation grant for testing equipment, with the second phase adding new faculty positions in civil, architectural and environmental engineering as well as materials science and engineering.
"The lab will be one of the finest research centers in the world for construction materials and methods," says Dr. Chris Maples, interim chancellor. "It will position Missouri S&T for unprecedented acceleration in an area of leadership and expertise."
Once completed, the ACML will consolidate more than 35 pieces of testing equipment currently scattered in buildings across campus and at the Hy Point Industrial Park east of Rolla.
The ACML also will support the university's research focus on infrastructure and sustainability, including the rehabilitation of urban mass-transportation centers such as highways, bridges, tunnels, rail, airports, port and water navigation channels, and utility infrastructure.