Chemistry undergraduate completes summer fellowship with gratitude and a published, peer-reviewed paper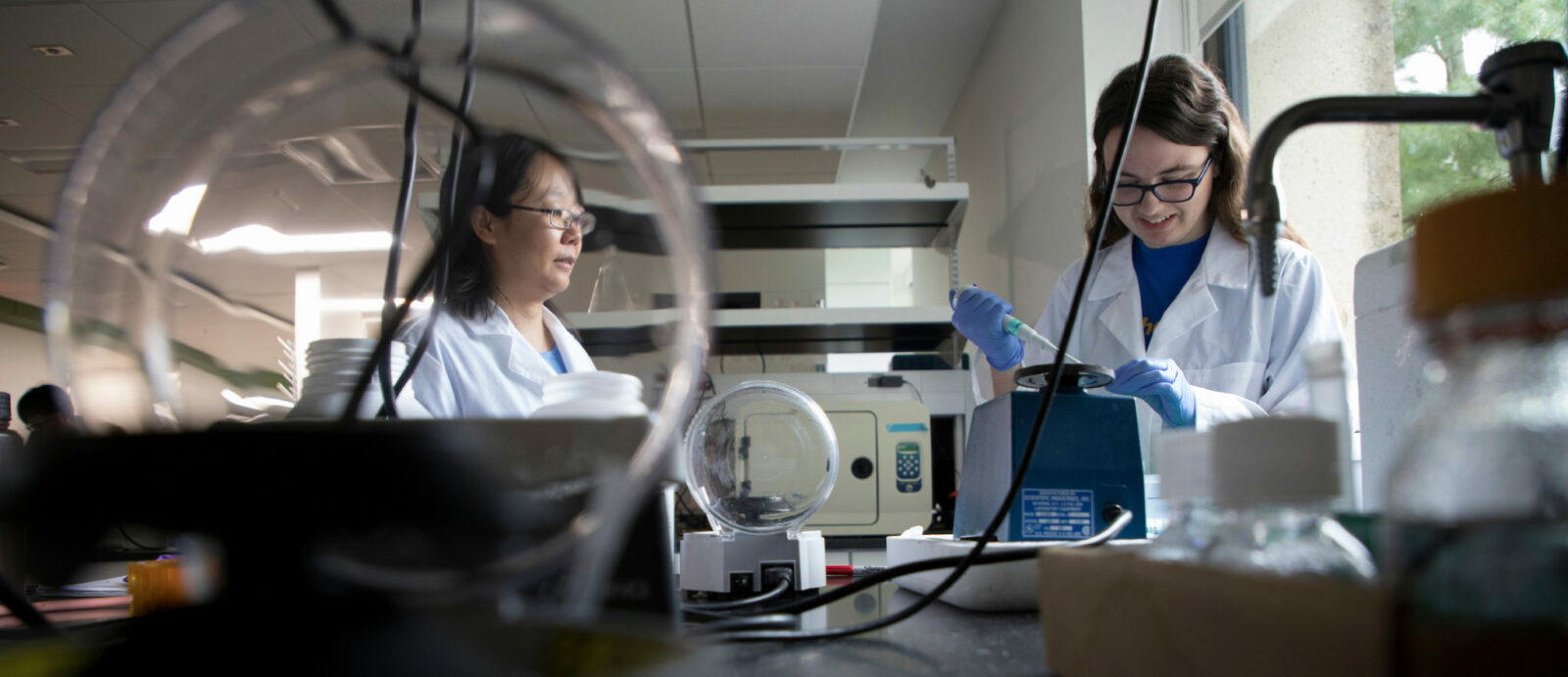 Rachel Nixon, a junior in chemistry at Missouri S&T and recipient of the new Carey and Christine Bottom Endowed Scholarship in Undergraduate Chemistry Research, is thankful for the 10-week program she completed this summer. Working in Dr. Risheng Wang's bionanotechnology lab eight hours a day, Nixon finished her peer-reviewed, published paper for a DNA-origami project already underway, then began a new project.
Dr. Carey B. Bottom, a Missouri S&T alumnus who earned bachelor of science, master of science and Ph.D. degrees in chemistry in 1972, 1975 and 1979, respectively, established the summer research award to provide undergraduate students with financial support to pursue their aspirations as scientists, scholars and leaders in their fields.
Bottom has had a distinguished career as a research chemist, pharmaceutical innovator and executive for companies in the drug and healthcare product industries, from global corporations to startup ventures. He holds four patents and was recognized by the U.S. Food and Drug Administration for his leadership in advancing capsule technology. Bottom has twice been recognized with awards of distinction in chemistry from Missouri S&T.
The undergraduate chemistry research endowment fund Bottom established also honors his late wife, Christine Bottom, who died of a rare form of cancer in 2013. Her father, Dr. Kenneth G. Mayhan, earned a Ph.D. in chemical engineering from Missouri S&T in 1965 and was a Missouri S&T faculty member before joining the private sector.
Wang, an assistant professor of chemistry and Nixon's mentor, encouraged her to apply for the new summer program.
"Rachel was admitted to Missouri S&T with the Chancellor's Scholarship," Wang says. "She joined my research group in the beginning of 2017 and showed the ability to work independently with great creativity and enthusiasm in the nanotechnology area."  In addition to her research abilities, Rachel also received the CRC Freshman Achievement and Handbook Award and the Missouri S&T Outstanding Sophomore Award in chemistry for her excellence in classwork.
The $4,000 Carey and Christine Bottom research scholarship was awarded to Nixon by a chemistry department selection committee in April. It will be available every year going forward.
"Without the Bottom Scholarship, I wouldn't have been able to focus as much on the research projects," says Nixon. "I'm very thankful for Dr. Bottom's support. It allowed me to concentrate on making progress with my research and learning all I can about enhancing the nanostructures we're studying."
Nixon is the lead author of a paper titled "Exploring the Addressability of DNA Decorated Multifunctional Gold Nanoparticles with DNA Origami Template," which was published by The American Chemical Society's Bioconjugate Chemistry journal in July. Nixon's research examines the binding efficiencies of gold nanoparticles for potential use in emerging nanodevices that can harvest, convert, store and use energy in applications such as cellular imaging, nanoelectronic circuitry and drug delivery.
Nixon's subsequent summer project involved designing a targeted drug delivery carrier from DNA origami nanostructures used in cancer therapy. According to Wang's previous study, "Time-lapse live cell imaging to monitor doxorubicin release from DNA origami nanostructures," DNA nanostructures showed great potential for this purpose, and now Nixon is adding specific molecules to those shapes to make delivery of a widely used anti-cancer drug, doxorubicin, more targeted to the proteins that are overexpressed in cancer cells.
"The study's findings would dramatically enhance drug delivery efficiency with little to no side effects," Wang says.
"I'm glad that the research we're working on is in an area that means so much to Dr. Bottom, and I hope that through this work we can honor his wife, Christine," says Nixon.