Military background spurs Missouri S&T explosives engineering Ph.D. student's research on traumatic brain injury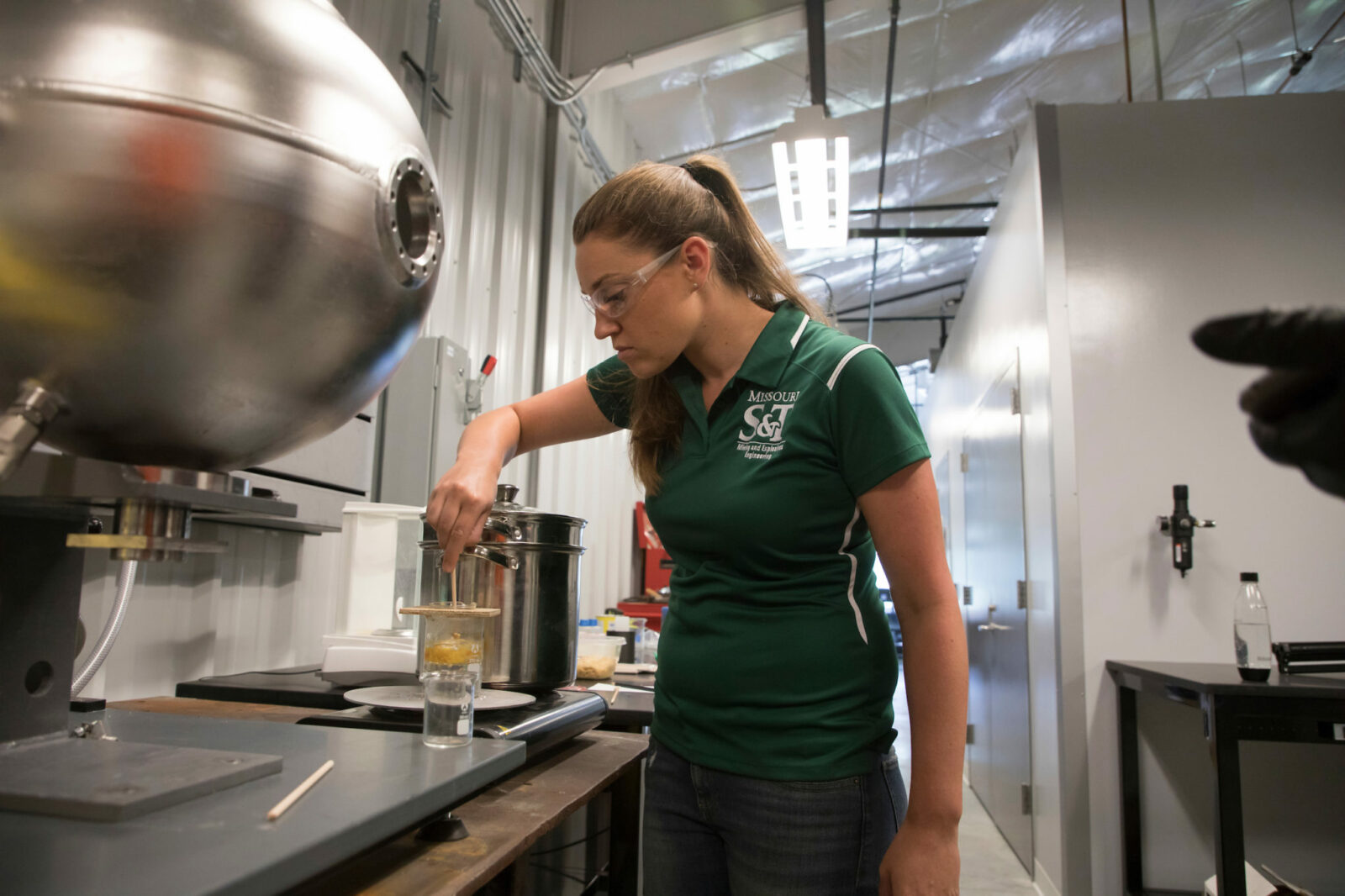 While in the Marine Corps, Missouri S&T explosives engineering Ph.D. student Barbara Rutter saw the effects of traumatic brain injury (TBI) on her fellow soldiers' lives firsthand.
Those experiences led Rutter to devote her graduate research to the relationship between physical building damage and TBI occurrence, so that the military can easily determine if an improvised explosive device (IED) explosion has caused such an injury.
"It's really difficult to quickly assess people's injuries in combat after an IED has gone off," says Rutter. "Being able to give the military an easy guide to identify the severity of the TBI right away allows them to start preventative treatments immediately."
With funds from a U.S. Department of Defense grant, Rutter is working with Dr. Catherine Johnson, assistant professor of explosives engineering, to investigate how exposure to explosives affects the brain. They're mapping blast waves that reflect off the ground and damage structures in an explosion.
A partnership with the University of Missouri-Columbia School of Medicine and the federal Department of Veterans Affairs allows Johnson and Rutter to use the blast model to better understand behavioral and neuropathological changes to people with blast-induced TBIs.
Johnson says the ultimate goal of the research is to eventually improve the quality of life for anyone with a traumatic brain injury, from athletes to car crash victims.
"This sort of brain trauma is extremely difficult to diagnose," Johnson says. "Experimental models can provide insights into the basic mechanisms underlying what for many remains an 'invisible' injury."
Much of the related research on explosives and brain trauma is conducted using shock tubes, a tunnel-like device in which blast waves can be directed at sensors to mimic explosions, using compressed gas rather than detonation.
S&T's Experimental Mine, though, offers enough open space above ground to perform open-field blasting, which can more effectively replicate battlefield explosions by enabling the blast waves to bounce off buildings, the ground, military vehicles and other objects.
The research also provides a window into a better understanding of the physics behind explosives.
"What we're also trying to create are damage curves for TBI based on pressure and impulse," Johnson says. Damage curves refer to building damage and are a simple graphical representation to aid with building design and minimum distance to explosions.
"If you've got shock wave reflections off of walls, the duration is going to last longer, affecting the impulse rather than the peak pressure, so the relationship between the two is important."
Johnson's research is one of several S&T projects associated with the Acute Effects of Neurotrauma Consortium, a partnership with Phelps County Regional Medical Center, the U.S. Army at Fort Leonard Wood and the Army's Leonard Wood Institute to prevent, detect and treat TBI.
With funding from the U.S. Army Research Office, Johnson is also working with S&T chemists and ceramic engineers on research aimed at understanding how nanomaterials are made with explosives and creating new kinds of nanomaterials for practical applications, such as silicon carbide for more durable brakes in cars and better bullet-proof vests. Missouri S&T is the only U.S. institution that can make detonation nanodiamonds.