Missouri S&T partners with PCRMC, Fort Leonard Wood to address traumatic brain injury issues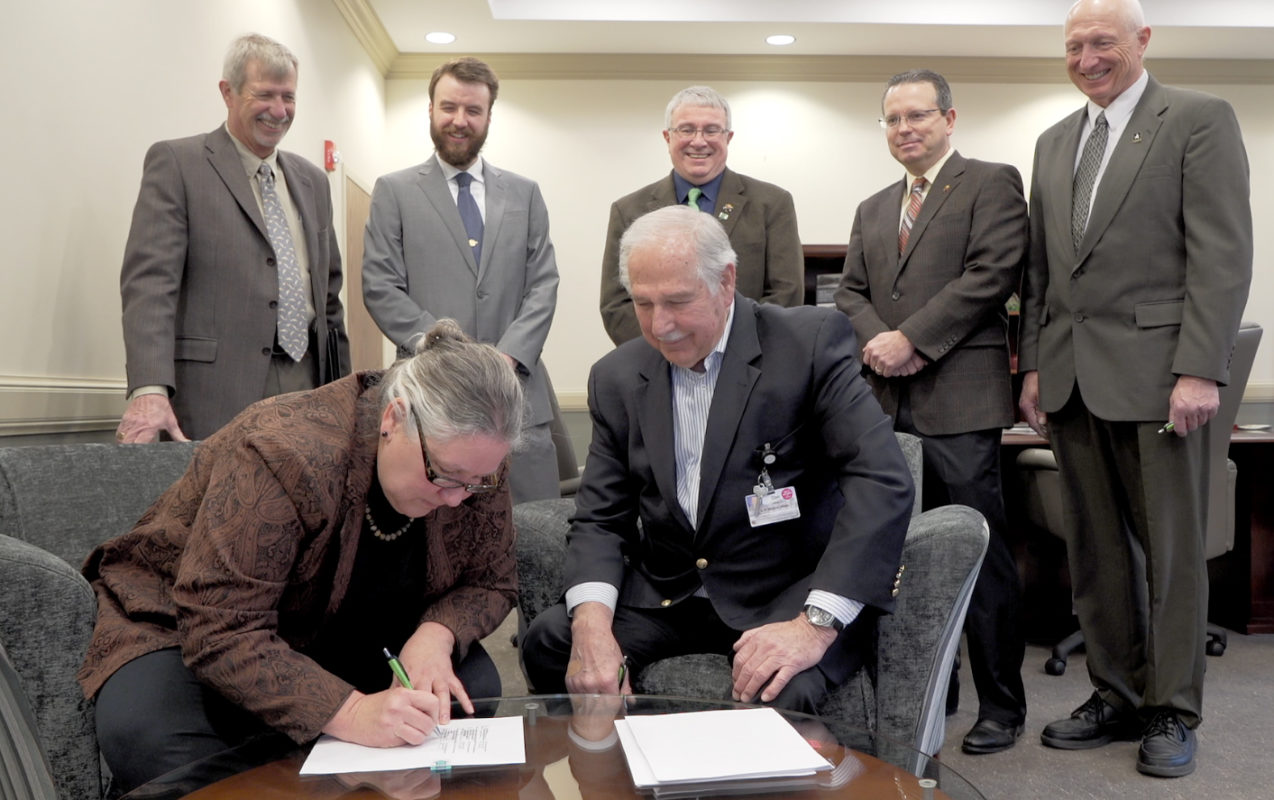 Dozens of researchers at Missouri S&T are conducting research related to traumatic brain injury (TBI) through a new partnership with Phelps County Regional Medical Center (PCRMC), the U.S. Army at Fort Leonard Wood and the Army's Leonard Wood Institute.
Dr. Mariesa Crow, vice provost for research at Missouri S&T, formally signed the agreement for Missouri S&T to join the partnership, called the Acute Effects of Neurotrauma Consortium (AENC), today (Tuesday, Jan. 23). The agreement sets the stage for future efforts to collaborate on research to prevent and treat TBI and related health issues.
"Traumatic brain injury is a significant health risk that can potentially affect millions annually – from soldiers in the field, or training with explosives, to student-athletes at Missouri S&T, to the weekend cyclist, the elderly and infants," Crow says. "Through this consortium, Missouri S&T joins a large team to bring expertise in a variety of disciplines that can lead to new approaches to preventing, detecting and treating TBI."
According to the U.S. Centers for Disease Control and Prevention, TBI was a factor in the deaths of more than 50,000 people in the United States in 2010, and 2.2 million people visited an emergency room that year with symptoms of TBI. It is also a significant health issue for the military due to blast-related concussions and other injuries, according to the Defense and Veterans Brain Injury Center, a division of the Defense Health Agency.
Missouri S&T researchers are examining TBI from a variety of angles. They include developing a process to test urine to detect the presence of "biomarkers" that could indicate TBI or concussions; studies at S&T's Experimental Mine to determine the potential impact of blasting; data analysis of medical records to determine TBI-related patterns; and research on the biochemistry of brains affected by TBI. The consortium also plans to study soldiers at Fort Leonard Wood who have sustained concussions as a result of basic training and realistic combat mission training.
Researchers from Missouri S&T's departments of biological sciences, business and information technology, chemistry, computer science, electrical and computer engineering, engineering management and systems engineering, mechanical and aerospace engineering, mining and nuclear engineering, and psychological science are involved in the consortium.
Attending the signing ceremony with Crow were Dr. Christopher Maples, interim chancellor of Missouri S&T; Dr. Stephen Roberts, vice provost and dean of the Missouri S&T College of Arts, Sciences, and Business; Dr. Donald L. James, senior vice president of research and governmental affairs at PCRMC; Barry White, director of the AENC; and Dr. Casey Burton, director of medical research for PCRMC.