Rock-and-roll grandpa earns doctoral degree for research on using desert shrub as asphalt recycling agent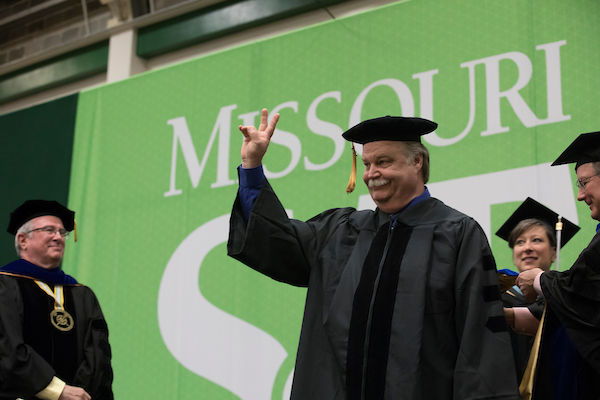 He's driven the backroads with some of the biggest names in rock and roll, from Def Leppard and KISS to John Denver and the Eurythmics, hauling both gear and performers as a truck- and bus-driving roadie.
Yet despite his many brushes with fame, what gets Mike Lusher most excited these days is his research into an unassuming desert shrub that some predict will revolutionize the rubber industry.
A fascination with the guayule (why-YOO-lee) plant that began a dozen years ago while watching an episode of The History Channel show "Modern Marvels" has culminated in a Ph.D. in civil engineering for the 64-year-old grandfather, who received his diploma at May 12 commencement.

"Along with being a source of rubber, this is a renewable, domestic source of binder-modifiers for asphalt," Lusher says of guayule, which is native to northern Mexico and the southwestern U.S. and is a source of resin that he and others envision as an eco-friendly alternative to petroleum-based additives used in asphalt pavement.
The nondescript, perennial plant has been eyed for more than a century by rubber-reliant tire companies eager to break a virtual monopoly. Southeast Asia produces the vast majority of the commodity, harvested from the Hevea Brasiliensis rubber tree. Lusher is honing in on another use for the plant.
Describing his first up-close encounter with the guayule extract, Lusher grows animated, his voice booming through the corridors of Butler-Carlton Civil Engineering Hall.
"This resin was really cool," he recalls. "It was dark green, almost black, had the consistency of honey at room temperature, and smelled like pine forests."
Bridgestone Americas unveiled guayule-derived tires in 2015 manufactured at its Biorubber Process Research Center in Arizona, while both the U.S. Department of Agriculture and scientists at several private-sector companies are using gene sequencing technology to breed a commercially viable form of guayule with higher rubber yields. Those efforts are critical to what Lusher expects will be the more widespread use of guayule resin as a binder-modifier in asphalt pavement.
"The amount of resin that we can put in asphalt is just huge," he says. "To make the rubber product economically viable, we have to sell this other stuff."
Such scientific insights were far from Lusher's mind while growing up as a music-obsessed teen in Union, Missouri, or during a brief stint at what is now Southeast Missouri State University, he says. The drummer instead returned home from college to pursue his rock-and-roll dreams, touring regionally with several bands before deciding to settle down in the mid-1970s.
"I realized I needed to make some money," he says. "And you couldn't do that in mid-Missouri playing in a band, unless you were very good."
Starting with soul band the O'Jays in 1977, Lusher spent more than a decade on and off the road, driving for the likes of Jackson Browne, Kris Kristofferson, Rick James and Southside Johnny and the Asbury Jukes. He returned to school in 1990, earning an associate's degree in engineering from East Central College in his hometown while in his mid-30s.
That was followed by a bachelor of science in civil engineering from S&T in 1996, his master of science in 2004 and — 46 years after his Union High School graduation — his doctorate this year.
Even while in school, the lure of the road persisted for Lusher, who spent some summers as a 40-something undergraduate hauling around the likes of Boz Scaggs and Jimmy Buffett. Since 2005, he's worked full-time for the university as a research specialist and lab manager under Dr. David Richardson, Chancellor's Professor of civil, architectural and environmental engineering and Lusher's advisor.
"When I first saw Mike in the classroom, he looked like a middle-aged truck driver —not your typical college student," Richardson recalls. "But it was quickly apparent that he was the smartest guy in the room.
"He really was enamored with construction materials, and stayed on after graduation to work on a master's degree in civil/materials engineering. He started out as a part-time student lab teaching assistant, transitioned to student research assistant, and finally to full-time senior research specialist.
"The words that describe Mike's approach to research (and just about anything else) are relentless, exacting, passionate, ethical and zealous."
As part of his doctoral research, which was funded in part by a grant from the National Cooperative Highway Research Program, Lusher tested the viability of nearly a dozen distinct guayule-derived materials as flexible pavement mixture additives, including solvent-extracts from the entire shrub, its leaves and stems, its bagasse (the fibrous material remaining after rubber is removed), and bulk rubber in the form of dried latex.
The challenge: perfect a binding agent stiff enough to withstand permanent deformation of asphalt pavement — a.k.a. tire rutting — from exposure to high temperatures and traffic, but also one sufficiently pliable to relax and stretch without cracking from contraction during periods of cold temperatures. He obtained his samples from both the USDA's Agricultural Research Service as well as from Yulex, which produced hypo-allergenic latex for medical applications, and a decade ago teamed with outdoor clothing company Patagonia to create a wetsuit from guayule rubber.
The most promising of the guayule-derived extracts, says Lusher, was an acetone-extractable, residual-resin in the bulk rubber that met almost all of the Missouri Department of Transportation (MoDOT) performance standards for asphalt recycling agents.
"The type of research Mike was doing with guayule helped move our binder laboratory capability up several notches," Richardson says.
Doctoral degree in hand, Lusher hopes to expand his research by teaming up with corporate partners while remaining at S&T as assistant director of the MoDOT technician certification courses he and Richardson oversee for state highway workers, asphalt paving contractors and independent testing laboratories.
He's also excited about working more closely with two new colleagues with similar interests: Dr. Magdy Abdelrahman, Missouri Asphalt Pavement Association Endowed Professor in Flexible Pavements; and Dr. Jenny Liu, an associate professor of civil, architectural and environmental engineering.
"I'm 64 years old," he says, when asked about his post-graduation plans. "I don't see a long and distinguished (academic) career ahead of me … I'm not out to publish or perish. Completion of the Ph.D. has been a personal goal."
In the short-term, Lusher awaits a summer rock-and-roll reunion of his former bandmates.
"We're getting the band back together. They're coming out of retirement," he says.
Lusher is also awaiting a fresh order of business cards befitting a newly minted Ph.D.
"I've got to put those three extra letters on there," he says.