Missouri S&T students help fight fires and protect firefighters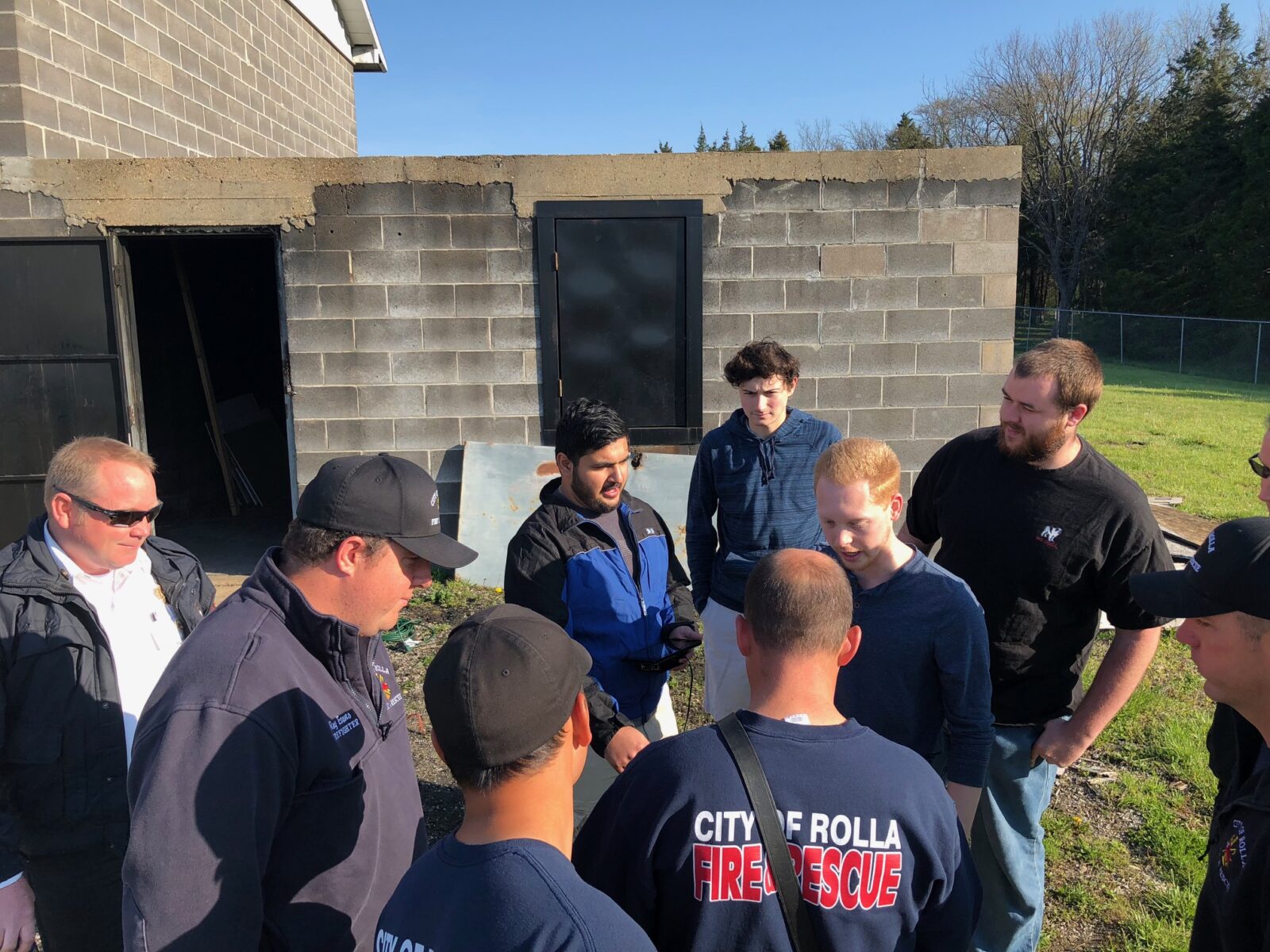 As a part of a senior design project, four Missouri S&T students have created a temperature-reading device for firefighters that could save their lives in the future.
The group has devised a sensory system that would allow fire departments to receive live temperature data from the individual rooms of a flaming building. Joshua Gruver, a senior in electrical engineering from Imperial, Missouri; Brennan Kennedy, a senior in electrical engineering from Lake St. Louis, Missouri; Akshay Patel, a senior in computer engineering from St. Louis; and Brad Risenhoover, senior in computer engineering from Bridgeton, Missouri, have worked with the City of Rolla Fire and Rescue to refine the devices throughout the spring semester.
The small sensors, each powered by a nine-volt battery, transmit live temperature data through a Bluetooth wireless device using a student-designed software program called the First Response Emergency Alert System (FREAS). The data can then be viewed on a hand-held tablet by firefighters.
"This project aimed to eliminate or greatly reduce the amount of time it takes for first responders to locate a fire once inside a building by displaying all corresponding information on a panel located near the building entrances," says Kennedy.
FREAS uses a Raspberry Pi as its central controller that communicates with each sensing module. The sensors use a thermal camera – measuring only heat signals and not actually "seeing" into the room – to measure ambient temperature data within its field-of-view, allowing firefighters to see exactly which rooms are impacted by the fire. The sensors are held to the wall by a 3D-printed casing that was also designed and produced by the senior design team.
"The project is user-friendly and wouldn't cost too much to install in buildings," says Dr. Kurt Kosbar, associate professor of electrical and computer engineering at S&T and the team's project advisor. "The sensors wouldn't need to be run through a wall or anything, which would cut down on costs. And the students tried to design an intuitive user-interface – they didn't want firefighters to be slowed down by a lot of options or complex user training."
The team's year-long project was recently tested at the Rolla Lions Club Fire Training Facility on April 30. During a live burn test, FREAS was successfully able to provide data to the Rolla firefighters and assist them in finding where the heat signatures were concentrated.