Missouri S&T professor receives President's Award for Sustained Career Excellence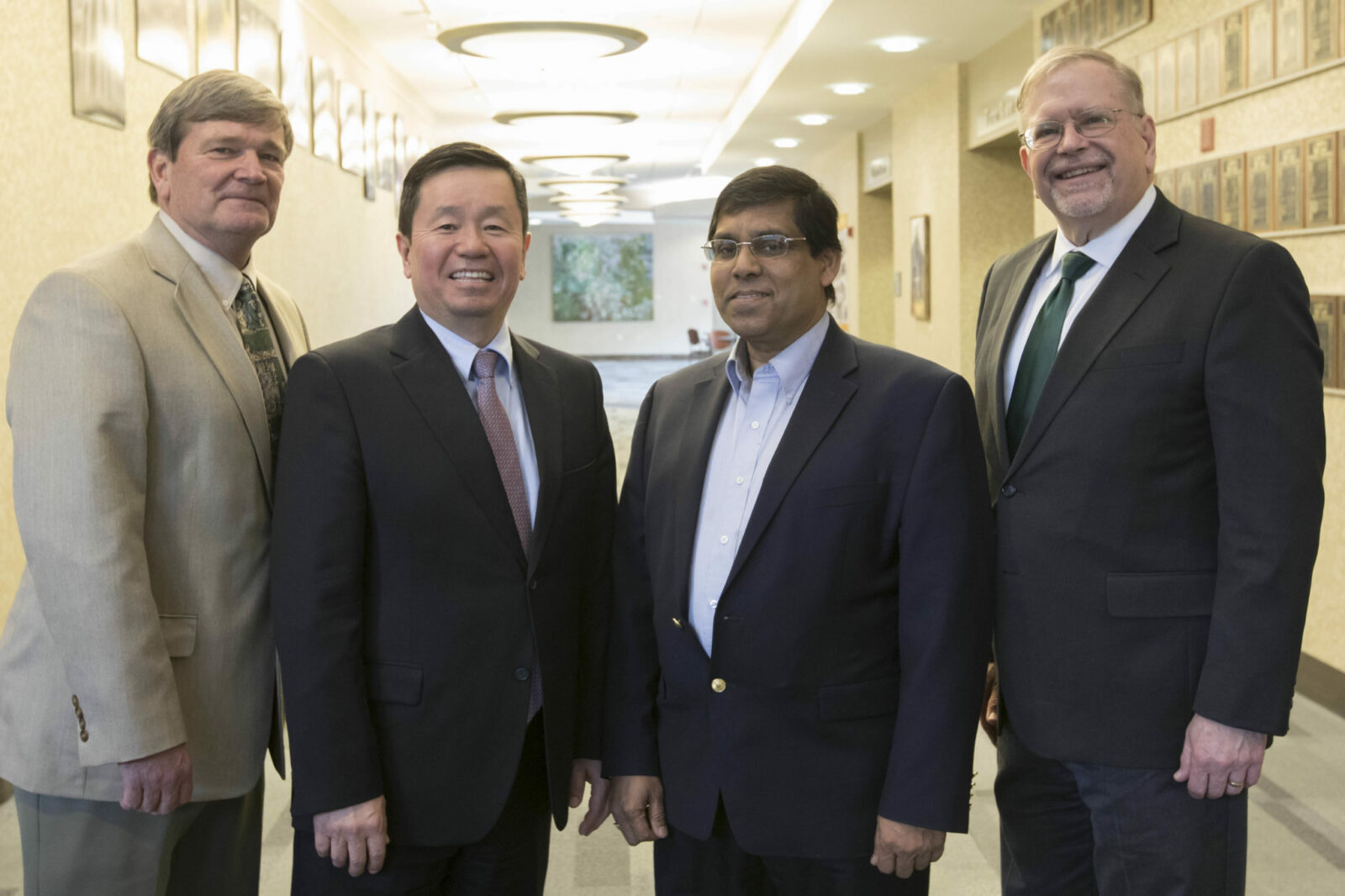 University of Missouri System President Mun Choi surprised a Missouri S&T faculty member with a President's Award at a Cybersecurity Summit meeting in Rolla this week (Wednesday, April 11).
Choi, along with Missouri S&T Interim Chancellor Chris Maples, presented Dr. Sajal K. Das, professor and Daniel C. St. Clair Endowed Chair of computer science, with the President's Award for Sustained Career Excellence. The award, which includes a $5,000 prize, recognizes faculty who show a demonstrated and sustained record of distinguished scholarship, research or creativity for a period of 15 or more years.
For more than 29 years, Das has sustained high quality interdisciplinary research in computer science. His research spans mobile computing, wireless sensor networks, smart environments including healthcare and cloud computing. He has published extensively, authoring more than 300 peer-reviewed journal articles, 52 book chapters and four co-authored books. He holds five U.S. patents. Das and his team were pioneers in conducting National Science Foundation-funded research in smart environments, and the team's studies have received more than 700 citations.
"Dr. Das is singularly responsible for changing how the Missouri S&T campus is meeting the challenge of translating select fundamental research from the laboratory to commercialization of that technology," says Dr. Bonnie Bachman, professor and faculty fellow of economics at Missouri S&T. "Because of his vision, our campus is leading the way in creating cutting-edge research programs in computer science, is creating an innovative and entrepreneurial culture, and is laying the foundation for economic impact by taking research to commercialization."
From 2013 to 2017, Das served as the chair of computer science. During that time, the department doubled its grant expenditures as well as the number of computer science doctoral degrees it conferred. He helped to establish a culture of innovation and entrepreneurship by recruiting S&T's first entrepreneur in residence. A strong promoter of diversity education, Das took strategic measures to increase women and minority student enrollment in the department, which has increased from 7 percent to 14.2 percent since 2013.
Guide2Research recently ranked Das among the nation's top 200 researchers in computer science and electronics.
"Dr. Das is internationally known for his fundamental research contributions," says Dr. Diane Cook, the Huie-Rogers Chair and professor of electrical engineering and computer science at Washington State University. "Sajal's work is interdisciplinary and takes a more fundamental approach to tackling major challenges in cutting-edge problems in mobile, wireless and sensor networks. He is a true scientist, a passionate educator and mentor."
The UM System President's Awards are presented annually to faculty members across the four campuses of the UM System who have made exceptional contributions in advancing the mission of the university. Das will be formally recognized by Choi during an awards celebration to be held in June.