Clayco Inc. contributes $2 million to Missouri S&T for lab expansion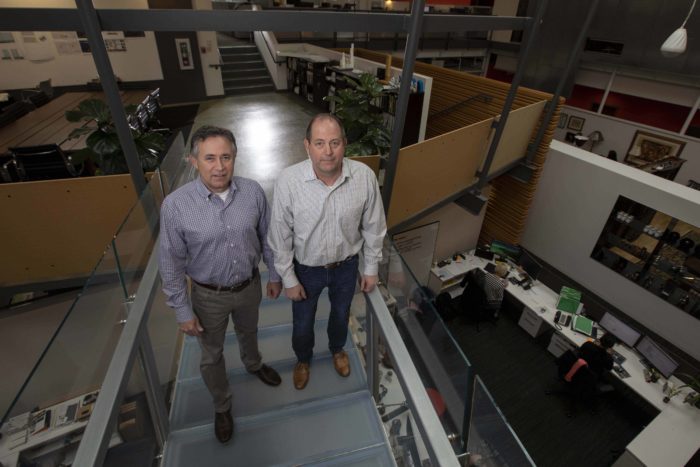 Clayco Inc. is donating $2 million to a major lab expansion project at Missouri S&T. The gift completes fundraising for one of Missouri S&T's top priorities, the Advanced Construction and Materials Laboratory.
"Clayco is pleased to make a major investment in this important project," says Steve Sieckhaus, the company's chief operating officer and shareholder and a Missouri S&T graduate in civil engineering and engineering management. "Research on next-generation construction materials and methods will have a significant impact on how we design and build in the future. Investing in this research is a strategic move that will benefit the entire industry."
The lab expansion marks the final phase of a $10.5 million initiative to advance Missouri S&T's position as a leader in infrastructure research and development. The first phase was completed with a U.S. Department of Transportation grant that funded $2.5 million in testing equipment. The second phase added new faculty positions in civil, architectural and environmental engineering as well as materials science and engineering. The $6.5 million Advanced Construction and Materials Lab will add 16,000 square feet to the existing high-bay structures lab in Butler-Carlton Hall, which allows researchers to conduct heavy-duty testing of full-scale steel beams and other large construction materials.
"The lab will be one of the finest research centers in the world for construction materials and methods," says Dr. Christopher G. Maples, Missouri S&T interim chancellor. "We are elated that Clayco has chosen to invest in this project as the lead donor. We are also grateful to the other contributors who have funded the lab. This support has positioned Missouri S&T for unprecedented acceleration in an area of leadership and expertise."
"Infrastructure is the foundation that connects the nation's businesses, communities and people, driving our economy and improving our quality of life," says Dr. Kamal H. Khayat, the Vernon and Maralee Jones Professor of Civil Engineering and director of the Center for Infrastructure Engineering Studies. "Missouri S&T has strengths in this area and with further emphasis, we can become a best-in-class leader."
Clayco is one of the nation's largest privately owned real estate, architecture, engineering and construction companies, with more than $2 billion in annual revenue and 2,000 employees serving clients in the institutional, industrial, commercial, and residential and hospitality sectors.
Approximately 35 Missouri S&T alumni work for the company, which was founded in St. Louis in 1984.
"Clayco shares Missouri S&T's vision for a long-lasting, more secure and sustainable civil infrastructure made possible by innovative materials and construction processes," says Tom Sieckhaus, the company's executive vice president and shareholder and an S&T graduate in civil engineering. "The impact of this research will affect the daily lives of millions for generations to come."
ARCO Construction Co. and the Sunderland Foundation, the charitable arm of Ash Grove Cement Co., were also major donors to the project, as were a number of S&T alumni at ARCO who made personal contributions. Additional financial support from the University of Missouri System, S&T's College of Engineering and Computing, and private charitable gifts including a bequest from alumnus James A. Heidman were instrumental to funding the lab.
"Infrastructure is what connects our society, providing for our quality of life, fueling our economy and securing our nation," says Dr. Joel Burken, Curators' Distinguished Professor and chair of civil, architectural and environmental engineering. "Thanks to the support of Clayco and other generous donors, Missouri S&T is rising to the challenge of building a stronger, smarter, and safer infrastructure for a more sustainable future."