Nanodiamond research shines brightly on S&T chemistry student's success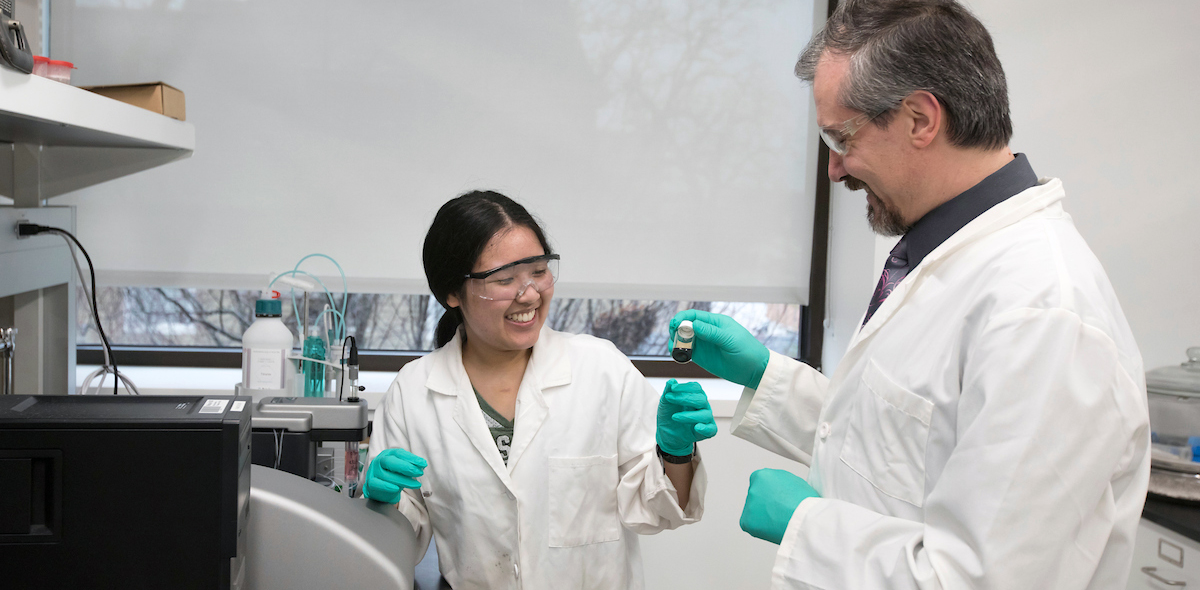 With an enthusiasm for chemistry that's hard to miss, and scientific achievements that defy her age, Cholaphan Deeleepojananan, a senior in chemistry at Missouri University of Science and Technology, chose her path while in high school in Nakhon Pathom, Thailand.
"In high school, I loved doing experiments," Deeleepojananan says. "One of my teachers got me
interested in chemistry, and in grades 11 and 12, I was a research assistant to a professor at Silpakorn University, also in Nakhon Pathom."
Deeleepojananan and her advisor, Dr. Vadym Mochalin, an associate professor of chemistry at Missouri S&T, credit her rapid scientific success to her early involvement in research.
"Not many undergraduate students at her age have similar achievements," Mochalin says. "Cholaphan is a great model of an undergraduate who understands that research is a component of education and a benefit that makes it possible to create knowledge."
Deeleepojananan studies nanodiamonds, which are carbon-based particles roughly five nanometers in diameter, or about five-billionths of a meter. Although very small, these nanoparticles are diamonds in all rights. "The future of their applications is unlimited," Deeleepojananan says.
Mochalin refers to nanodiamonds as "microscopic bling" that are chemically stable and nontoxic with many mechanical and biomedical applications, ranging from abrasives and polishing materials to oil additives and sunscreen components and even for targeted drug delivery in cancer treatment.
Within a 13-month period between 2016 and 2017, Deeleepojananan's research into the deaggregation and fluorescence of nanodiamond materials resulted in the publication of two papers by American Chemical Society journals, the most cited scientific journals across 14 scientific categories, according to the Journal Citation Reports  released in 2017.
Deeleepojananan's 2016 research, "Salt-assisted Ultrasonic Deaggreagation of Nanodiamond," published in the journal ACS Applied Materials & Interfaces, describes a new, uncomplicated, inexpensive and contaminant-free technique of salt-assisted ultrasonic deaggregation (SAUD) to break apart nanodiamond aggregates into single-digit, stable particles.
In contrast to other current deaggregation techniques, which are expensive and introduce contaminants into the material, SAUD-produced nanodiamonds have no toxic or hard-to-remove impurities. This makes them suited for numerous applications, including theranostics—precise drug delivery that combines diagnostic and therapeutic applications in a single nanoplatform.
After publication, Deeleepojananan made a short YouTube video of the technique. "This is a nice illustration of Cholaphan's ability to popularize the research and teach others about it within one or two minutes, a key skill of today's most successful academics," Mochalin says.
As scientific serendipity would have it, Deeleepojananan was able to use the new SAUD-created nanodiamonds in test samples she prepared for the next research project, which led to new discoveries in nanodiamond fluorescence.
Deeleepojananan's 2017 research, "Effect of Surface Chemistry on the Fluorescence of Detonation Nanodiamonds" was published by ACS Nano. The paper, which she co-authored with Mochalin and researchers from the Royal Melbourne Institute of Technology, is the first systematic attempt to look at the effects of surface chemistry on the fluorescent properties of detonation nanodiamonds (DNDs).
The research contributes to the exploration of the use of DNDs in theranostics, where brightly fluorescent, chemically stable nanoparticles are needed, as well as for advancements in biomedical imaging, in particular for those applications where the fluorescent imaging agent is injected and then needs to be observed through the skin.
Deeleepojananan came to Missouri S&T as a sophomore and joined Mochalin's research group in 2016 through S&T's Opportunity for Undergraduate Research Experience program, where she voluntarily contributed about six hours a week to research. In addition to research, Deeleepojananan excels in her classwork. In 2017, she received the national American Institute of Chemists Student Award and the Missouri S&T Outstanding Junior Award from the chemistry department. So far in 2018, she has received the First Place Award in the Sciences Oral Session at the 14th Annual Missouri S&T Undergraduate Research Conference, the ACS South Central Missouri Section Undergraduate Research Scholarship, and the Missouri S&T Outstanding Senior Award from the chemistry department.
Deeleepojananan believes the support of her family and friends has contributed to her success. "I am not alone here," she says. "I use Skype twice a week to communicate with my family in Thailand, and I have many friends on campus who are international students."
In her high school in Nakhon Pathom, which Deeleepojananan describes as competitive, she was one of 10 students who received college scholarships from the Royal Thai Embassy to study in STEM fields in the U.S. while Thailand strives to grow its cadre of native scientists.
She chose Missouri S&T based on a presentation she received from a university representative at a summer program for international students at Brewster Academy in Wolfeboro, N.H. "The Missouri S&T campus looked beautiful and classes were not too big—plus the academics were quite strong," she says. To help her acclimate to the change, the embassy sent Deeleepojananan to Gould Academy in Bethel, Maine, for her freshman year before she enrolled at Missouri S&T.
After graduation, Deeleepojananan plans to return to Nakhon Pathom and work for a year at Silpakorn University. She then wants to earn a Ph.D. in the U.S. After that, she will be required to work for 10 years as a scientist in Thailand to repay her educational sponsorships.
Deeleepojananan understands the contribution she could make to science and to her native country.
"I encourage other undergraduates to do research," she says. "They can learn so much from this experience to apply as scientists."