Missouri S&T Mucking Team travels to England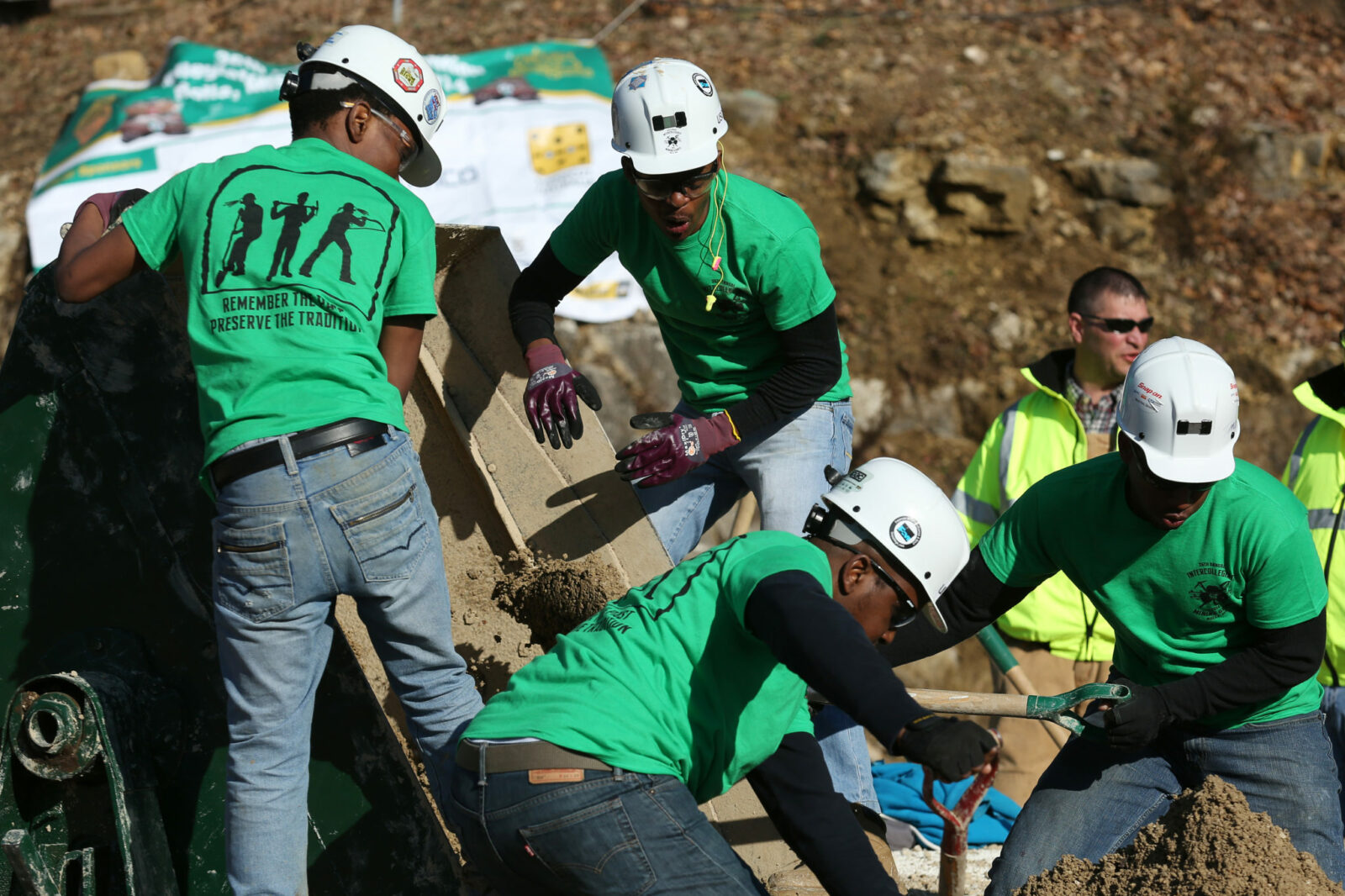 A group of Missouri S&T students is preparing to travel across the Atlantic to compete in events based on mining techniques generally known as "mucking." The students will compete in the 40th Intercollegiate Mining Competition held Thursday, March 29, through Sunday, April 1, King Edward Mine in Camborne, Cornwall, England.
Missouri S&T will send three teams to compete against approximately 40 other teams from around the world in events based on mining techniques used in the late 19th and early 20th centuries. Students will compete in timed events like gold panning, surveying, hand-mucking, hand-steeling, track-standing, Swede sawing and jackleg drilling.
First held in 1978, the games were created to honor 91 miners who died in a fire at Idaho's Sunshine Mine in 1972. The competition celebrates traditional mining practices and helps create a global community of mining students. Mining colleges and universities around the world rotate hosting the Intercollegiate Mining Competition.
The Missouri S&T teams' sponsors include: Fred Weber, Freeport McMoRan, Brunner & Lay, Lehigh Hanson, Kiewit, APAC Central, Caterpillar, and Pine Bluff Sand and Gravel.
The following students will represent Missouri S&T:
Men's Team A
Clayton Mears, team captain, a senior in mining engineering from Portage, Ohio
Jake Meier, a graduate student in explosives engineering from Robertsville, Missouri
Jared Proctor, a senior in mining engineering from Collinsville, Illinois
Roger Taylor, a senior in mining engineering from St. Louis
Chris Hudak, a senior in economics from Brecksville, Ohio
Andrew Arneson, a senior in mining engineering from St. Louis
Men's Team B
Chance Moore, team captain, a Ph.D. student in explosives engineering from Palmyra, Missouri
Andrew Johnson, a senior in mining engineering from Nixa, Missouri
Alex Sibley, a senior in mining engineering from Black, Missouri
Michael Verdegem, a junior in mining engineering from Denver, Pennsylvania
Mooketsi Selelo, a senior in mining engineering from Serowe, Botswana
Edward Christian, a freshman in mining engineering from Lake Saint Louis, Missouri
Women's Team
Taylor Darnall, team captain, a senior in mining engineering from Danvers, Illinois
Rebekah Averill, a senior in nuclear engineering from Rolla, Missouri
Kylie Bell, a junior in mining engineering from Roseville, Ohio
Brooklan Davis, a senior in geological engineering from Rolla, Missouri
Genevieve Kelly, a junior in mechanical engineering from Ellisville, Missouri