University of Missouri Curators approve Advanced Construction and Materials Laboratory at Missouri S&T
The University of Missouri System Board of Curators on Thursday approved a new $6.5 million lab at Missouri University of Science and Technology that is expected to position the university as a national leader in addressing the challenges of aging public infrastructure.
The Advanced Construction and Materials Laboratory (ACML) will expand the High-bay Structures Laboratory in Butler-Carlton Civil Engineering Hall to provide 16,000 square feet of research space for developing and testing new construction materials and methods.
Missouri S&T has raised more than $3 million in private donations toward the project, including a $3 million gift from the estate of James A. Heidman, a 1965 civil engineering graduate of the university, and a $100,000 gift from the Sunderland Foundation, the charitable arm of Ash Grove Cement Co.
UM System President Mun Y. Choi agreed earlier this year to commit $1.7 million toward the project. The curators approved that additional expense as well as the use of another $1.7 million in campus reserves.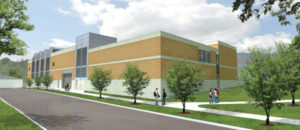 The ACML was Missouri S&T's top-priority capital project for matching funds from the state of Missouri through the state's 50-50 program. Under that program, the Missouri legislature would appropriate equivalent funds to match private donations for capital projects on UM System campuses that would benefit Missouri and Missourians.
While no 50-50 projects received state support in 2017, Missouri S&T and UM System leaders decided that the ACML project was too important to delay, so they chose to designate university funds for its completion. The project is expected to take about two years to complete.
Once completed, the ACML will consolidate more than 35 pieces of testing equipment currently scattered in buildings across campus and at the Hy Point Industrial Park east of Rolla.
The ACML also will support the university's research focus on infrastructure and sustainability, including the rehabilitation of urban mass-transportation centers such as highways, bridges, tunnels, rail, airports, port and water navigation channels, and utility infrastructure.