Missouri S&T professor named Canadian Academy of Engineering fellow
A Missouri University of Science and Technology professor of electrical and computer engineering who specializes in wireless communications and signal processing has been inducted as a fellow into the Canadian Academy of Engineering.
Dr. Chengshan Xiao is one of 52 new fellows to formally join the Canadian academy at an induction ceremony this week in Ottawa. A member of the Missouri S&T faculty since 2007, Xiao was previously a senior scientist with Nortel Networks Corp. in Ottawa and was also a faculty member at the University of Alberta in Edmonton.
"While they have wildly varying backgrounds, what our new fellows all have in common is the demonstrated ability to go beyond the normal practice of engineering and contribute in exemplary ways towards their fields and to their communities," says Douglas Ruth, academy president.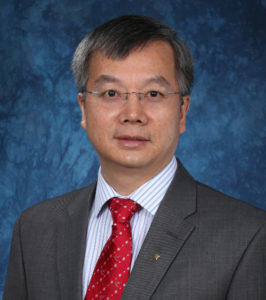 Xiao's wireless fading channel models have been widely adopted by researchers in academia and engineers in industry. Two of his patented algorithms have been implemented in cellular radio products after successful technical field trials and network integration.
He's also a fellow of the Institute of Electrical and Electronics Engineers and has served as the editor-in-chief of the IEEE Transactions on Wireless Communications journal. He is currently serving as a program director at the National Science Foundation. In 2014, Xiao received a Humboldt Research Award from the Alexander von Humboldt Foundation in recognition of his lifetime achievements in wireless communications research.
"Dr. Xiao has made extraordinary contributions to science through his research and through service to the professions," says Dr. Daryl Beetner, Missouri S&T chair of electrical and computer engineering. "I was not surprised to hear he received this honor."
Xiao earned a bachelor of science degree in electronic engineering from the University of Electronic Science and Technology of China in Chengdu in 1987, a master of science degree in electronic engineering from Tsinghua University in Beijing in 1989 and a Ph.D. in electrical engineering from the University of Sydney in Australia in 1997.
His academic career began at Tsinghua University. He's also been on the faculty of the University of Missouri-Columbia and has been a visiting professor in Germany and Hong Kong.