S&T commencement speaker: Tackle big challenges, consider public service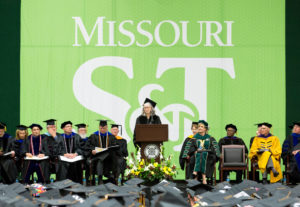 Stephanie O'Sullivan, former principal deputy director of National Intelligence at the Office of the Director of National Intelligence, encouraged graduates of Missouri University of Science and Technology to be willing to tackle big challenges, and then do the hard work to back it up.
O'Sullivan, a 1982 Missouri S&T graduate, spoke during commencement ceremonies at Missouri S&T on Saturday, May 13. During the ceremony, she was awarded the doctor of science, honoris causa.
"Technology is not something that happens to you," O'Sullivan said. "It is a tool you can wield to solve problems. At S&T you have learned how to figure things out. You have also learned how to apply the knowledge you've gained."
O'Sullivan also encouraged Missouri S&T graduates to consider careers in public service.
"I have spent the last several years surrounded by brilliant lawyers, insightful policy wonks and skillful politicians, as well as a host of incredibly brave men and women whose dedication and sacrifice, through rarely reported, should not be forgotten," said O'Sullivan, who earned her S&T degree in civil engineering.
"That world needs more people like you in the mix," she said. "People who can create a different future, who understand how to wield technology to solve problems, who see the world as it is, but are capable of materially helping to make it better. Be willing to take on the big problems. Be willing to take on a challenge and then to do the hard work to back it up, and surround yourself with people who challenge you to be your best."
O'Sullivan served as the principal deputy director of National Intelligence at Office of the Director of National Intelligence from February 2011 to January 2017. During her service with the ODNI, she focused on the operations of the office and the Intelligence Community (IC), as well as IC integration initiatives and resource challenges. Before this assignment, she served as the associate deputy director of the Central Intelligence Agency (CIA), where she worked with the director and deputy director in the overall leadership of the agency with emphasis on day-to-day management of the organization.
Prior to becoming associate deputy director of the CIA, O'Sullivan for four years led the CIA's Directorate of Science and Technology (DS&T) — the part of the agency responsible for developing and deploying innovative technology in support of intelligence collection and analysis.
In her career, she held various management positions in the CIA's DS&T, where her responsibilities included systems acquisition and research and development in fields ranging from power sources to biotechnology. A native of Cape Girardeau, Missouri, O'Sullivan joined the CIA in 1995 after working for the Office of Naval Intelligence and TRW.