Robotic bridge inspection, preservation is focus of new transportation center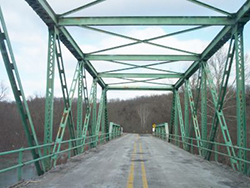 Your commute to work may be smoother in the future, thanks to new federally funded research at Missouri University of Science and Technology.
Missouri S&T will receive a $1.4 million 2016 University Transportation Centers (UTC) tier 1 grant to develop robotic tools to inspect and maintain bridges and portions of highway from the air or from the side of the structure. The U.S. Department of Transportation's Office of the Assistant Secretary for Research and Technology announced the award Monday, Dec. 5.
"We plan to develop a robotic arm for both flying and climbing unmanned vehicles to inspect and maintain bridges and other transportation infrastructure," says Dr. Genda Chen, the Robert W. Abbett Distinguished Chair in Civil Engineering at Missouri S&T and director of the new UTC. "Once this technology is developed and in use, we will never need to close traffic for bridge or highway inspection and preservation."
Instead, robotic unmanned aerial vehicles (UAVs) or robots capable of crawling up along the sides of bridges will inspect or fix bridges from beneath the flow of traffic, Chen says. The robotic arms could also apply sealant or paint to bridge sections, while engineers guide the work remotely and monitor on a screen and visually verify the results as needed. Chen envisions equipping the robots with sensors and microwave cameras capable of detecting potential problems inside bridge beams and decks before they become problematic.
"With the arrival of the robotic era, we expect bridge inspection to be reinvented and transformed into a more consistent, reliable and rapid process," Chen says.
Missouri S&T will lead a consortium of 10 colleges and universities in the effort. The grant is one of 35 five-year grants awarded under the UTC program, which was reauthorized under the Fixing America's Surface Transportation Act (FAST Act).
The federal funding is renewable annually for five years and must be matched by non-federal sources.
The Missouri S&T-led UTC is called Inspecting and Preserving Infrastructure through Robotic Exploration, or INSPIRE. In addition to the research, a portion of the grant will be used to "train and expand the transportation work force," Chen says.
Missouri S&T faculty who will work with Chen on the project are Dr. Suzanna Long, professor and interim chair of engineering management and systems engineering, who serves as associate director of the center; Dr. Zhaozheng Yin, assistant professor of computer science; Dr. Ruwen Qin, associate professor of engineering management and systems engineering; Dr. Reza Zoughi, the Schlumberger Distinguished Professor of Electrical Engineering; Dr. John Myers, professor of civil engineering; Dr. Leslie Sneed, associate professor of civil engineering; Dr. Mohamed Elgawady, associate professor of civil engineering; and Dr. Hongyan Ma, assistant professor of civil engineering.
Missouri S&T's partners in the project are City College of New York, Georgia Institute of Technology, University of Colorado at Boulder, University of Nevada-Reno, University of Nevada-Las Vegas and four Missouri institutions: Lincoln University, East Central College, St. Louis Community College and Ozarks Technical Community College.
Missouri S&T is a partner in the Mid-America Transportation Center, which is a regional UTC that also received grant funding from the U.S. Department of Transportation. This consortium is led by the University of Nebraska-Lincoln.