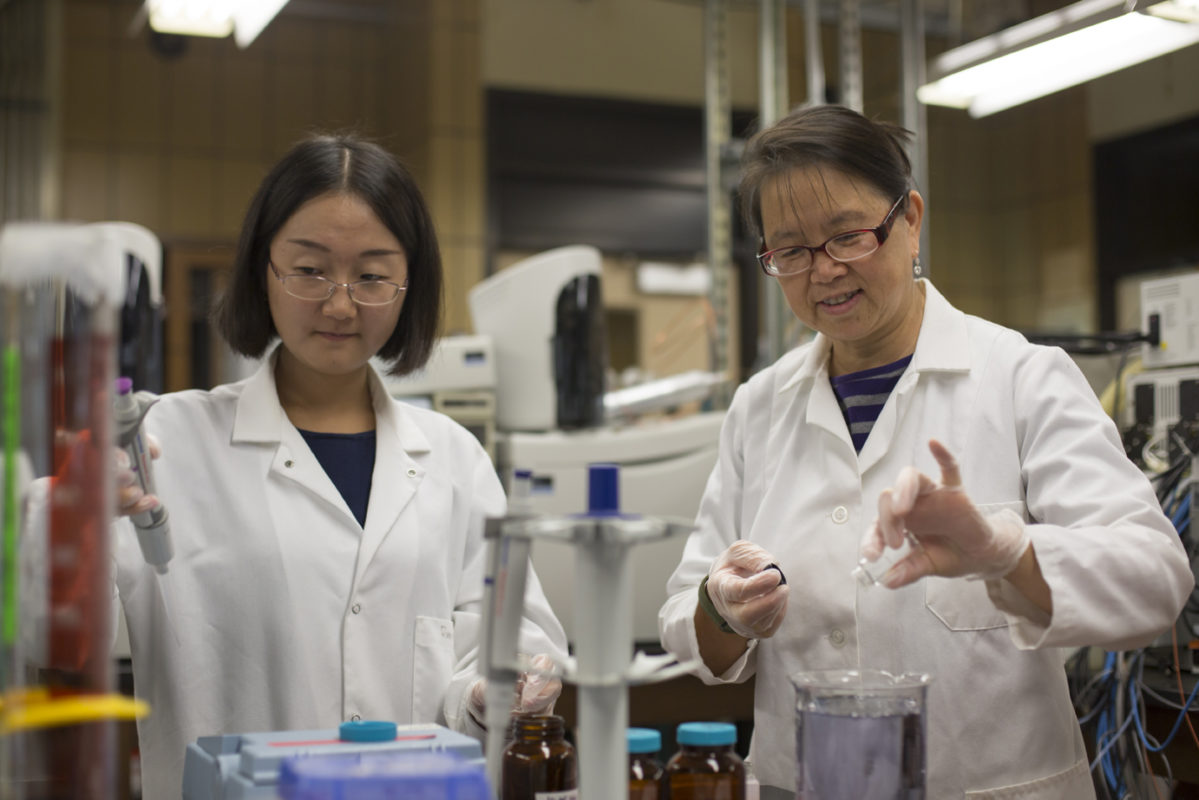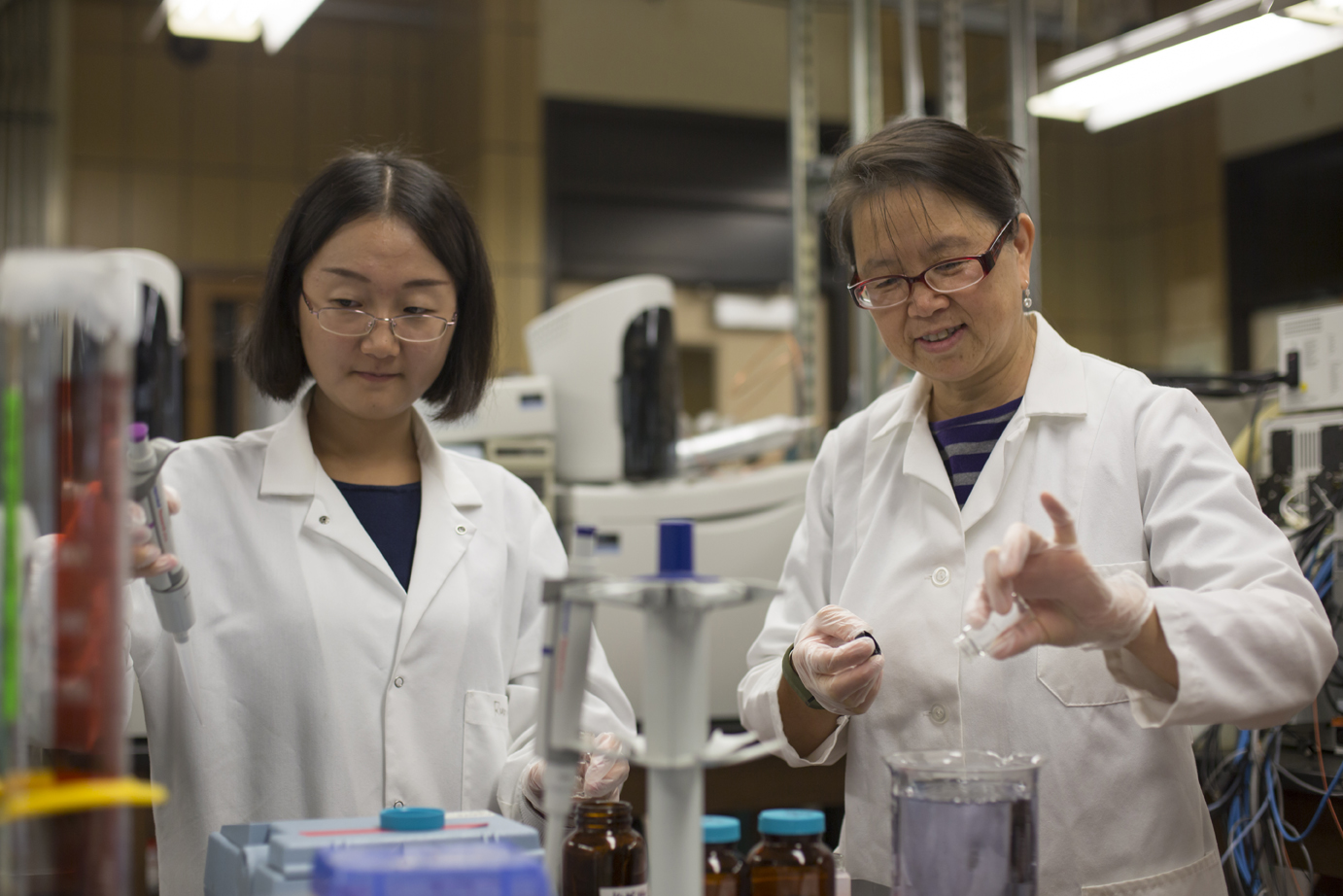 When foul-tasting and potentially toxic water reaches Missouri residents, water utility supervisors know who to call: Dr. Honglan Shi.
Shi is quick to respond, taking water samples, snapping photos, talking to utility operators and even tasting the water. Shi transports the water samples back to her lab at Missouri S&T, where she tests them using different types of analytical instruments to determine what compounds caused the foul taste. Afterwards, Shi makes suggestions to remedy the problem.
Even when she's off campus, Shi is still on call.
Last November, for instance, she was in a Chicago airport on a Saturday morning during a layover when she received a call from a drinking water plant supervisor near St. Louis. The supervisor told her the water at the plant had a serious taste and odor problem. Shi changed her plans and caught the next plane back to St. Louis. In the meantime, she called her student research assistants – Haiting Zhang, Runmiao Xue and Ariel Donovan – and directed them to drive from Rolla and meet her at the plant.
"I said, 'Get ready. You're going to St. Louis. I'll fly from Chicago,'" Shi, an associate research professor of chemistry, says.
When Shi and her students arrived at the plant, they learned that the water was entering the drinking supply of thousands of utility customers. She also learned the extent of the problem.
"It tasted very bad," she says. "It smelled like manure."
Shi and her students collected water samples and rushed back to her research lab, where they worked through the night testing the samples.
"We had to be quick, because otherwise thousands of consumers would be drinking not only bad tasting water, but, without knowing what was causing the taste and odor problem, water that might be dangerous to their health," she says.
By the next morning, they knew the culprit chemical compounds, which were non-toxic, and suggested a way the plant operators could treat the water.
Several days later, Shi got a call from another water treatment facility in St. Louis with a taste and odor problem.
Using similar steps, Shi and her students discovered that the compound causing the problem at this facility was at such a low concentration level that the plant operators couldn't detect it using the plant's equipment, nor could they remove it by increasing the carbon concentration. Increasing carbon concentration is the most common way to remove microorganisms and taste and odor from drinking water.
Thanks in part to their work at these two facilities, Shi and her research group were awarded a $53,045 grant from the Missouri River Water Supplies Association earlier this year. Since May, Shi and her team have been testing water quality at three major facilities along the Missouri River in Missouri. The grant runs through April 30, 2017.
Shi says the project is important because the Missouri River provides drinking water to more than 60 percent of Missourians, and the river water frequently has taste and odor problems, she says.
"Treatment plants along the Missouri River have to use large amounts of activated carbon to control taste and odor," Shi says. And that costs a lot of money.
The more carbon used to treat the water, the more money spent by the utility. These costs are often passed on to the customers.
Shi and her research team are trying to determine the most effective active carbons that the utility can use to control taste and odor issues, while also removing harmful pesticides and herbicides.
Rising stock, increasing threat
Shi has gained a national reputation as a go-to drinking water quality expert.
Since receiving grant funding from the Missouri River Water Supplies Association, Shi and her research team have been awarded at least two more grants for this year: one for $107,904 from the Missouri Department of Natural Resources to further study water taste and odor problems, and to screen for harmful algal toxins and harmful Perfluorooctanoic acid (PFOA) and Perfluorooctane Sulfonate (PFOS) compounds at many water facilities in the state; and one for $68,853 from the Tulsa Metropolitan Utility Authority to test harmful algae and algal toxins at two large facilities that provide drinking water to the city.
While drinking water taste and odor problems might cause consumers a bit of apprehension (or make them hold their noses), Shi says a greater threat looms.
"The worry right now from the whole world is that algal blooms are becoming more and more serious," Shi says. Certain algae are associated with illness and environmental issues. "Everywhere, people are trying to figure out what to do if an harmful algal bloom happens. Because, whenever they bloom, they spread very quickly and no one can drink the water."
Toxic algae blooms are especially prevalent in hot seasons and eutrophicated water. Eutrophicated water is water lacking in oxygen. Eutrophication is caused by the addition of excess nutrients such as nitrogen and phosphate into an aquatic system.
The most frequently reported type of toxic algae is Microcystis, a freshwater cyanobacteria often called "blue-green" algae. Ingestion or inhalation of Microcystis may, within several hours after exposure, lead to abdominal cramps, nausea, vomiting, diarrhea, fever, sore throat or hay fever-like symptoms. Missouri Department of Natural Resources and the Tulsa Metropolitan Utility Authority are trying to stay ahead of this threat so that if there is a harmful algal bloom threatening drinking water supplies, they will know how to combat it.
That's where Shi and her research team come in. They have been collecting water from the different treatment facilities, bringing the water samples to Shi's lab, and spiking the water with different types of toxic algae they cultured in their lab.
"The real problem is the toxin, but the toxin comes from the harmful algae," Shi says. "So, how do we kill the algae, control the bloom, while at the same time, not let the toxins leach out? There are a lot of factors and a lot of different experiments to perform."
In the meantime, Shi is happy that her research is valuable to her students and the public.
"These students are solving real-world problems to help the people of Missouri, the United States and the world," she says.
Photos by Sam O'Keefe