How kitesurfing sparked a startup idea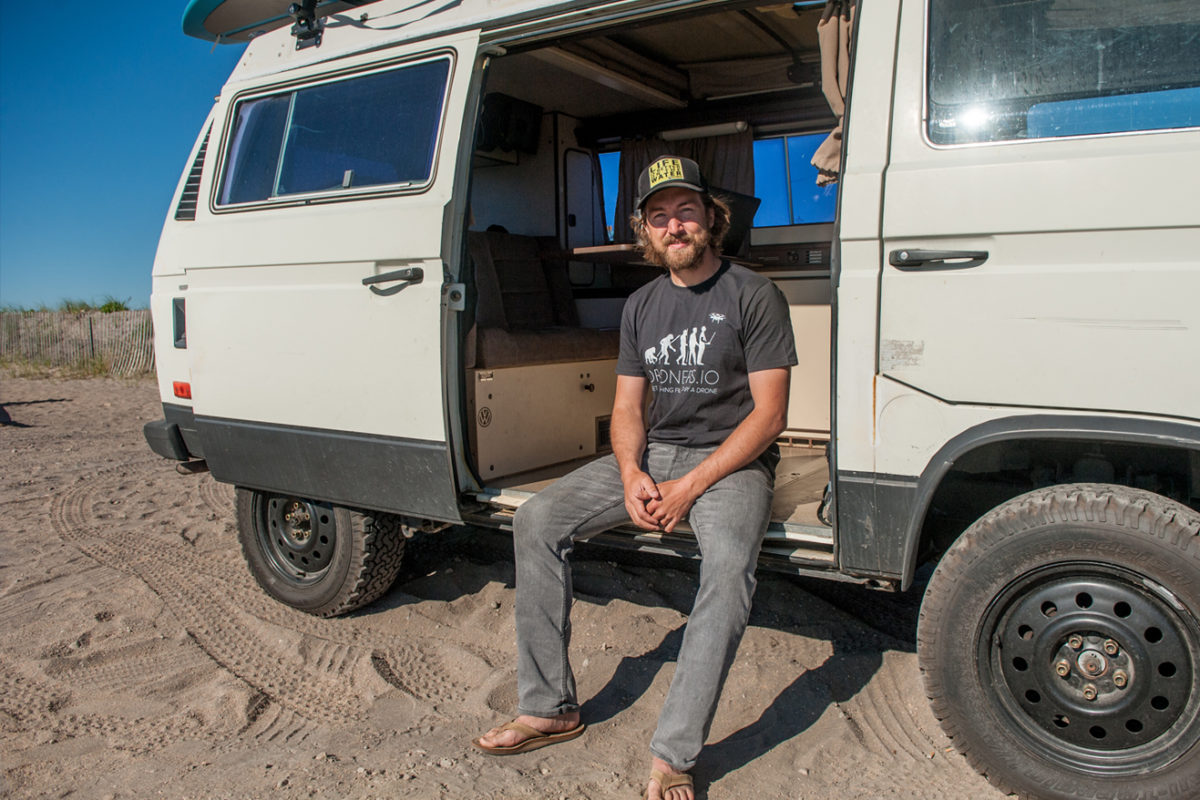 When Dave Brown was a teenager growing up around Missouri's Lake of the Ozarks, he spent a lot of his time tinkering with robots and remote control cars and building his computer business.
"Being an entrepreneur is definitely in my blood," says Brown, who pursued a computer science degree from Missouri S&T from 2003 to 2008. "I've always run some type of business, whether on the side or full time."
Today, Brown spends his days working from his mobile office – a 1985 Westfalia camper bus that's typically parked by his favorite kitesurfing beaches in Rhode Island. It's all in a day's work for this founder of Droners.io, a drone pilot marketplace with more than 2,000 registered pilots.
He credits his time at S&T with figuring out what he was truly passionate about. As a sophomore, he joined the robotics team and competed in the Intelligent Ground Vehicle Competition. He stayed on the team through his senior year, becoming the computation lead.
"I gained a lot of experience outside of what I would learn from my computer science major," he says. "Some good, some bad, like the time we tried to build our own high-powered electronic motor controllers and they burst into flames."
By his senior year, he was exploring how to build a prototype for a miniature, remotely controlled submarine through the university's Opportunities for Undergraduate Research Experiences program. The sub was designed to plumb the depths of a nuclear power plant's cooling pool and take video at the reactor's core, which would allow nuclear engineers to safely inspect the images.
He built his first web application using the Django Web Framework, a popular system for many web startups. With that knowledge and his passion for outdoor and action sports, he created RampFrame, a social community for sharing outdoor gear.
In 2008, Brown accepted a job at Avaya, a telecommunications company outside of Denver. He planned to complete the final six history credits for his computer science degree through an online program, but life got busy.
"While working there, all I could think about was how I wanted to be working on my own projects," he says. "With no safety net, I quit, rented out my room in the house I was leasing and eventually moved into my garage so that I'd have enough money to dedicate the majority of my time on my startup. Unfortunately, it happened to be winter when I made the change. I had a frozen glass of water that sat on my desk for well over a month."
After about a year of working on it, Brown launched RampFrame. It failed miserably.
"All was OK though," he says. "I had a blast building it, and I was ready to do it all over again."
Brown continued building online marketplaces, and in 2009 he founded DjangoJunkie, a shop where he builds apps for startups and other people. He even joined Google-funded CustomMade.com for 18 months – the longest time he has ever worked for someone other than himself.
"They were a pretty dang cool company," he says. "Lots of awesome people working on some fun and challenging problems."
A year ago, after a friend captured footage of him kitesurfing, Brown decided to build Droners.io, a two-sided marketplace for hiring professional drone pilots.
"I was surprised to find that it was really difficult to not only find a local pilot, but more importantly, a pilot who had the proper license and requirements to do it legally," he explains. "The FAA has very strict regulations in place to fly a drone commercially."
At the time the drone industry was booming, so Brown jumped in, often working until 2 a.m. He launched the site eight weeks later.
"It was relatively easy for me to build Droners," he says. "The real challenges came when the site started to get traction. The first week of launching, I was featured on ProductHunt – a site for discovering up-and-coming apps and websites – and in Wired, Forbes and other large publications. As a solo founder, I quickly found myself feeling way over my head."
Brown started both Droners and DjangoJunkie without the assistance of outside investors, and he has decided to maintain that control.
"Managing my time between companies and my family can definitely be challenging at times," says Brown, who is married with two young children. "About once a day, I also go back and forth on whether or not I should raise capital, problems that most tech geeks don't have to worry about. But I'm very grateful for the opportunity to experience it. I wouldn't trade it for anything."
If Brown could offer advice for current students, it would be to never underestimate the power of working on something in small steps.
"Don't decide not to pursue something because you feel you don't have enough time," he says. "Even if it's just an hour a week, the day will eventually come where you will have achieve what you wanted, and perhaps all it cost you was an episode or two of TV every week."