Bristow to lead Center for Aerospace Manufacturing Technologies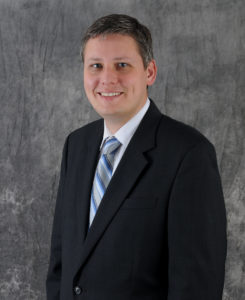 ROLLA, Mo. — Dr. Douglas Bristow, associate professor of mechanical and aerospace engineering at Missouri University of Science and Technology, has been named the director of the Center for Aerospace Manufacturing Technologies (CAMT) at Missouri S&T. His appointment takes effect Thursday, May 19.
Bristow takes over for Dr. Ming Leu, the Keith and Pat Bailey Missouri Distinguished Professor of Integrated Product Manufacturing and director of the Intelligent Systems Center at Missouri S&T. Leu was CAMT's director since its founding 12 years ago.
"Doug has served as CAMT's associate director in the past two years, where he has demonstrated strong leadership quality in a teamwork environment," Leu says. "I feel that now is the right time for me to step down so that a young, well-qualified colleague like Doug can have the opportunity to fully develop leadership skills and to inject new vitality into the center. My stepping-down is good for Doug, myself and the CAMT industrial consortium."
The center specializes in fabrication and assembly technologies that are applicable to aerospace and other manufacturing industries. Some of the center's main research areas include additive manufacturing, rapid prototyping and manufacturing, laser-based materials processing, composites fabrication and evaluation, machining and machine tools, metrology, assembly modeling and simulation, and manufacturing ergonomics.
In the past five years, Bristow led a CAMT project with the objective to rapidly measure and improve the accuracy of machine tools and industrial robots. His methods are currently employed in production at several consortium member companies. As associate director, he organized the center's recent 10th anniversary celebration and its Additive Manufacturing Showcase. He also contributed to the recruitment of companies into the CAMT industrial consortium, whose current members include Boeing, GKN Aerospace, Spirit AeroSystems, Stratasys, Toyota Bodine, Automated Precision Inc., Product Innovation and Engineering, Cummings, Optomec, and Steelville Manufacturing.
"CAMT is a strong organization because we have top-tier industrial members who represent the best elements of the aerospace manufacturing industry, large and small, and who are dedicated to technological innovation and the transfer of academic research into industry," Bristow says. "Those members are mirrored by a group of exceptional faculty who understand the needs of industry and create tremendous value for the members. Our focus for the coming years will be on finding innovative methods to further increase that value and expand our footprint."
Bristow's research interest include dynamic modeling and control with applications in laser metal deposition additive manufacturing, selective laser melting additive manufacturing, glass-wire laser additive manufacturing, atomic force microscopy, active vibration isolation, and precision motion systems. He is also interested in volumetric error compensation for machine tools and industrial robotics.
Bristow joined Missouri S&T's faculty in 2008 as an assistant professor and was named associate professor in 2014. He is a member of the American Society of Mechanical Engineers and the Institute of Electrical and Electronics Engineers. He earned a bachelor of science degree in mechanical engineering from Missouri S&T in 2001. He earned master of science and Ph.D. degrees in mechanical engineering from the University of Illinois Urbana-Champaign in 2003 and 2007, respectively.
###