S&T bands to perform spring concert on April 24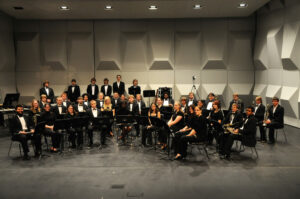 Experience the sound of Missouri University of Science and Technology's Winter Drumline, Brass Choir, Symphonic Band and Wind Symphony during a combined performance this April.
The concert will be held at 2 p.m. Sunday, April 24, in Leach Theatre of Castleman Hall, located at the corner of 10th and Main streets in Rolla. David Cress, assistant teaching professor in arts, languages, and philosophy, will conduct the Symphonic Band and Wind Symphony.
The S&T Brass Choir will open the performance and will be directed by Austin Wilhelm, a senior in mining engineering from Chillicothe, Illinois.
The Wind Symphony will take the stage with "Commando March" by Samuel Barber, "A Scottish Sunrise" by Travis J. Weller and "As a Wind from the North" by Robert Sheldon.
Following a brief intermission, the Symphonic Band will perform "Galop" by Gary P. Gilroy, "Adagio" by David R. Holsinger and "American Sketches" by Barry Kopetz.
The concert will conclude with a performance by the S&T Winter Drumline, directed by Trevin Howerton, a senior in mechanical engineering from Weatherby Lake, Missouri.
Tickets are $5 for the general public and free for Missouri S&T students who present a valid ID, and youth age 18 and younger. Tickets can be purchased 9 a.m. to 4 p.m. Monday through Friday in the Leach Theatre Box Office located in the vestibule of the main entrance of Castleman Hall, facing 10th Street, or by calling 573-341-4219.
For more information about the April 24 performance or Missouri S&T bands, contact Cress at cressdl@mst.edu, or call the Missouri S&T performing arts office at 573-341-4185.