Missouri S&T choirs to present spring concert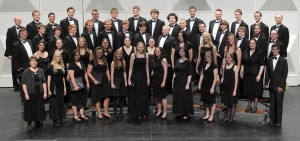 Observe the beauty of the earth this month at Missouri University of Science and Technology's spring choir concert titled "Celebrating Earth."
The performance in honor of Earth Day will be held at 7:30 p.m. Thursday, April 21, in Leach Theatre of Castleman Hall, located at the corner of 10th and Main streets in Rolla. Lorie Francis, an assistant teaching professor in arts, languages, and philosophy at Missouri S&T, will conduct the choirs.
The Missouri S&T Men's Choir will perform "Solstice" by Tim Sarsany, "Ghao Shan Qing" by Reed Criddle and "I See the Heaven's Glories Shine" with music by Andrea Ramsey with text based on the poem of the same name by Emily Bronte.
"'Solstice' contains four movements, each based on Native American music and tradition," says Francis. "The first movement, called 'Friendship Dance,' represents a time to come together to syncopate the energy of Mother Earth. The second, called 'Song of the Spirit Dance' expresses a longing for the past while the third movement, called 'Medicine Wheel' represents the journey of the individual to their own path. The fourth and final movement is called 'Songs from the Ancient Lodge' and represents the end of the Native American ceremony."
The S&T Chamber Choir will take the stage with "Voice Dance V" by Greg Jasperse and "The Sky is Low, the Clouds are Mean" with text by Emily Dickinson and music by Jay Althouse. The choir will also perform "Earth Song" by Frank Ticheli and "For the Beauty of the Earth" by Philip Stopford.
The University Choir will close the concert with renditions of "Voices of the Earth" by Archibald Lampman and David Dickau, "Gently" by Brian Tate, and "Earth Songs" by David Brunner.
Tickets are $5 for the general public and free for Missouri S&T students who present a valid ID, and youth age 18 and younger. Tickets can be purchased 9 a.m. to 4 p.m. Monday through Friday in the Leach Theatre Box Office located in the vestibule of the main entrance of Castleman Hall, facing 10th Street, or by calling 573-341-4219.
For more information on the concert or Missouri S&T choirs, contact Francis at lorief@mst.edu, or call the Missouri S&T performing arts office at 573-341-4185.