Despite knowing when and where I'm going to be photographing at Missouri S&T, I still don't always know exactly what I'm about to see. Research and planning can play a big part in executing a portrait, but capturing the unanticipated and authentic moments of a photo shoot are what truly make it special. Photographing Missouri S&T during 2015 continued to intrigue, inspire and challenge me as I embedded myself further into the Miner community.
Swimming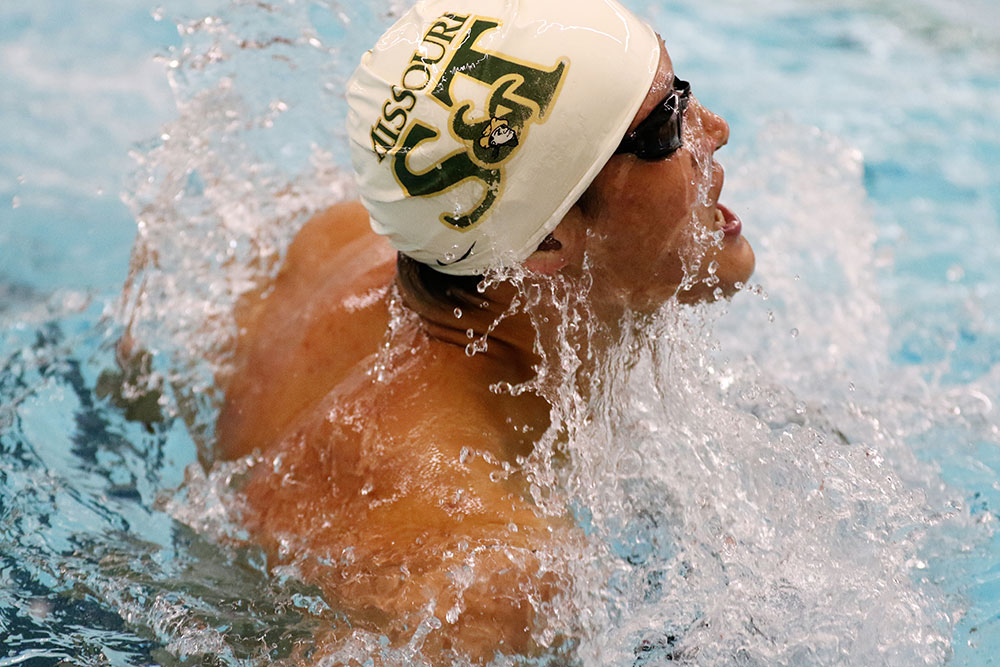 Water fascinates me to photograph because it's a shape shifter. Its ability to transform around objects, such as a swimmer's head emerging for air, always makes me excited to see how it may enhance an already exciting scene.
70mm, 1/1250s, f/2.8, ISO 3200
Pizza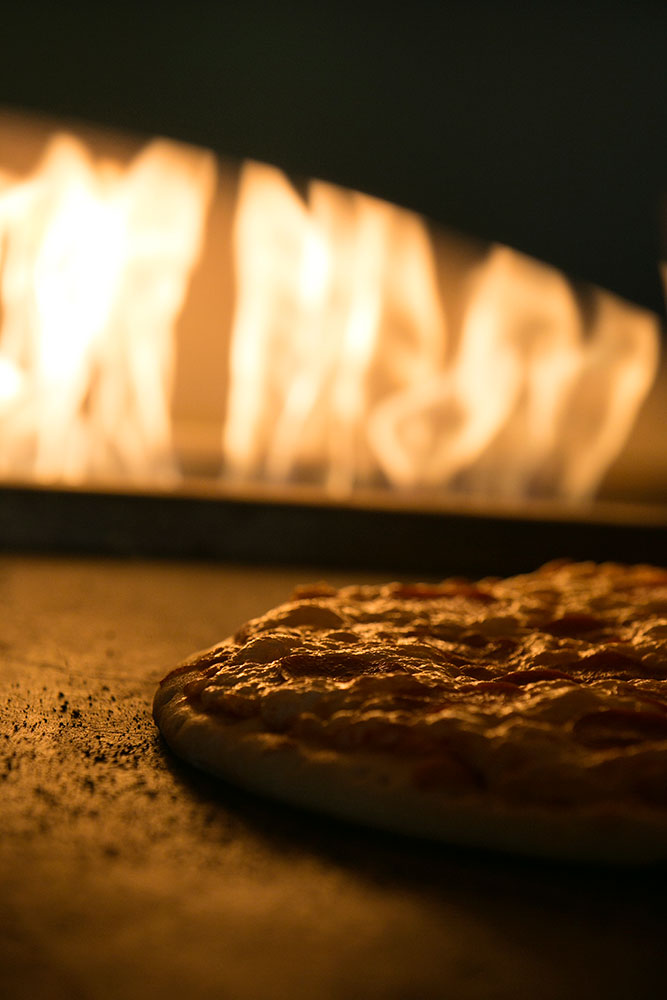 Oh yeah, that's delicious looking brick-oven pizza being made in the dining hall at TJ. (Insert drooling sound here.) This photograph was made as part of a collection of images showcasing the campus dining services in a food-themed issue of Missouri S&T Magazine.
135mm, 1/250, f/4.5, ISO 800
FIRST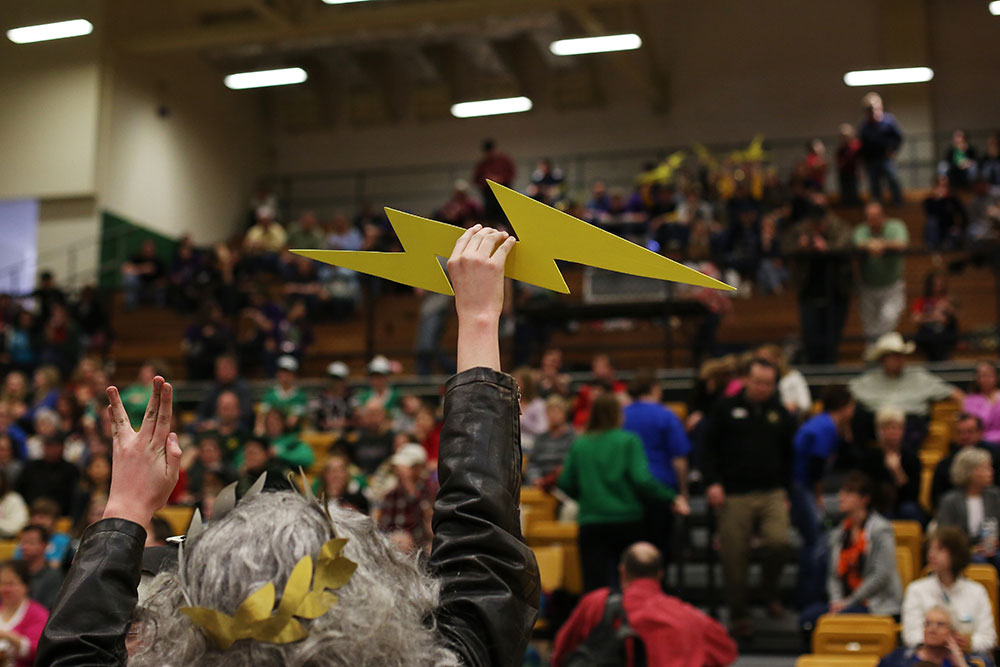 The FIRST Tech Challenge competition is like a mini Comic-Con in Rolla with amazing outfits from the various teams. It is a quirky environment where high school-aged robot-builders inject their personalities into every facet of the competition and unexpected outbreaks of goofiness are encouraged.
50mm, 1/400s, f/2.8, ISO 1600
Street Painting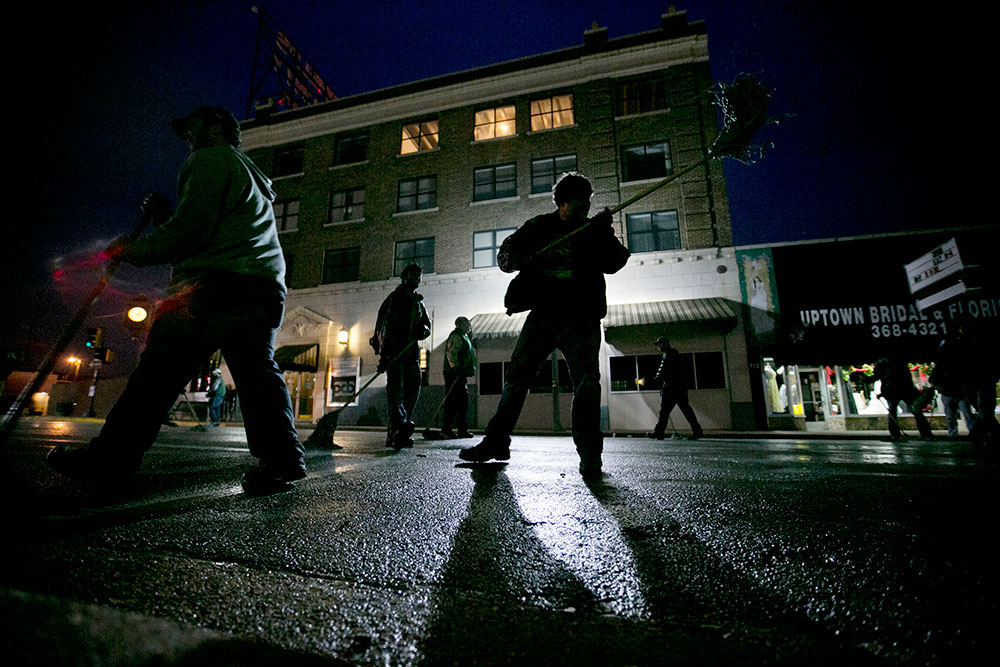 Documenting historical rituals is as important to me as participating in them. Watching students and alumni gather well before sunrise to paint the downtown Rolla streets green for the St. Pat's parade is a spectacle. It's worth setting an alarm for every year. (Unless you paint the streets. Then you stay up all night and attend a quaint breakfast with your fellow painters before your shift.)
16mm, 1/125s, f/2.8, ISO 3200
Baseball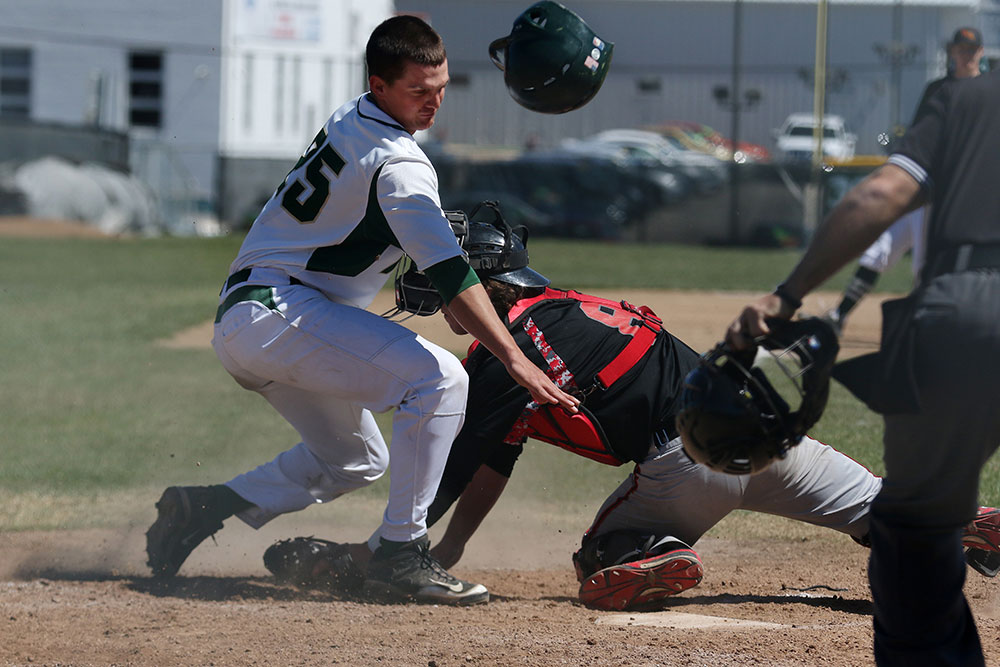 Tyler Johnson lost his helmet in an effort to reach home plate as the Miners swept University of Missouri-St. Louis in consecutive double-headers the last weekend in March.
142mm, 1/5000s, f/4, ISO 250
Track and Field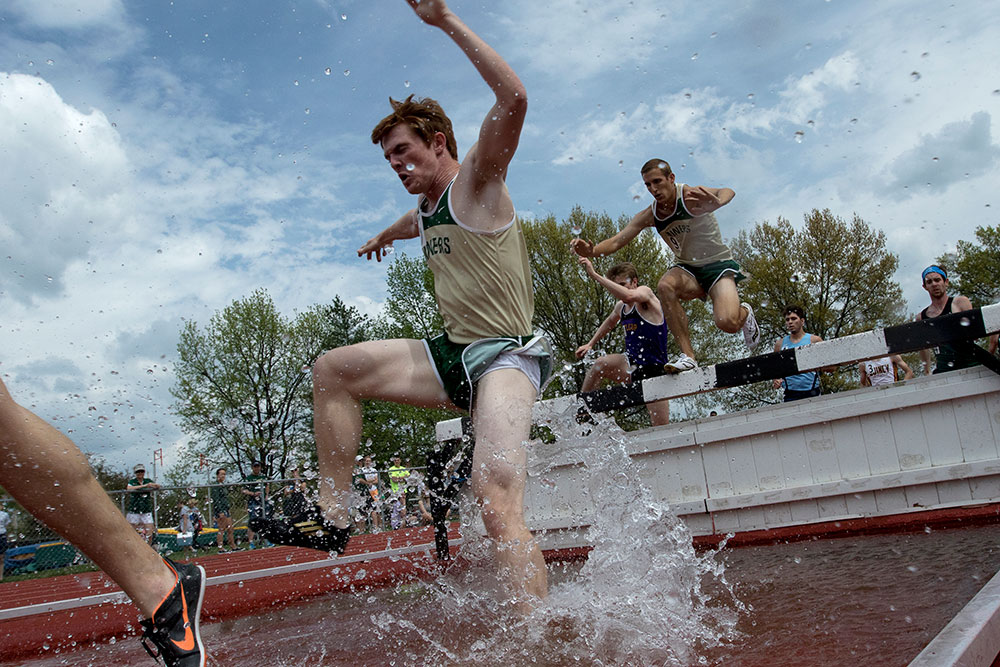 The home track meet in April marked the first time I photographed a steeplechase race and I made sure to get completely soaked in the process to make an exciting image. Lying on the red track next to the water jump with a wide-angle lens seemed like the best place to capture the race during the first few laps when the athletes were still in a pack.
16mm, 1/1000s, f/8, ISO 400
Graduation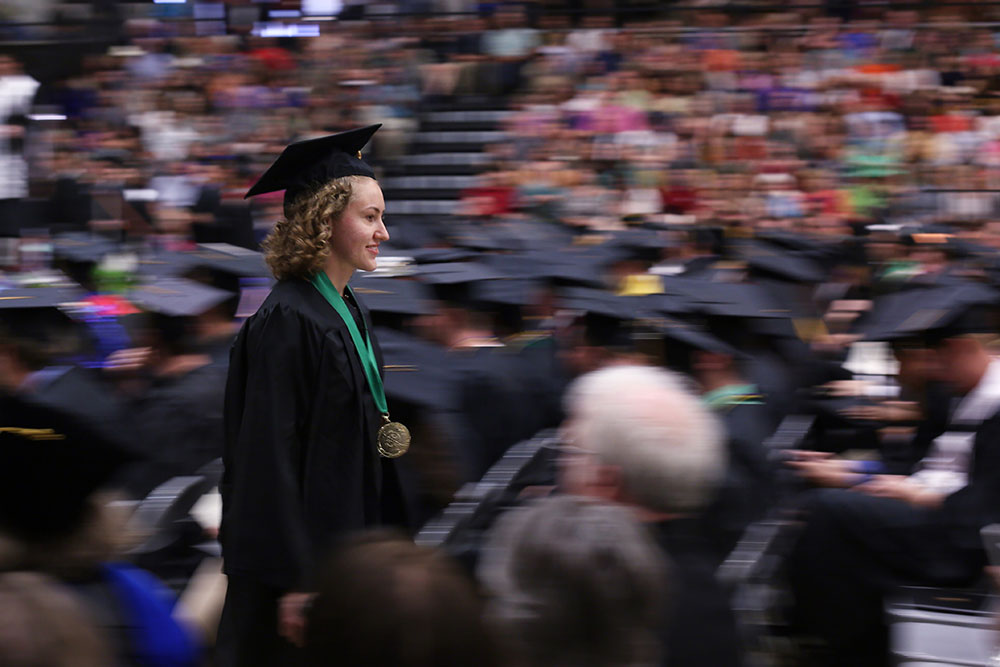 Michelle Gegel earned a 4.0 GPA at Missouri S&T, and as she walked through the aisles back to her seat at commencement I used a technique called panning. I used a slow shutter speed and moved the camera from left to right at the same speed she walked so the background would become out of focus but she would remain sharp. Life is a blur and I decided to capture an important part of it using that exact concept.
50mm, 1/20s, f/5.6, ISO 500
Staff Day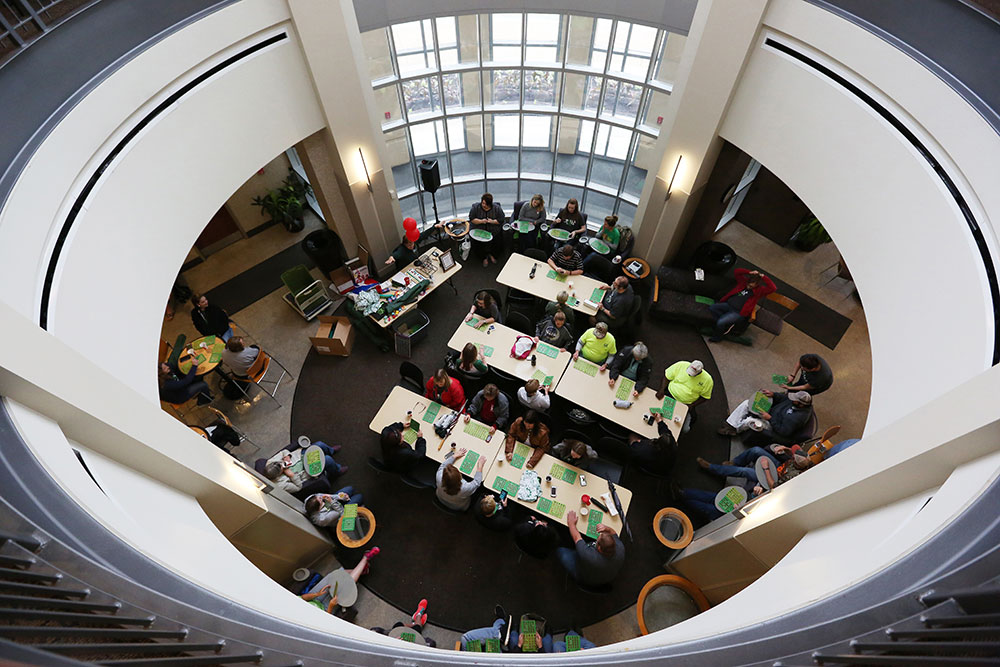 My favorite activity at staff day isn't listed on the schedule of events – photographing. By the look of it, Bingo was a popular activity. I made this photograph by mounting my camera with a wide-angle lens to the end of a monopod (which is a fancy term for a stick) and I dangled it as far out as I could before I got too worried I was going to make an expensive mistake.
16mm, 1/250s, f/4.5, ISO 2500
Bohigian Conservation Area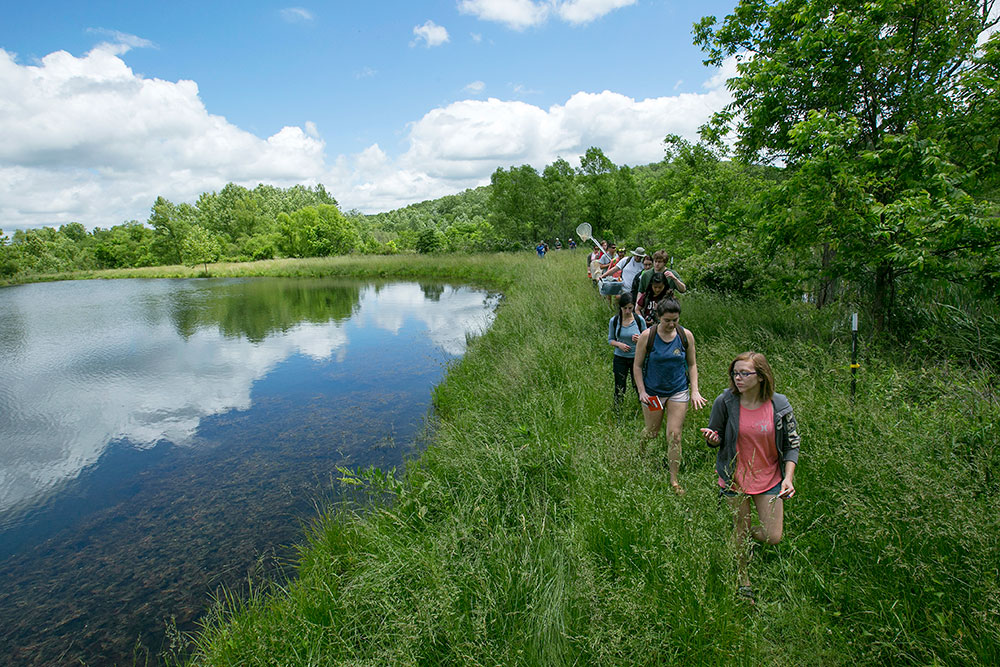 Spending a day stomping around a creek with a camera is like a paid vacation to me. Growing up, I used my first professional camera to make photos of all the wildlife around my parents' land in Phelps County, so getting to photograph a class of biology students at the Bohigian Conservation Area made me feel like a kid again.
16mm, 1/640s, f/11, ISO 400
Hasselmann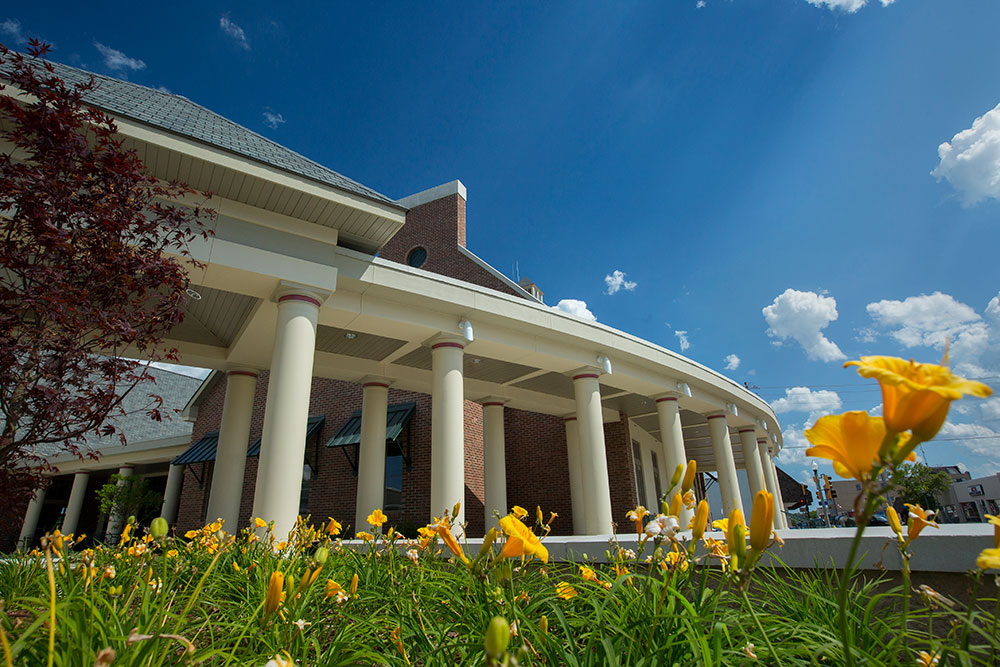 I stalked the Hasselmann Alumni House for weeks showing up at odd times to photograph it for a feature in Missouri S&T Magazine because I wanted to find the best angle to showcase it. The day I made this set of photos I still didn't feel like I accomplished my goal so I didn't look at them until the next day at the office, when I was pleasantly surprised with how they turned out.
19mm, 1/250s, f/11, ISO 500
Campus Life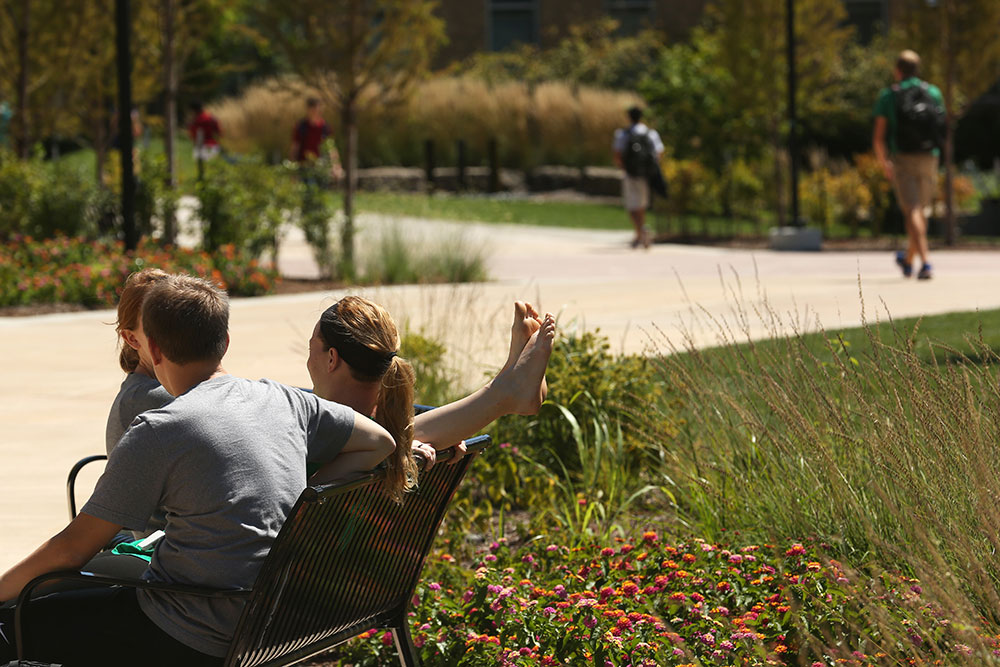 The first day of classes every fall semester is a wonderful time to photograph campus, what with the buzz surrounding a new school year and new group of students. With her shoes off and feet up, a student relaxes with friends midmorning at the new promenade near the Havener Center.
200mm, 1/800s, f/8, ISO 200
Rolla Building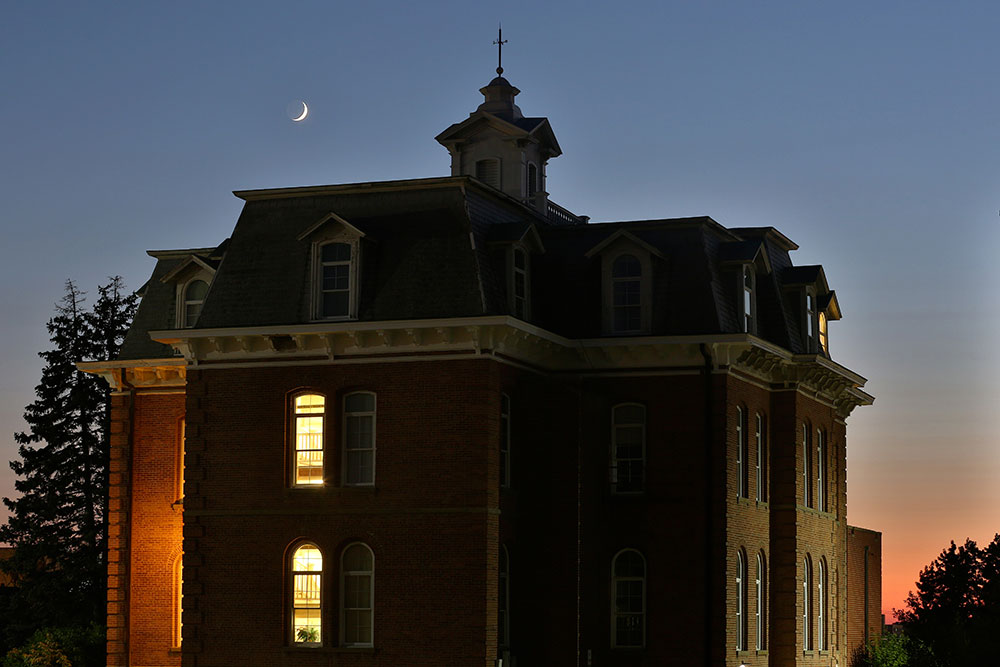 The transition between night and day is a magical time and I spent several nights in the fall dedicated to capturing it around campus. This image is a composite of three separate exposures combined to make one image showing all the details of fading sunlight, the Moon and the Rolla Building at dusk in September.
70mm, 1/1.2s, 1/2.5s, and 1.6s, f/8, ISO 800
Football

Ray Mullen (9) getting lifted into the air by his teammates after scoring a touchdown on a 6-yard pass was a memorable moment from the Miners football team's 2015 season. Shooting sports is always a thrill because you never know what might happen. I love football photos where you can clearly see the athletes' expressions because football helmets are obvious obstacles in most shots when trying to see faces.
145mm, 1/500s, f/3.2, ISO 2000
Catherine Johnson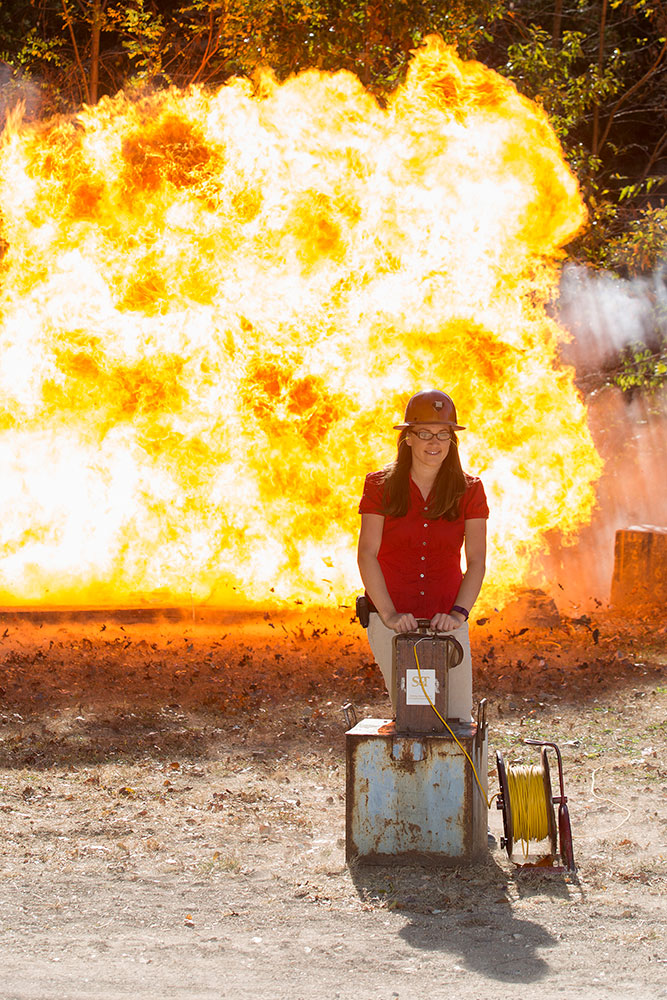 When I was told we needed a photo featuring Catherine Johnson, a new explosives engineering faculty member, she and I agreed a giant fireball was necessary. A team of five people made this photo possible. There were enough explosives for three tries and we nailed it the second time around. We clearly had to try a third time anyway, you know, because it would be a shame to not do that a third time. I mean, seriously. Look at that fireball of awesomeness.
85mm, 1/200s, f/5.6, ISO 100
Pottery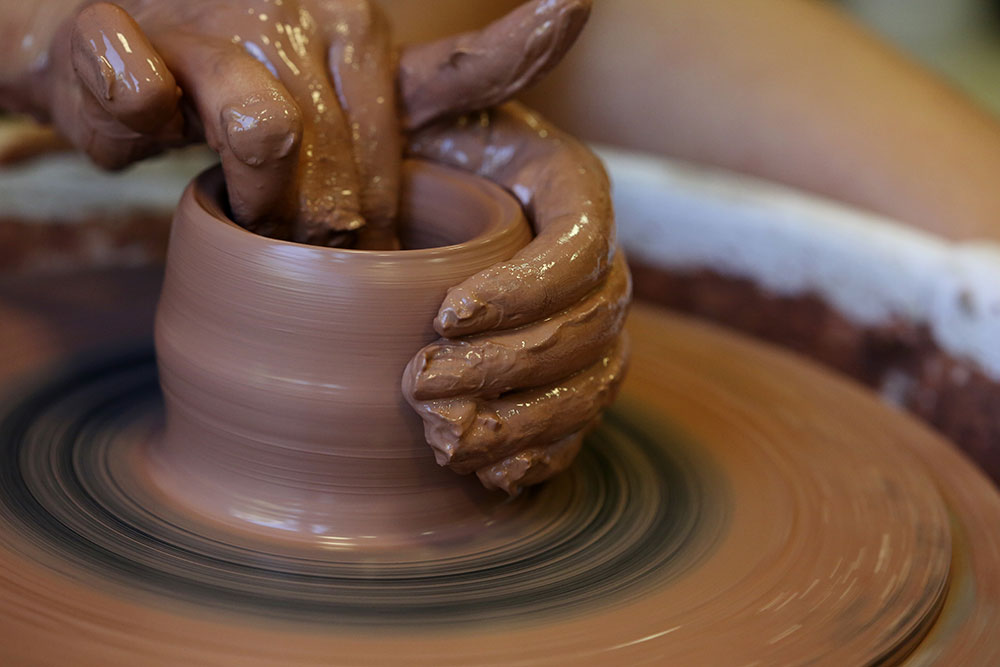 New toys make me happy as a photographer, so when I received a 100mm f/2.8 Macro lens I was excited to bring it with me to document Luce Myers' pottery class. I love the contrast between the smooth, creamy clay on the wheel with the chunky, rough hands of the student shaping it to perfection.
100mm, 1/250s, f/4, ISO 1600
Story and photos by Sam O'Keefe, Missouri S&T photographer