Missouri S&T joins initiative to increase engineering diversity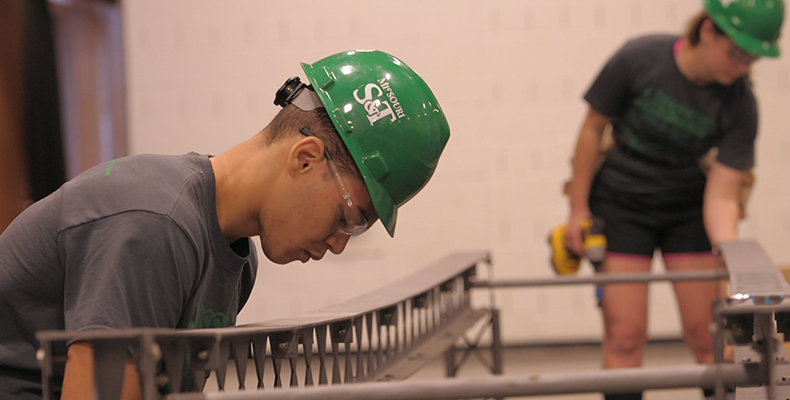 As one of the most diverse student bodies in the history of Missouri University of Science and Technology begins a new semester, the university has joined a national effort to help bring even more diversity to engineering nationwide.
Dr. Ian Ferguson, vice provost and dean of Missouri S&T's College of Engineering and Computing, recently joined leaders from over 130 other schools and colleges of engineering in a commitment to provide greater opportunities for women and other underrepresented groups to pursue engineering careers.
The pledge signed by Ferguson and his counterparts was coordinated through the American Society for Engineering Education. It calls on universities to develop diversity plans, create at least one pre-college activity to attract a more diverse pool of students into engineering and promote partnerships with non-Ph.D.-granting colleges that serve groups that are underrepresented in engineering.
"Engineering is about seeking out and developing solutions to the grand challenges of our day, and the more that we are able to draw upon ideas from individuals of diverse backgrounds, the more able we are to come up with the best results," says Ferguson. "It is clear that engineering has made great strides in attracting more women and traditionally underrepresented minorities to the profession, but we still have a long way to go."
The ASEE statement signed by Ferguson and the others reflects that same perspective.
"While gains have been made in the participation of women, African-Americans, Hispanics and Native Americans in engineering in recent decades, significant progress is still needed to reach a level where the engineering community fully embraces all segments of our increasingly diverse and vibrant society," the ASEE statement says. "In particular, we must further promote the pursuit of engineering education to all those who have been historically underrepresented within our discipline; provide an educational experience that is demonstrably equitable and inclusive; and actively work to improve the broader engineering culture to fully engage the diverse generations to come."
"I applaud the work that ASEE has done to make diversity a focus," says Dr. Cheryl B. Schrader, Missouri S&T's chancellor and herself an engineer. "This commitment by Dr. Ferguson and his engineering education colleagues reinforces the tremendous efforts of our campus and others to make quality engineering education more open and accessible to everyone."
The ASEE commitment to diversity comes as Missouri S&T continues a yearlong celebration of diversity on campus. Last October during Homecoming, the campus commemorated the 40th anniversary of its Minority Engineering Program, which was one of the first in the nation, and the 40th anniversary of its women's programs. This past spring, the campus celebrated the 50th anniversary of its first African-American fraternity, Alpha Phi Alpha. During this year's Homecoming events in October, Missouri S&T will also celebrate the 30th anniversary of the Chancellor's Advisory Council for African-American Recruitment and Retention.
According to the 2014 ASEE report, "Engineering By the Numbers," Missouri S&T was ranked 19th in the nation for the number of bachelor's degrees in engineering awarded to African-Americans and 26th in the nation for the number of bachelor's degrees in engineering awarded to women.