Missouri S&T to renovate Schrenk Hall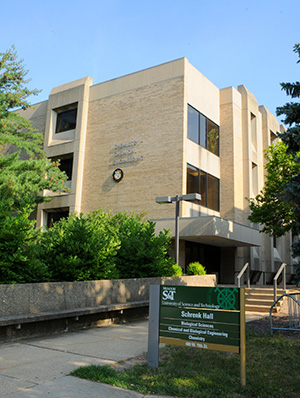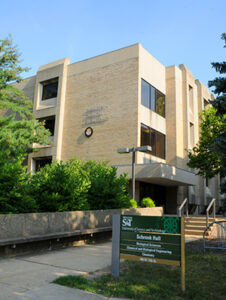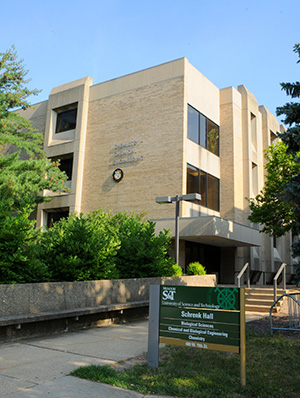 Missouri University of Science and Technology plans to renovate a portion of Schrenk Hall, the building that houses Missouri S&T's biological sciences and chemistry departments, in part through state capital improvement funding.
"This project will provide much-needed improvements to a building that affects nearly every undergraduate at Missouri S&T," says Dr. Stephen Roberts, vice provost and dean of the College of Arts, Sciences, and Business at Missouri S&T. "The project will focus on new spaces that facilitate collaborative learning and research, and in doing so will help strengthen the ongoing growth and impact of programs within the College of Arts, Sciences, and Business."
Nearly all of Missouri S&T's on-campus undergraduate students take introductory courses in Schrenk Hall. That includes the 380 students who are majoring in chemistry or biological sciences.
The original portion of Schrenk Hall was built in 1938. This project will renovate the building's 83,000-square-foot west wing, which was added in 1973. This is the second phase of a multiphase renovation project. Phase one was completed in 2014 with the construction of Bertelsmeyer Hall, which houses Missouri S&T's chemical and biochemical engineering department. The move freed additional space in Shrenk Hall.
The renovation will address deferred maintenance issues related to safety, energy conservation and infrastructure, including updates to the roof, windows, mechanical and electrical equipment. University officials hope to also repurpose existing space to increase the building's capacity for laboratory space.
To fund the project, Missouri S&T will receive $12,076,451 from a capital improvement bill Gov. Jay Nixon signed on Friday, June 5. The University of Missouri System and Missouri S&T will contribute approximately $6 million toward the project.
University officials plan to select an architectural firm in July 2015 and complete a final renovation plan. That plan will be presented to the University of Missouri System Board of Curators for approval in October. Once approved, construction is expected to begin in September 2016 and be completed by December 2017.