Students record international experiences on 'Miners Abroad' blog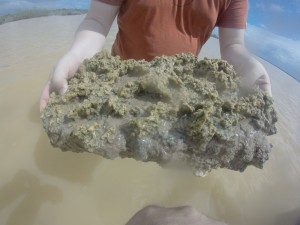 Students from Missouri University of Science and Technology who are studying abroad this spring will be sharing their experiences through posts on the Missouri S&T Miners Abroad blog.
Already, a group of students enrolled in a geology and geophysics field study course are posting their observations of the geology and aquatic life on San Salvador Island, Bahamas. Students on the trip are gathering data on geological formations and processes occurring on the island and their interdependency on biologic processes. The course is led by Dr. David Wronkiewicz, associate professor of geosciences and geological and petroleum engineering. Dr. Daniel Stutts, associate professor of mechanical and aerospace engineering, accompanied Wronkiewicz and the students on the trip.
Justin Levy, a senior geology and geophysics major from Bridgeton, Missouri, is one of the students blogging and posting photos from the island. In his latest post, he writes about discovering "the slimy, rocky beauty of Storr's Lake," where the group "tested things like the pH and salinity of the water."
"We did these things because we want to know more about the microbialites, which are algal mounds, that manage to survive these muddy waters," Levy wrote. Describing a microbialite that had been removed from "incredibly brown water," Levy explained that "that brown color is caused by organic matter in the water, and not clay as many people first suspect.  In fact there is no clay anywhere on San Salvador Island."
Soon, Missouri S&T students studying in France and in England will also post their observations on the blog.
Dr. Audra Merfeld-Langston, associate professor of French, will accompany a group of S&T students to France for a month through the Miners in France program. The group leaves on Sunday, May 24, and will spend a week exploring the history, culture and society of Paris before traveling to Annecy, in the French Alps, where they will take intensive French language courses and live with host families for three weeks.
Also on May 24, Dr. Michael Bruening, associate professor of history and political science, will accompany a group of Missouri S&T students to London for a two-week course on Medieval and Renaissance England. Bruening and the group also plan to post about their experiences on the Miners Abroad blog.