S&T researcher to study how window opening affects indoor air quality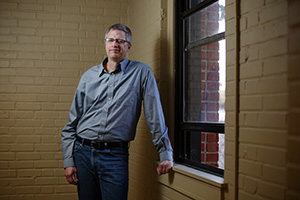 When it's snowing, raining or extremely hot, you may not expect many people to open windows in their homes. But, Dr. Glenn Morrison, professor of environmental engineering at Missouri University of Science and Technology, says that lots of people have windows open even in extreme weather.
Morrison is using a recently awarded three-year, $999,999 grant from the Environmental Protection Agency (EPA) to study the effect of open windows on the air quality inside a home.
His project, titled "Indoor exposure to pollutants associated with oxidative chemistry: field studies and window-opening behavior," is the first of its kind. Morrison says studying window-opening behavior, and its relationship to chemistry, is new to everyone — including him.
"I always want to do new things and move on from other projects," Morrison says. "I've worked a lot with indoor chemistry before but working with window openings is very new to me."
With a portion of the grant funds, Morrison will hire a polling company to compile data from all corners of the United States to compare the window-opening habits of people in several geographic locations. Data collected from the poll will be used in conjunction with prior studies to provide a more comprehensive view of window-opening, he says.
"People's window-opening behavior depends on their climate and energy costs," Morrison says. "When it comes to opening windows and the resulting chemistry, I need to understand what people are doing across the country and when during the year."
The other facet of his project will be a quantitative analysis of indoor air quality in rented residences in Houston and St. Louis during the summer and winter months.
"If you have the window open even a crack, more outdoor air is coming into the house and that affects the air turnover rate and that alters the air composition," he says.
Morrison says this change in air composition could have an unsettling consequence.
"When chemicals enter and react inside your home, they can actually end up creating a complex smog episode," he says.
He hopes to study that change in air composition and combine the data with the results of the poll.
"I can combine the polling results and data from other researchers with the experimental data and learn what having a window open does to the air at certain times of the year in certain regions," he says.
Morrison says field-testing in St. Louis and Houston will begin in late spring 2015 and the first set of high-quality tests will take place in September 2015.
Morrison hopes his data will be used for a greater purpose than just understanding the air quality changes in a home when a window is open.
"I would like for policy recommendations to be made based on this data for people with emphysema and other breathing problems," say Morrison. "I would love for this to lead to building design that protects people who are sensitive to air pollution."
Morrison is working with Dr. Nuran Ercal, professor of chemistry at S&T, Dr. Prem Lobo, associate director of the Center of Excellence for Aerospace Particulate Emissions Reduction Research at S&T, and Dr. Brent Williams, assistant professor of energy, environmental and chemical engineering at Washington University in St. Louis.