399th Army Band to join S&T bands for free concert Feb. 22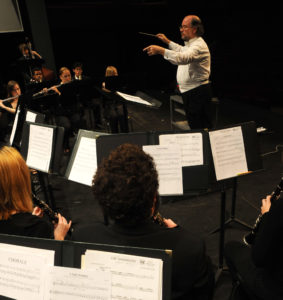 The Missouri University of Science and Technology Symphonic Band and Wind Symphony will be joined by the 399th Army Band from Fort Leonard Wood, Missouri, for a free concert.
The concert will be held at 2 p.m. Sunday, Feb. 22, in Leach Theatre of Castleman Hall, located at 10th and Main streets in Rolla. Dr. Robert Cesario, an assistant professor of arts, languages, and philosophy, and Warrant Officer Richard Chapman, the 399th Army Band's conductor, will take turns conducting the bands.
"This concert is a great opportunity for our students to work with the professional musicians of the 399th Army Band," Cesario says.
The brass and percussion from both bands will open the performance with "Fanfare for the Common Man" by Aaron Copland and Richard Chapman's arrangement of "The Star Spangled Banner," followed by two selections each from the Symphonic Band, Wind Symphony and 399th Army Band.
The Wind Symphony and 399th Army Band will combine for James A. Beckel's "Concerto for Trombone and Winds." Chapman, Staff Sgt. Thomas Reeves and Spc. Christopher Moore of the 399th Army band will each play one movement with the combined bands.
All musicians will take the stage for "Armed Forces Medley" and "Rolling Thunder" by Henry Filmore.
"We are doing several very special pieces for this concert," Cesario says. "The S&T bands helped to commission 'Concerto for Trombone and Winds,' and this performance will be our consortium premiere."
For more information on the concert or Missouri S&T bands, contact Cesario at cesarior@mst.edu, or call the Missouri S&T performing arts office at 573-341-4185.