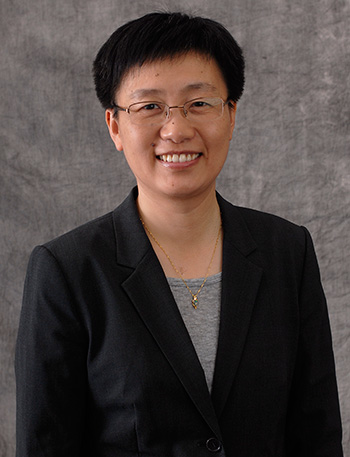 Dr. Rosa Zheng, associate professor of electrical and computer engineering at Missouri University of Science and Technology, has been named an IEEE Fellow in recognition of her contributions to channel modeling and equalization for wireless communications. The honor is the highest grade of membership in the organization.
The IEEE (formerly known as the Institute of Electrical and Electronics Engineers) confers the grade of fellow upon those with an outstanding record of accomplishments in any of the IEEE fields of interest. The total number selected in any one year cannot exceed one-tenth of 1 percent of the total voting membership.
Zheng joined the Missouri S&T faculty in 2005. In 2009, she received a CAREER Award from the National Science Foundation to support her work on improving underwater wireless communications. Her research focuses on shallow-water communication, a tool needed for environmental monitoring and other efforts. Shallow-water communication faces challenges because signals are affected by waves and reflections off the ocean's top and bottom surfaces.
Zheng earned a bachelor of science degree from the University of Electronic Science and Technology of China in 1987 and a master of science degree from Tsinghua University in Beijing in 1989, both in electrical engineering. She earned a Ph.D. in electrical engineering from Carleton University in Ottawa, Canada, in 2002. She has authored more than 40 journal papers and more than 80 conference papers and has served as primary investigator (PI) or co-PI on 15 research grants totaling $3.2 million.
She is associate editor for the IEEE Transactions on Vehicular Technology and she is a member of the IEEE International Conference on Communications. She is a frequent reviewer for IEEE journals and international conferences and has served as a panel reviewer for the National Science Foundation and the University of Missouri Research Board.
The IEEE is the world's leading professional association for advancing technology for humanity. Through its 400,000 members in 160 countries, the IEEE is a leading authority on a wide variety of areas ranging from aerospace systems, computers and telecommunications to biomedical engineering, electric power and consumer electronics.
Dedicated to the advancement of technology, the IEEE publishes 30 percent of the world's literature in the electrical and electronics engineering and computer science fields, and has developed more than 900 active industry standards. The association also sponsors or co-sponsors nearly 400 international technical conferences each year. If you would like to learn more about IEEE or the IEEE Fellow Program, please visit www.ieee.org.