Pommerenke named IEEE Fellow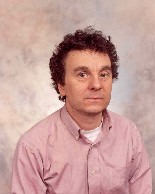 Dr. David Pommerenke, professor of electrical and computer engineering at Missouri University of Science and Technology, has been named an IEEE Fellow in recognition of his contributions to system-level electrostatic discharge technology. The honor is the highest grade of membership in the organization.
"To illustrate the research, imagine touching a tablet PC after being electrically charged by walking across a carpet," Pommerenke says. "The small, often barely felt spark may upset or damage the tablet computer."
Pommerenke analyzes situations like this and designs methodology to mitigate the damages.
"While a tablet is a good illustrative example, mitigation of possible damage or upset in medical equipment, automotive safety equipment such as airbags, ABS controllers are direct applications of this research," he says.
The IEEE (formerly known as the Institute of Electrical and Electronics Engineers) confers the grade of fellow upon those with an outstanding record of accomplishments in any of the IEEE fields of interest. The total number selected in any one year cannot exceed one-tenth of 1 percent of the total voting membership.
Pommerenke joined the Missouri S&T faculty in 2001. He is a member of the IEEE Electromagnetic Compatibility Society Technical Committee on Computational Electromagnetics and the IEEE Electromagnetic Compatibility and Dielectrics and Electrical Insulation Society.
His research focuses on electromagnetic compatibility (unwanted coupling between electronic systems), electronics, instrumentation and measurement techniques, electrostatic discharge, and sensors and high-voltage systems.
Pommerenke earned bachelor of science and Ph.D. degrees in electrical engineering from the Technical University Berlin in Germany in 1989 and 1995, respectively.
The IEEE is the world's leading professional association for advancing technology for humanity. Through its 400,000 members in 160 countries, the IEEE is a leading authority on a wide variety of areas ranging from aerospace systems, computers and telecommunications to biomedical engineering, electric power and consumer electronics.
Dedicated to the advancement of technology, the IEEE publishes 30 percent of the world's literature in the electrical and electronics engineering and computer science fields, and has developed more than 900 active industry standards. The association also sponsors or co-sponsors nearly 400 international technical conferences each year. If you would like to learn more about IEEE or the IEEE Fellow Program, please visit www.ieee.org.