Missouri S&T collaborates with PerkinElmer for nanoparticle research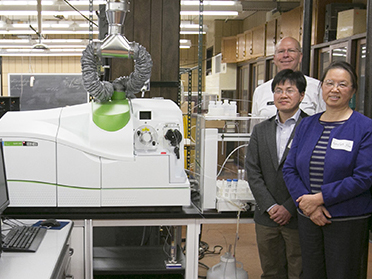 The growing use of nanoparticles in consumer projects has raised concerns about their adverse effects on human health and the environment. A new technology being tested at Missouri University of Science and Technology could improve the field of study by giving researchers a tool to quickly measure a wide range of characteristics and detect trace levels of nanoparticles.
The technology, Single Particle (SP) – Inductively Coupled Plasma (ICP) – Mass Spectrometry (MS), addresses one of the National Nanotechnology Initiative's most urgent priorities, tracking the fate of engineered nanoparticles. The NNI was established by the U.S. government for the research and development of nanoscale projects.
International instrumentation company PerkinElmer installed its NexION 300/350D-ICP-MS on the Missouri S&T campus in February. The instrument, which measures nanoparticles 10 times faster than other ICP-MS on the market, is being used as part of a collaborative research project between PerkinElmer and Missouri S&T to develop SP-ICP-MS methods for characterizing novel engineered nanoparticles (ENP) and investigate their mechanisms and toxicity.
"The NexION 350 ICP-MS opens up a whole new world of efficiency and opportunity for nanoparticle analysis," says Dr. Honglan Shi, associate research professor of chemistry at Missouri S&T and lead researcher on the project. "We can measure nanoparticles in less time, with accurate characterization, using a dedicated easy-to-use software interface."
The ICP-MS can detect a number of ENP parameters at the same time, including the size, distribution and concentration of particles. It can also detect agglomeration, or a group of ENPs stuck together to form a clump, says Shi. "What's really unique about the instrument is that it can find ultra-low concentration levels of ENPs in real environmental and biological samples," says Shi. "Nothing else can do this."
Dr. Xinhua Liang, assistant professor of chemical and biochemical engineering at Missouri S&T, another member of the research team, is synthesizing multi-element ENPs as calibration and reference material using advanced atomic layer deposition (ALD) technology. ALD is best known for its ability to deposit high-quality thin films of materials based on alternating pulses of chemical vapors that react with surfaces. Liang is using the technology to deposit metal oxide films on the ENPs.
Top management and scientists from PerkinElmer recently spent two days on the Missouri S&T campus to provide advanced training on the instrument and to see initial progress on the project.
"The work Honglan's team has done is phenomenal," says Heidi Grecsek, regulatory and national account leader for PerkinElmer. "Getting a good, fast, characterization of nanomaterials in a variety of matrixes, especially complex ones, has continued to hinder researchers as well as industry. This technique, where nanomaterials are quickly characterized in just a few seconds, and in large batches, will take the industry a long way," she says.
"We modified our instrument to run nanoparticles data in real time," says Dr. Chady Stephan, manager of global applications with PerkinElmer, who conducted the advanced training for Missouri S&T researchers and students. "This analysis of a single nanoparticle is a new application of the ICP-MS."
The research could have public health implications, says Stephan, as the device can be used to detect nanoparticles in drinking water. "In just one minute after testing a water sample you would know if there were any nanoparticles present," he says. "Other methods that provide the same quality of analysis would require several hours.
"With our system, you could look at the entire water table in a minute, plus you'd get more information about your sample," Stephan says.
"This instrument greatly enhances our current research projects and opens up many new funding and research opportunities," says Shi.
Other researchers working on the project are Dr. Jianmin Wang, associate professor of environmental engineering; Kun Liu, a research specialist in Shi's group; Missouri S&T graduate students Yongbo Dan, Rajankumar Patel, Casey Burton and Qingbo Yang; and undergraduate student Ariel Donovan. The other key PerkinElmer ICP-MS experts on the project are Cindy Bosnak, product specialist, and Jack Quade, sales specialist.
"There will be many more Missouri S&T students trained for these (SP-ICP-MS and ALD) cutting-edge technologies," says Shi.