A comedic ride through American history to be performed at S&T
Tickets remain for the Reduced Shakespeare Company's "The Complete History of America (abridged)," a special event that will be held at 7:30 p.m. Friday, Nov. 14, in Leach Theatre of Castleman Hall on the Missouri S&T campus, 10th and Main streets in Rolla. Tickets are $28 for adults, $18 for youth and $8 for Missouri S&T students. S&T students can charge admission to student accounts.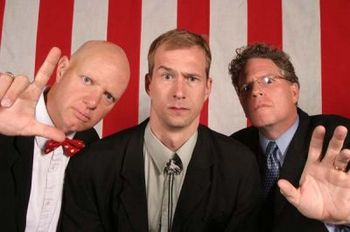 The three-member Reduced Shakespeare Company will take the audience on a ninety-minute comedic ride through American History. "Irreverent yet informed, the three performers apply a steady stream of sight gags, sound gags, even smell gags to a broad canvas, turning sacred cows into laughing-stocks along the way. The deliberately loose edges of the show camouflage its careful structure, in the same way the trio's ease with improvisation hides years of rehearsal," says a Boston Globe reviewer.
The performance is co-sponsored with the Missouri S&T Student Union Board and Bob and Susan Hooper.
For more information about Leach Theatre events, call the Leach Theatre Box Office at 341-4219.