Missouri S&T hosts more than 1,100 Missouri students for STEM Day celebration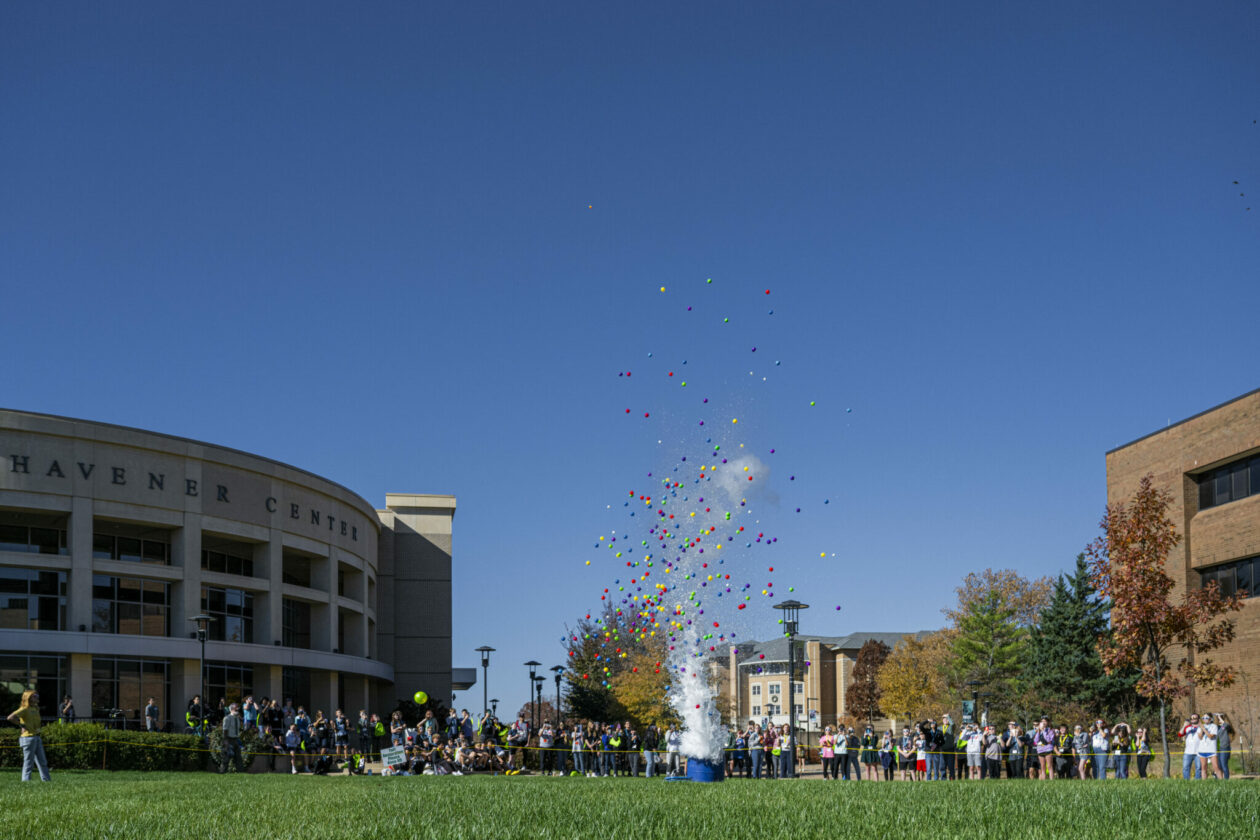 Interactive science experiments, the opportunity to blow up a trashcan and hands-on tours of a foundry and glass lab were just a few of the experiences available to students who participated in Missouri S&T's celebration of National STEM Day. The Nov. 8 event was attended by more than 1,100 students in grades 6-12 from 27 schools in 25 districts in Missouri, most of which are classified as rural. The acronym STEM stands for science, technology, engineering and math.
Courtney Jones is director of the Kummer Center for STEM Education at Missouri S&T, which sponsored the event. The event is organized around students having fun, but she says there's a more serious message at its core, particularly for students from districts that don't have the big budgets required to purchase expensive science equipment.
"The demand for people in these fields is only going to increase in our state and region, so it's critical to introduce kids to STEM as early as possible, before they decide it's something they're not interested in," she says. "As we've learned from experience, one of the best ways to make that introduction is to show the fun side of STEM."
An expanded "trashcano," a perennially popular classroom-style lecture by Dr. John Hogan, associate professor of geology and geophysics, followed by the opportunity to help design and execute the explosion of a trashcan, was among the highlights of this year's STEM celebration. In addition to numerous hands-on events, other popular events included tours of various campus facilities, robotics and rocket demonstrations, and the live, theatrical chemistry demonstration presented by Dr. Garry Grubbs, associate professor chemistry, whose many feats include making pickles glow.
Jones credits the positive impression the event makes on young minds to the opportunity participants have to connect directly with S&T faculty, staff and students.
"STEM Day is one of the many ways that Missouri S&T provides young people who haven't been exposed to these subjects with the powerful experience of interacting with people who are actually working and studying in STEM fields," she says. "Our colleagues in materials science and engineering are a great example of a department's faculty, staff and students coming together to introduce young students to the possibilities of STEM. As more individuals and departments sign on, we'll be able to make STEM Day bigger and even more impactful for students each year."
About Missouri University of Science and Technology
Missouri University of Science and Technology (Missouri S&T) is a STEM-focused research university of over 7,000 students located in Rolla, Missouri. Part of the four-campus University of Missouri System, Missouri S&T offers over 100 degrees in 40 areas of study and is among the nation's top public universities for salary impact, according to the Wall Street Journal. For more information about Missouri S&T, visit www.mst.edu.