Top U.S. nuclear energy official speaks with Missouri S&T community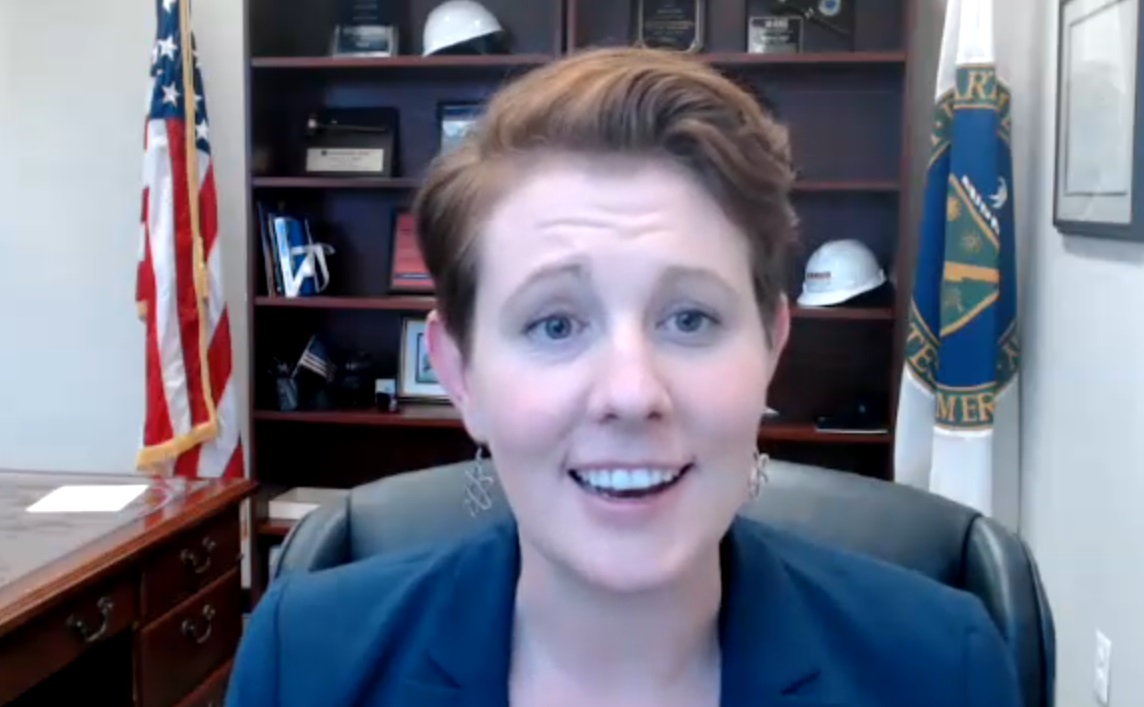 Last week was Nuclear Science Week, and Missouri University of Science and Technology hosted several events to promote nuclear energy — including having the United States' top official for nuclear energy speak to the campus community.

"There is a lot of attention on nuclear right now," said Dr. Kathryn Huff, assistant secretary for the Office of Nuclear Energy in the U.S. Department of Energy, on Oct. 17 via Zoom. "The American public, the Congress, the president, the secretary (of energy), myself, industry, American Nuclear Society. Everybody is really going full speed ahead."

Huff says nuclear energy will be key to reducing carbon emissions and solving many of the country's energy issues. Currently, 47% of all carbon-free electricity comes from nuclear power, and this amounts to 18% of power from all sources. Approximately 475,000 people are employed in the U.S. nuclear industry.

She says her office has four priorities related to the nuclear field. The first priority is to keep the country's nuclear reactors running.

"We've allowed the economic constraints on our grids to drive economic challenges where nuclear was facing off against really cheap, unmitigated fossil fuels — particularly natural gas," she says.

"Those economic challenges forced a number of reactors to close right in the moment when we should have been building more nuclear reactors."

That brought Huff to her second priority, which is to build additional reactors. This involves working with universities, laboratories and industry, conducting research and development, consulting with Congress, and engaging with communities potentially involved with the new sites.

The third priority is to secure and sustain the nuclear fuel cycle. She says this involves getting and processing nuclear resources, managing those resources and appropriately disposing of them.

The fourth priority, which is to expand international nuclear energy cooperation, may be the most important mission of the department, Huff says.

"Energy can be and will be used as a weapon by our adversaries," she says. "Energy security is national security, and nuclear energy is a really reliable source of secure energy."

After the talk, Huff answered several questions from S&T students and faculty.

The event was hosted by S&T's section of American Nuclear Society. Other initiatives the chapter coordinated for Nuclear Science Week included an information table in the Curtis Laws Wilson Library, a viewing of Oliver Stone's Nuclear Now documentary, tours of the S&T Nuclear Reactor and a program on S&T's student-run radio station, KMNR.

S&T is home to Missouri's only bachelor's, master's and Ph.D. programs in nuclear engineering.

For more information about S&T's programs, visit nuclear.mst.edu.
More about Missouri S&T
Missouri University of Science and Technology (Missouri S&T) is a STEM-focused research university of over 7,000 students located in Rolla, Missouri. Part of the four-campus University of Missouri System, Missouri S&T offers over 100 degrees in 40 areas of study and is among the nation's top public universities for salary impact, according to the Wall Street Journal. For more information about Missouri S&T, visit www.mst.edu.