Former U.S. Sen. Roy Blunt to open Chancellor's Speaker Series at Missouri S&T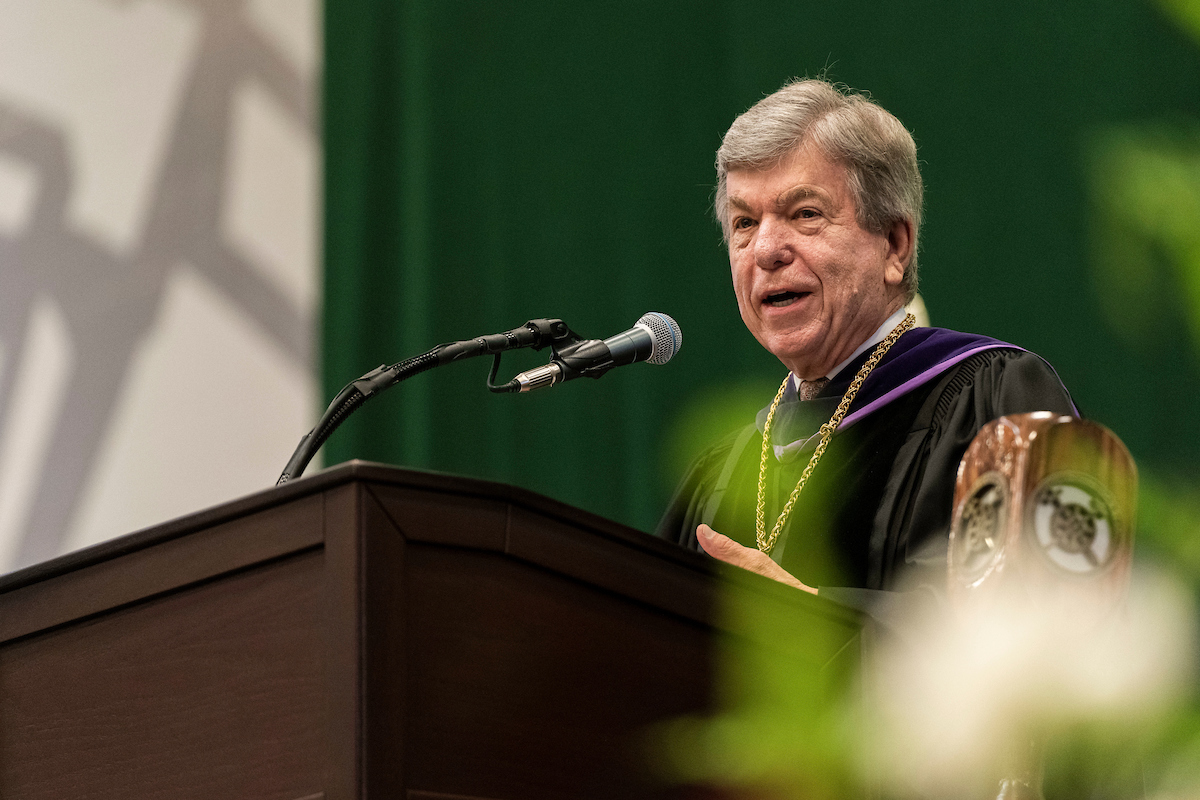 Missouri University of Science and Technology will welcome former U.S. Sen. Roy Blunt to campus as the inaugural speaker for the Chancellor's Speaker Series.
Blunt's presentation, "Challenges and Opportunities for Missouri in a Rapidly Changing World," will begin at 5 p.m. Thursday, Nov. 9, at Leach Theatre in Castleman Hall, located on the Missouri S&T campus at 10th and Main streets in Rolla. Prior to the speech, there will be a reception at 4 p.m. in the theater lobby; refreshments will be provided. The event is free and open to the public, though guests are asked to RSVP in advance at speakerseries.mst.edu. 
"I am honored to welcome Sen. Blunt to our campus to inaugurate this series," says Missouri S&T Chancellor Mo Dehghani. "With his many roles in public service, as an educator, university president and at all levels of government, he has a unique perspective on the challenges and opportunities ahead for the state of Missouri, and for the nation as a whole."
A native of Niangua, Missouri, and a first-generation college graduate, Blunt began his career as a high school history teacher before becoming the county clerk and chief election officer for Springfield and Greene County. He went on to serve as Missouri's secretary of state and president of Southwest Baptist University, as well as serving in both houses of Congress. He was elected to the U.S. House of Representatives for Missouri's 7th congressional district in 1996, then successfully ran for the U.S. Senate in 2010.
As senator, Blunt championed higher education, advocating for increases in the Federal Pell Grant program and for funding for Missouri colleges and universities, including Missouri S&T. He also worked with Sen. Sherrod Brown, D-Ohio, in crafting legislation included in the CHIPS and Science Act of 2022. The act provides funding to strengthen chip manufacturing in the U.S. and bolster science and engineering research.
After serving in the Senate for 12 years, Blunt retired in January. He returned to his passion for history and now serves as the president of the State Historical Society of Missouri.
Missouri S&T's Chancellor's Speaker Series was established to bring notable speakers to campus and the Rolla community to share their compelling stories, insights and perspectives on topics that address issues of importance within society, and to encourage the creative exchange of ideas.
Future presenters for the Chancellor's Speaker Series include Gary White, a Missouri S&T civil engineering graduate who co-founded water.org with actor Matt Damon, on Wednesday, Nov. 15, and Dr. Sharon L. Walker, dean of engineering at Drexel University, on Wednesday, Jan. 31, 2024. For more information about the series or to RSVP, visit speakerseries.mst.edu.
About Missouri University of Science and Technology
Missouri University of Science and Technology (Missouri S&T) is a STEM-focused research university of over 7,000 students located in Rolla, Missouri. Part of the four-campus University of Missouri System, Missouri S&T offers over 100 degrees in 40 areas of study and is among the nation's top public universities for salary impact, according to the Wall Street Journal. For more information about Missouri S&T, visit www.mst.edu.