Remington R. Williams Award recipient announced
Martin De La Hunt, a senior in computer engineering at Missouri University of Science and Technology from St. Louis, has been named one of the inaugural recipients of the Remington R. Williams Award. De La Hunt serves as vice president of operations on Missouri S&T's Student Council and as drum major in the S&T Marching Band.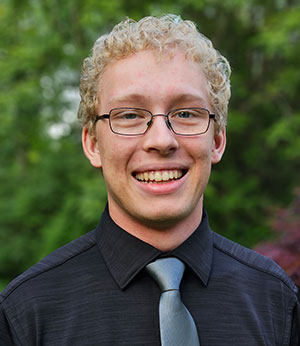 The University of Missouri Board of Curators awarded the scholarship to seven students attending universities within the University of Missouri System: four from the University of Missouri-Columbia (MU), and one each from the University of Missouri-Kansas City (UMKC), University of Missouri-St. Louis (UMSL) and S&T. Each recipient receives $1,000 and a leadership medal to wear at their graduation. The students will also be recognized during a Board of Curators meeting at their university.
The award recognizes exceptional student leaders who inspire and advocate for their fellow students. To be considered for the award, students must be involved in at least two student organizations and hold a major leadership position in at least one, as well as maintaining a minimum 3.0 GPA.
"Mr. Martin De La Hunt represents the best of Missouri S&T by showing how Miners can impact the greater community through dedication and service to others," says Dr. Daniel Reardon, vice provost of undergraduate education and chair of Missouri S&T's Remington Award Committee, in his recommendation letter.
"I truly admire Martin for his dedication and perseverance," says Wulfe Retzlaff, president of S&T's Student Council. "I am amazed that he balances all his extracurricular activities on top of maintaining an impressive GPA."
The award is named for Remington R. Williams, who served as student representative to the UM Board of Curators from 2020 until his death in June 2022. The winners reflect the extracurricular involvement and leadership qualities Williams embodied during his time as a student at the UMKC School of Law, where he earned his juris doctor and later at UMSL, where he was pursuing a master's degree in business administration. To learn more about the award, visit umsystem.edu/ums/aa/outstanding-student-leader-year-awards.
About Missouri University of Science and Technology
Missouri University of Science and Technology (Missouri S&T) is a STEM-focused research university of over 7,000 students. Part of the four-campus University of Missouri System and located in Rolla, Missouri, Missouri S&T offers 101 degrees in 40 areas of study and is among the nation's top 10 universities for return on investment, according to Business Insider. For more information about Missouri S&T, visit www.mst.edu.