Student Council's CASE Chair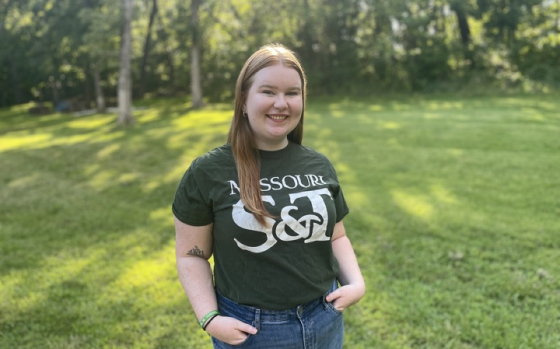 Hello to all CASE students, faculty, and staff! My name is Madison Jolly, and I am pleased to share that I am the Student Council's CASE chair for this school year. I am a senior here at S&T, but my academic journey has been a bit atypical. I received my associate degree in teaching from East Central College and I am currently pursuing a bachelor's degree in education with an emphasis in middle school English. I am also working towards three minors in literature, creative writing and psychology. Being a first-generation and transfer student, I believe I can provide a unique perspective in my position as CASE chair and help guide first-generation students through the overwhelming journey of being the first family member to attend college.
I grew up in a very small town about twenty minutes from Rolla. As a kid, I would travel to the "big city" of Rolla and look at all the S&T students in awe. I never dreamed that I would one day walk across the Puck or stop in Havener Center for a coffee with some of the smartest, most interesting people I have ever had the pleasure of meeting. I will be forever grateful to S&T for giving me the close-knit community I have found and for teaching me the value of hard work and dedication. It is through S&T that I have been able to accomplish so many things, such as attending and speaking at conferences, holding leadership positions, and having work displayed in exhibits.
I look forward to all the exciting opportunities and projects coming my way. If you have a question, or suggestion, or would like to simply engage in friendly conversation, please don't hesitate to contact me via email at mpjwxn@umsystem.edu. I wish everyone the best of luck in the upcoming school year!