Former Anheuser-Busch leader delivers S&T commencement address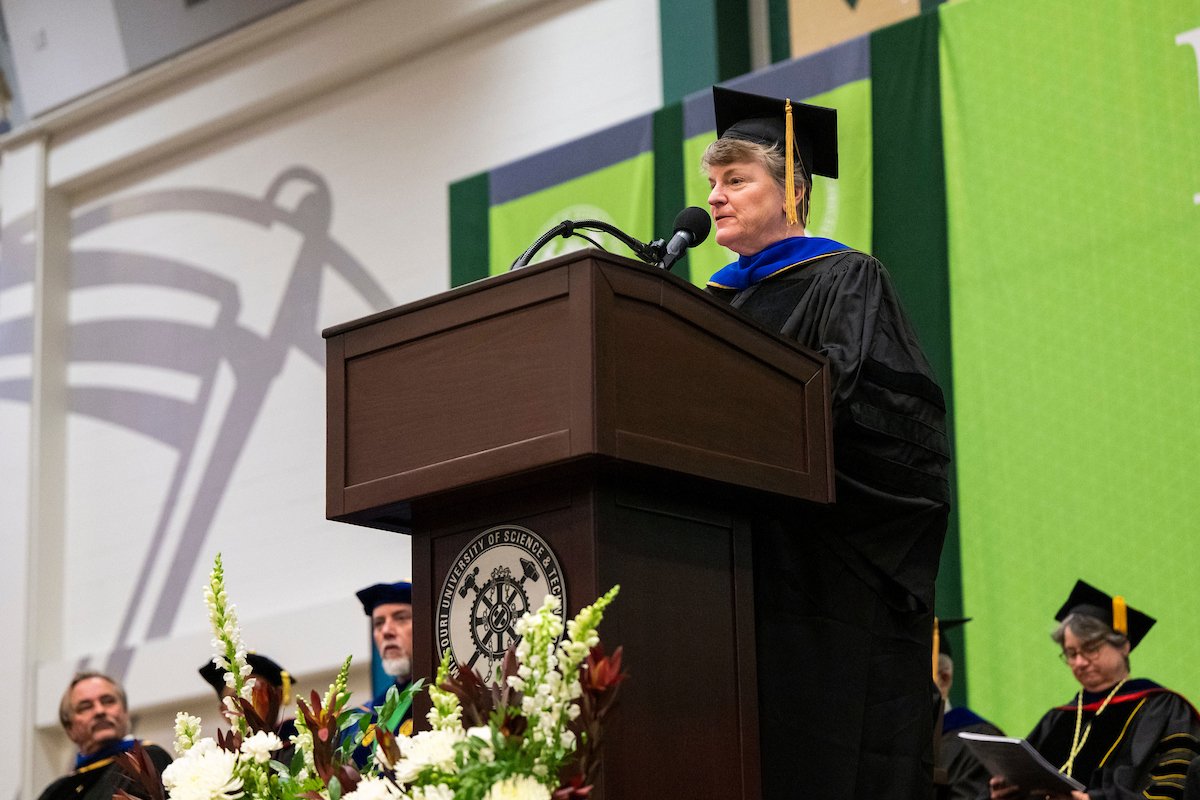 Susan M. Simmons, retired senior resident engineer at Anheuser-Busch Inc. and president of the Missouri S&T Board of Trustees, gave Missouri S&T graduates advice for their future careers during S&T's commencement ceremonies.
Simmons, who earned a bachelor's degree in chemical engineering from S&T, spoke during the undergraduate and master's degree ceremonies held at 10 a.m. and 3 p.m. Saturday, May 13. She told graduates that commencement is a time to honor themselves and each other, and for others to express pride for their accomplishments.
"Today may feel like an ending, the culmination of something you have worked so hard for in the last years," she said. "This is a celebration of your accomplishment, but it is perhaps more importantly a celebration of the start of the next chapter of your life. That new beginning is exciting, and I know it may also be a little daunting. It was for me. I do remember that. Fear not, though. You are so well prepared."
Simmons spoke of her love of math and science, as well as the problem-solving and possibility-thinking skills she honed as a student at Missouri S&T. She then offered five recommendations based on her life experiences.
"The first is to have an open mind to possibilities and opportunities," she said. "You never know what door may open when you do." Simmons said she grew up in St. Louis, home to Anheuser-Busch, but never considered working there until a speaker at and S&T student chapter of the American Institute of Chemical Engineers spoke of his work there.
"What I discovered that night set me on a pursuit to seek an exciting career with Anheuser-Busch, and that changed my life," Simmons said. "Always keep an open mind to how your passions might develop, and what opportunities may come your way.
"Second, be curious and commit to lifelong learning," she said. Simmons pursued an MBA part-time at night while working full time for Anheuser-Busch.
Simmons other recommendations were to be flexible, ready to chart a new course and take on new challenges; to value people and develop trusting relationships; and to use their talents to give back in some way.
"My motivation is to give back to the university and pay it forward to students like you," says Simmons of her work on Missouri S&T's Board of Trustees. "I'm inspired to help S&T students be successful so that their lives can be enhanced, just like mine has been.
"I hope you will use your talents to give back in some way," she said. "When you can, find a way to get involved in initiatives that enhance others' lives. There's no shortage of need, and it's rewarding work."
Simmons earned a bachelor's degree in chemical engineering from Missouri S&T in 1984. She earned a master's degree in business administration from Washington University in St. Louis in 1995. S&T honored her with the Award of Professional Distinction in chemical engineering in 2015.
After graduation, she worked for Monsanto as a process engineer in a rubber chemicals manufacturing operation for two years then joined Anheuser-Busch Companies as a project engineer working in the brewing process. She held positions of increasing leadership responsibility on major capital projects to modernize and expand brewery operations across the United States and around the world. Simmons then transitioned into senior-level operations leadership for the Anheuser-Busch St. Louis Brewery. She retired after a rewarding 30-year career with the company.
Simmons has been involved as an alumna of S&T since graduation. She served as Anheuser-Busch's lead recruiter and campus champion for S&T for most of her career. She also served on the Career Development Council, the Career Opportunities and Employer Relations Advisory Council, and the Chemical Engineering Industrial Advisory Council. An active member of the Academy of Chemical Engineers and a member of the S&T Women's Hall of Fame, she currently serves as president of the S&T Board of Trustees.