S&T graduate Kathy Walker urges students to seize opportunities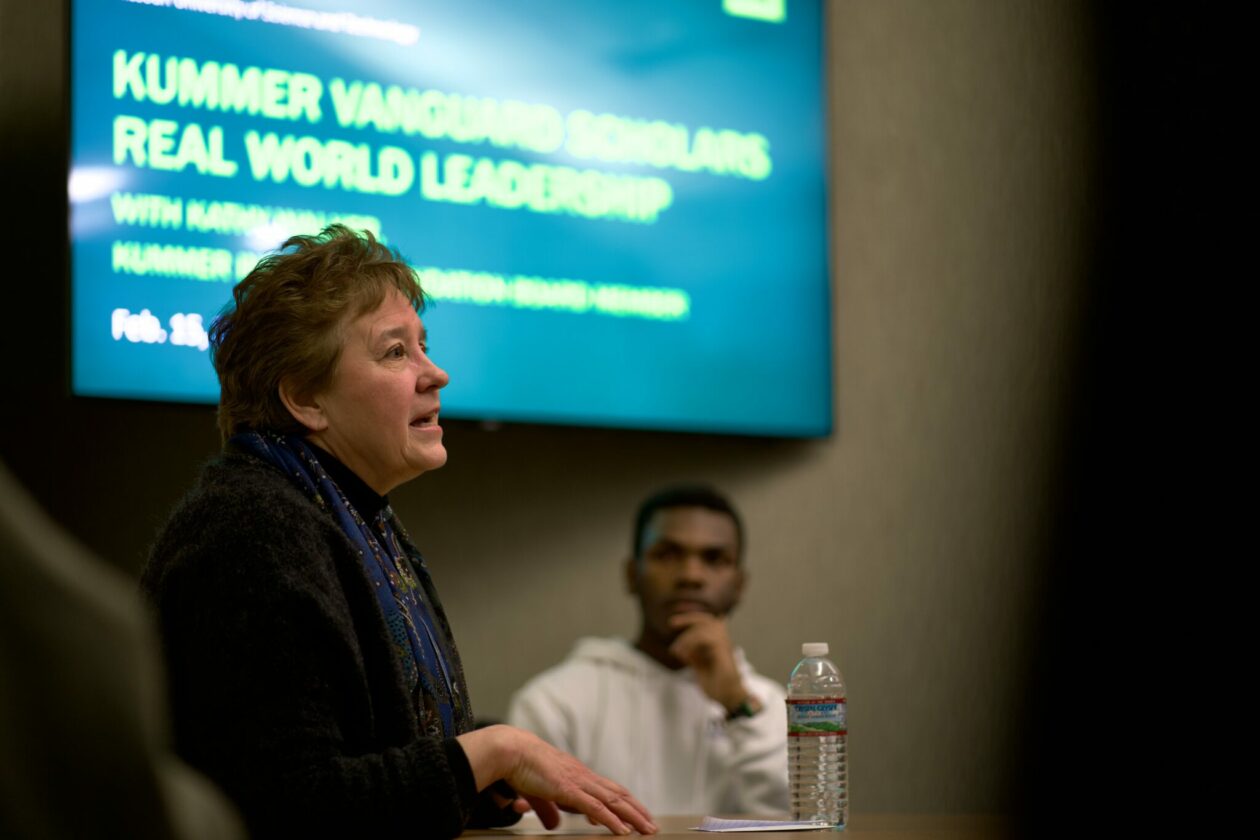 One of the first things Kathy Walker told the Kummer Vanguard Scholars she met with in February was that she considers her parents a blessing. Born and raised in a South Dakota town of 200, Walker, who, at the time of her retirement oversaw nearly 15,000 employees and a budget of $8 billion, recalled her father as someone who believed girls could – and should – do anything.
"His advice was, 'Pick what you want to do and get after it,'" says Walker, during her February visit to S&T as part of the leadership speaker series hosted by Kummer Student Programs. "My mom thought it was important to earn a degree and then earn a living."
Walker did both, earning a bachelor's degree from South Dakota State University, where an advisor noticed her penchant for systems thinking. In 1982, she earned a master's degree in engineering management from Missouri S&T, which gave her an award of professional distinction in engineering management in 1999. Walker, who now lives in Olathe, Kansas, held several positions over the nearly 25 years she worked at Sprint Nextel; ultimately, she was responsible for planning, design, and operation of the company's IT and network organizations. She stepped down to care for her by-then aging parents. She is currently managing director of OpenAir Equity Partners, a venture capital firm focused on investments in early-stage technology.
Walker also serves on the board of directors for a public company, for startups and for the Kummer Institute Foundation Board of Directors at S&T, which is responsible for managing the $300 million gift Fred and June Kummer made to the university in 2020. Walker is an Alumni Achievement Award recipient and was inducted into S&T's Women in Science and Engineering Hall of Fame. She has been a member of S&T's Board of Trustees since 2008, serving as board president from 2018 to 2020.
Seizing opportunities
Walker encourages students to sign up for activities not because they look good on a resume but because they offer an opportunity to develop new skills.
"On a student team, take the role that nobody wants, one that's important but not glamorous," she says. "Turn it into a source of momentum for the team."
While there was plenty of new technology to dive into, she says it wasn't all exciting. Still, early in her career, she was a hand raiser.
"I directed the digitizing of field records," she says. "That was a snoozer, but I tried to do it as well as I could, and be creative about it, and when the opportunity to do something different came along, because of the skills I'd demonstrated, I was able to take on additional roles."
Walker shares an experience she had at S&T as an example of an opportunity she missed.
"I was one of three students on a team, and when my part was finished I took a break," she says. "I should have spent that time with the team in order to make the project better."
Find a mentor
There's a large group of alumni waiting to be asked to be a mentor, Walker says. For students who wonder what an experienced leader could possibly impart on an undergraduate, Walker's answer is simple: Everything.
"As leaders of organizations they can tell you what skills they're looking for," she says. "They can tell you the roles the people who have moved ahead in their organizations took when they were students, roles that showed their grit and fortitude."
Communication
Walker believes diversifying communication skills is paramount to being an effective leader. In her roles she had to know how to reach people individually, while speaking in front of large groups, being interviewed on television or radio, or writing to thousands of readers. Once she became a leader of large teams, she committed to hosting regular webcasts.
"You also need to know how to speak to marketing people without falling back on jargon," she says, "and when your products and services aren't working the way they're supposed to, you have to speak to customers who believe you've ruined their world."
For students or those in the early stages of their career, Walker suggests attending conferences and volunteering to be on panels. And for those who want to be spontaneous during interviews or presentations, Walker offers a bit of counterintuitive advice: over prepare. For everyone, she encourages practicing receiving critical feedback.
"I had the usual need to hear positive things, but it's important to learn to hear about things you don't do so well," she says. "College is a good place to begin practicing those skills, which will make you more effective at working in teams, and at communicating with those you direct and those who direct you."
Authenticity
Walker believes one's leadership brand cannot be derived from a book or a podcast. She suggests focusing on authenticity.
"If it feels like you're different in high-visibility situations than you are in your everyday life, perhaps you haven't found your authentic self," she says. "Being a leader should not feel like play acting."
It also shouldn't feel like a quest for perfection. Walker acknowledges the importance of good grades, but she also urges students take risks.
"This is a great time to try new things, even if you're not 100 percent successful, because in a university setting you're among a sphere of people you likely won't see in the future," she says. "The cost of failure here is less."
Beyond S&T
Walker urges students to stay connected to S&T after graduation.
"Find a couple of people who can help you as you begin your career, who can offer solid advice about issues we've all had to face, such as bad assignments or difficult colleagues," she says. "It's important to have a steady, common-sense advisor who is a few chapters ahead of you."
Academic advisors are a great resource, Walker says. They possess a depth of knowledge based on years of working with students.
"Find people who will invest in you," Walker says. "And when you're further along in your career, and students ask you for advice, be prepared to invest in others."
Tips for success
The students who attended Walker's talk represented a spectrum of majors, minors, areas of interest and backgrounds. Many of the tips Walker shared from her career and life transcended categories.
Surprises at work aren't good – if you are going to miss a deadline, let people know.
Raise your hand, have enthusiasm and demonstrate you can teach yourself new things.
Non-restful sleep is a sign that you've got too much on your plate.
Leadership isn't something that can be developed in a day.
When you're making a job change, move toward something better rather than away from a bad situation.
We have two ears and one mouth. Communicate accordingly.
About Missouri University of Science and Technology
Missouri University of Science and Technology (Missouri S&T) is a STEM-focused research university of over 7,000 students. Part of the four-campus University of Missouri System and located in Rolla, Missouri, Missouri S&T offers 101 degrees in 40 areas of study and is among the nation's top 10 universities for return on investment, according to Business Insider. For more information about Missouri S&T, visit www.mst.edu.