Missouri S&T jazz ensembles and orchestra to perform spring concerts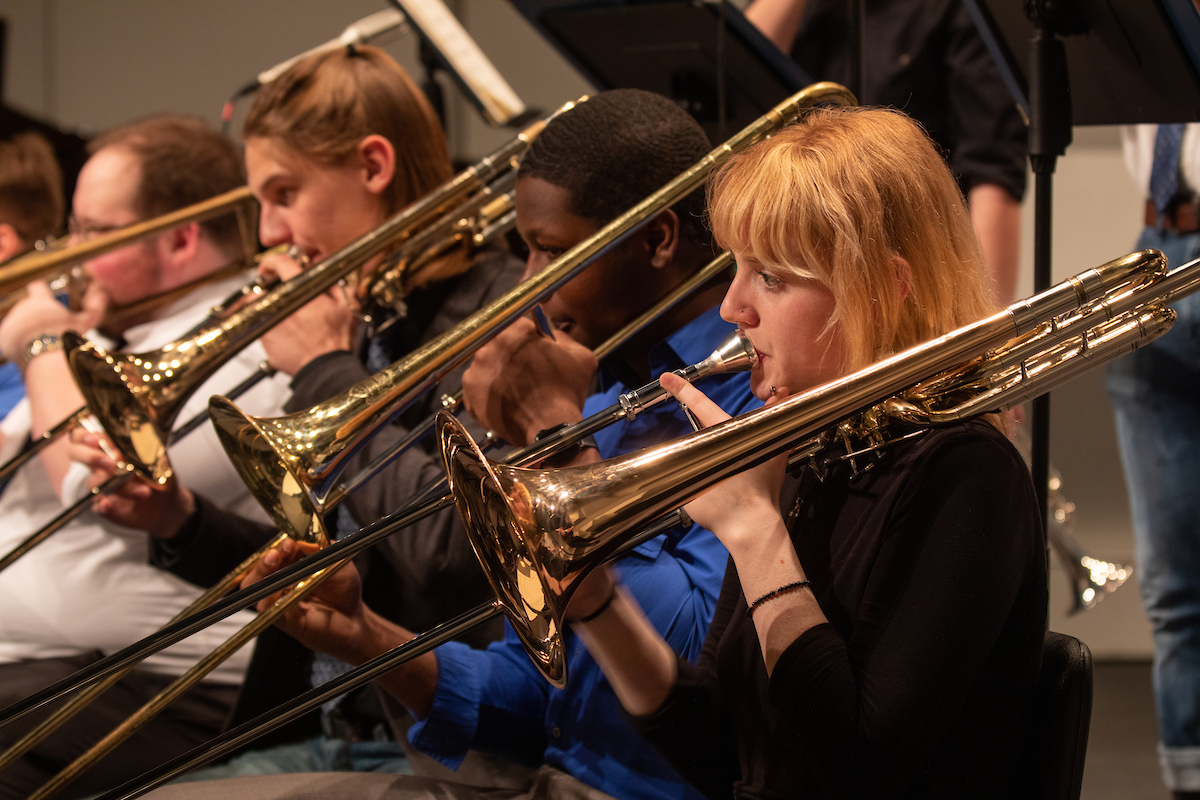 Missouri S&T's orchestra and jazz ensembles are going to the movies in two concerts presented by the arts, languages, and philosophy department this April.
The jazz ensemble concert will begin at 7 p.m. Friday, April 14, in Leach Theatre of Castleman Hall, located at the corner of 10th and Main streets on the Missouri S&T campus. The ensembles will perform music from "The Incredibles," "Mister Rogers' Neighborhood," "West Side Story" and more.
The orchestra concert will begin at 2 p.m. Sunday, April 16, also in Leach Theatre. The orchestra will perform music from "Harry Potter," "How to Train Your Dragon," "Star Wars" and more.
Both concerts will be directed by Dr. Kyle Wernke, an assistant professor of music at Missouri S&T.
"From Erich Korngold's 'The Sea Hawk' to John Williams' 'Star Wars' and Michael Giacchino's 'The Incredibles,' many of us can trace our first experiences with instrumental music to film and television," says Wernke. "Friday the jazz ensembles will journey from the rough and tumble world of the Sharks and Jets to Fred Rogers' beautiful neighborhood. On Sunday the orchestra will take to the high seas with Errol Flynn, gallop through the American west with Yul Brynner, and soar through the skies with Hiccup and Toothless. Join us in Leach Theatre for a weekend at the movies!"
Tickets are $5 for the public and free to youth ages 18 and under and Missouri S&T students with a valid ID. Tickets can be purchased from the Leach Theatre Box Office, located inside the main entrance to Castleman Hall, facing 10th Street. The box office is open from 10 a.m. to 4 p.m. Monday through Friday. Tickets can also be purchased online at leachtheatre.mst.edu or by calling 573-341-4219. Service fees may apply to tickets purchased online.
For more information visit alp.mst.edu/news-and-events, or contact the arts, languages, and philosophy department by phone at 573-341-4185 or by email at alp@mst.edu.
About Missouri University of Science and Technology
Missouri University of Science and Technology (Missouri S&T) is a STEM-focused research university of over 7,000 students. Part of the four-campus University of Missouri System and located in Rolla, Missouri, Missouri S&T offers 101 degrees in 40 areas of study and is among the nation's top 10 universities for return on investment, according to Business Insider. For more information about Missouri S&T, visit www.mst.edu.