O'Fallon native works to remove greenhouse gases from the atmosphere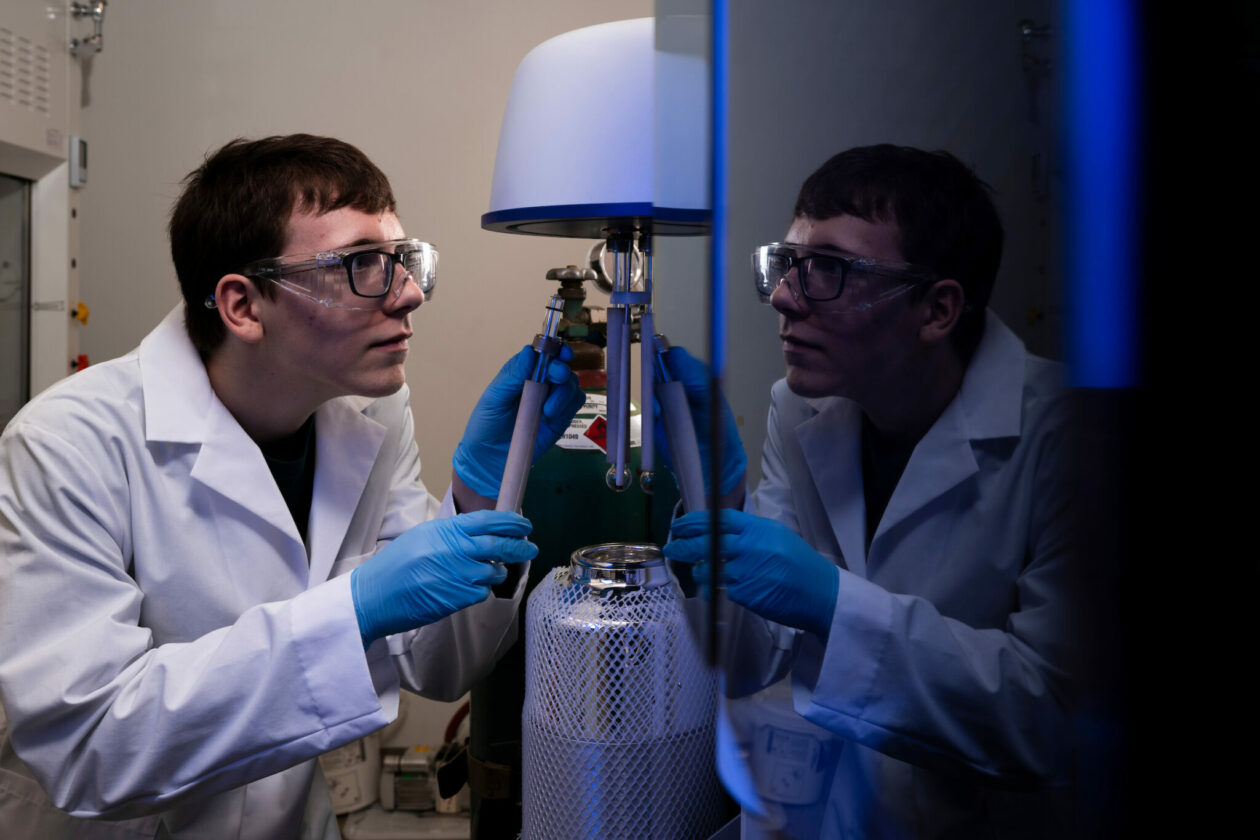 Missouri S&T student Samuel Hackett says that he feels most at home in the laboratory. Hackett is only a sophomore, but he has already conducted chemical research for two years and hopes to continue that path for the rest of his life.
"If you are a student at Missouri S&T, and you aren't doing research, you are missing out," says Hackett, a sophomore in chemistry from O'Fallon, Missouri. "There is great research potential here, so you gotta use it. Ask any teacher you take a class with and see if they have a project you can help out with."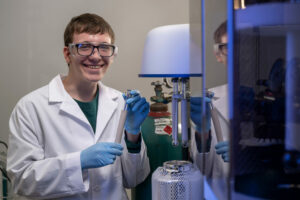 Hackett started out as a First Year Research Experience (FYRE) student at Missouri S&T, a program in the College of Arts, Sciences, and Education, where first year and transfer students can work one-on-one with a faculty mentor on a specific research project. He enjoyed doing research in the lab so much, he stayed on as an undergraduate researcher in the laboratory of Dr. Chariklia Sotiriou-Leventis, chair and professor of chemistry at Missouri S&T.
His current work focuses on carbon aerogels and their ability to absorb carbon dioxide from the atmosphere.
"My research project looks at high-capacity aerogels for selective absorption of carbon dioxide," says Hackett. "Aerogels are these lightweight, porous materials that can be used for this type of work because they have a lot of space between their structure and the gases can enter there and become trapped."
Hackett says that aerogels could help negate Missouri's carbon emissions from places such as power plants or industrial mills. He is using a new aerogel tailored to selectively absorb carbon dioxide instead of over other common gases such as hydrogen, nitrogen or methane.
"The final product of this research will hopefully help the world, because that is the end goal of almost all research," says Hackett. "In my research or career, I don't care about making a ton of money or anything, honestly, I just want to do what I want in life – and that is chemistry."
About Missouri S&T
Missouri University of Science and Technology (Missouri S&T) is a STEM-focused research university of over 7,000 students. Part of the four-campus University of Missouri System and located in Rolla, Missouri, Missouri S&T offers 101 degrees in 40 areas of study and is among the nation's top 10 universities for return on investment, according to Business Insider. For more information about Missouri S&T, visit www.mst.edu.