S&T student named global champion by UN's Education Cannot Wait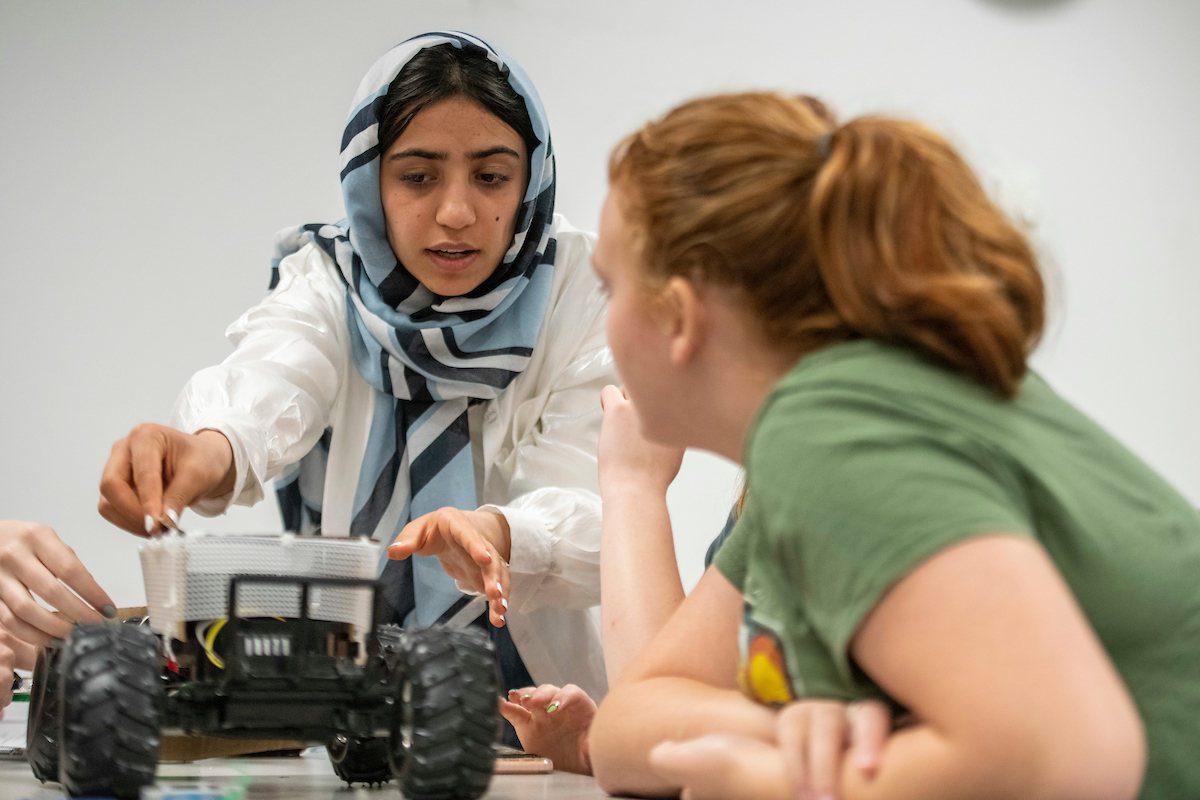 In celebration of the International Day of Women and Girls in Science, Education Cannot Wait today (Saturday, Feb. 11) named Somaya Faruqi as a global champion. Education Cannot Wait is the United Nations' global fund for education in emergencies and protracted crises.
Faruqi is a first-year mechanical engineering student at Missouri S&T and the former captain of the Afghan girls' robotics team. She made international headlines when her high school team, the "Afghan Dreamers," built a ventilator from used car parts in response to the COVID-19 pandemic.
As an advocate for Education Cannot Wait, Faruqi will headline a panel discussion on Afghanistan at the organization's High-Level Financing Conference Feb. 16-17 in Geneva, Switzerland.
"I am honored to accept my appointment as Education Cannot Wait's Global Champion on behalf of all the girls worldwide who dream – against all odds – of an education," she says. "These are the future scientists and leaders of tomorrow. So many are being left behind. We must unite in our efforts to ensure girls everywhere can access high-quality science, technology, engineering and math education, and realize our collective dreams of a better, more equal world for all."
Faruqi was born in Herat, Afghanistan. She cultivated her love of engineering in her father's mechanics shop. Her high school career and leadership of the Afghan Dreamers was cut short by the Taliban takeover in Afghanistan. She and her teammates fled the country in August 2021. One year later she started her college studies at Missouri S&T. In September, she spoke about education equality at the United Nations General Assembly in New York City.
"Somaya Faruqi is a shining example to us all that with courage, hope, and tenacity, we can ensure every girl – and every boy – across the planet is able to experience the hope and opportunity that only a quality education can provide," says Yasmine Sherif, executive director of Education Cannot Wait. "As our global champion, Somaya will advocate for all of the world's 222 million crisis-impacted girls and boys that so urgently need our support. Somaya is the face of a new generation of young leaders – and the face of the Afghan people at their best – proud, profound, brilliant and unstoppable."
About Missouri University of Science and Technology
Missouri University of Science and Technology (Missouri S&T) is a STEM-focused research university of approximately 7,000 students. Part of the four-campus University of Missouri System and located in Rolla, Missouri, Missouri S&T offers 101 degree programs in 40 areas of study and is among the nation's top 10 universities for return on investment, according to Business Insider. For more information about Missouri S&T, visit www.mst.edu.