S&T student receives international accolades for research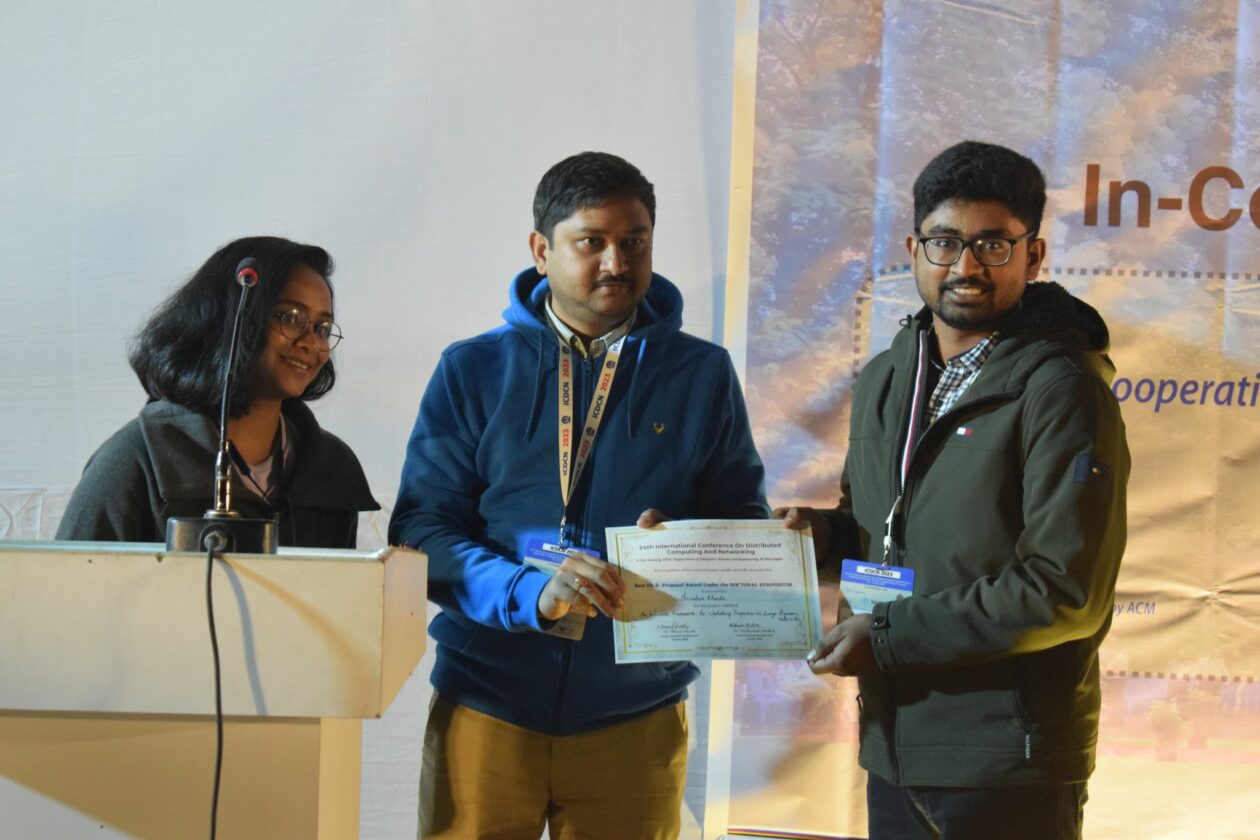 When winter break begins, students at many universities may breathe a sigh of relief and enjoy some well-deserved rest and relaxation. Missouri S&T student Arindam Khanda, however, does not fit this description, and he has the accolades to prove it.

Khanda, a Ph.D. student studying computer science, spent his winter break in India and took part in three conferences in which he shared his research and won awards for his efforts.

"Attending these conferences was an amazing experience," Khanda says. "I visited different venues and met several research scholars, professors and researchers working in my domain. I consider the awards I received to be incentives that will help me to continue my rigorous research work throughout the year."

In December, Khanda started his conference tour by having his paper, "Parallel Vertex Color Update on Large Dynamic Networks," nominated for the Best Paper Award at the 29th IEEE International Conference on High Performance Computing, Data and Analytics.

Along with Khanda, collaborators for this paper included Dr. Xin Liang, a former S&T professor who is now at University of Kentucky; Dr. Sanjukta Bhowmick, an associate professor at the University of North Texas and Dr. Sajal Das, a computer science professor and the Daniel St. Clair Endowed Chair at Missouri S&T.

Then, at the 24th International Conference on Distributed Computing and Networking held in early January, Khanda's extended abstract submitted for the doctoral symposium was honored for being the best proposal. The paper is titled "A Parallel Framework for Efficiently Updating Graph Properties in Large Dynamic Networks."

At his final conference in January, which was the Professor Arun Kumar Choudhury Birth Centenary Symposium, or the AKC100, Khanda received a best poster honor. The poster is based on the same research topics Khanda covered at the other conferences.

Khanda says he looks forward to finishing his doctoral research in the coming year and sharing his findings with the academic community. He says Das has served as an inspiration throughout his studies, and it was Das who encouraged him to participate in multiple conferences throughout the winter break.

For more information about Missouri S&T's computer science programs, visit cs.mst.edu.
About Missouri University of Science and Technology
Missouri University of Science and Technology (Missouri S&T) is a STEM-focused research university of over 7,000 students. Part of the four-campus University of Missouri System and located in Rolla, Missouri, Missouri S&T offers 101 degrees in 40 areas of study and is among the nation's top 10 universities for return on investment, according to Business Insider. S&T also is home to the Kummer Institute, made possible by a $300 million gift from Fred and June Kummer. For more information about Missouri S&T, visit www.mst.edu.