Oak Ridge National Laboratory leader offers advice to Missouri S&T Ph.D. graduates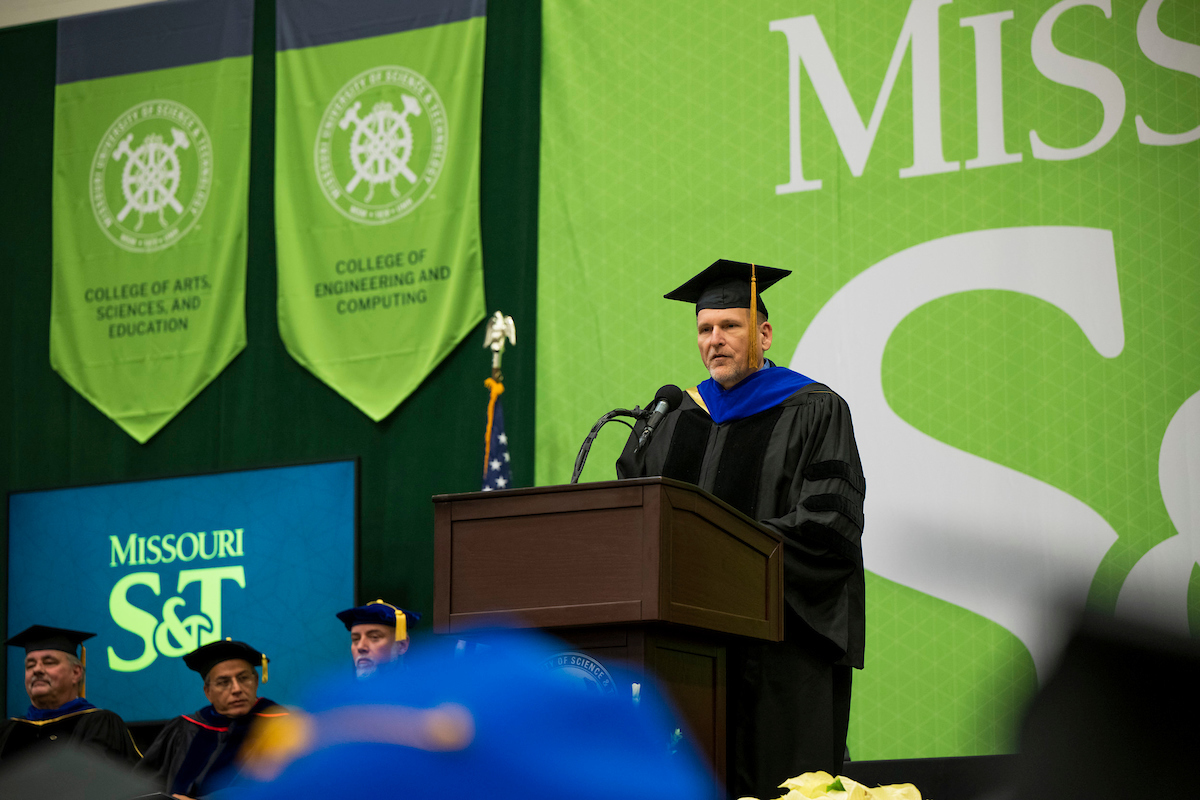 Missouri University of Science and Technology graduate Dr. Robert Wagner, director of the Buildings and Transportation Science Division at Oak Ridge National Laboratory (ORNL) in Tennessee, shared life lessons with Missouri S&T Ph.D. graduates from the near failure that led to his success.
"I came to Missouri S&T 34 years ago with an unbridled excitement for the opportunities ahead," Wagner said. "I looked forward to following my brothers as first-generation college graduates and as alumni of this great institution.
"Two months later, I dropped out," he said. "I was failing my courses. I went home with no hope and an unknown future."
Wagner spent the next three semesters at a community college continuing his education, rebuilding his confidence and planning his next steps before returning to S&T more motivated and more driven.
"Over the years, I have always taken time to reflect on and document what has worked and what has not," Wagner said. "I find that analyzing these experiences and then writing them down is key to continuing to grow as a scientist and leader. I know the list will never be complete as our learning never stops."
Wagner shared five of these life lessons:
"Give people the benefit of the doubt. In other words, start with respect and assume the best intentions. There is time to course correct later if necessary.
"Not everyone is like you and your friends. Recognize and embrace the diversity of thought around you, and again, assume the best of intentions.
"Embrace the awkward and uncomfortable moments. These can be signs of uncertainty, dysfunction or even malice. Address them fast for the good of the team and yourself.
"Make your own opportunities. While it is very important to seize the opportunities at hand, you cannot always wait for opportunities to present themselves. They may never come. Take responsibility for creating your own opportunities.
"Always act with intention and a sense of urgency. I have found this combination to be critical to success.
"I hope that over your career, you will also reflect on what worked and what did not and remember those lessons. The world is changing fast, and there is so much for each of us to learn.
"I understand what it took for you to get here," Wagner said. "Completing your Ph.D. is a lesson like no other in learning, perseverance and even humility. Be proud of and reflect on the significance of your accomplishment – every one of you has advanced the knowledge of humankind."
Wagner earned bachelor's, master's and Ph.D. degrees in mechanical engineering from Missouri S&T in 1993, 1995 and 1999, respectively. He first joined the lab in 1999 as a postdoctoral research fellow.
As director of the Buildings and Transportation Science Division, Wagner and his team strive to make science and technological breakthroughs in buildings and transportation to ensure a safe, secure and sustainable energy future.
Wagner previously led ORNL's National Transportation Research Center, which focuses on early-stage research and development in transportation technologies. A member of the leadership team, he is a founding member of DOE's initiative on the Co-Optimization of Fuels and Engines. This initiative combines the expertise of nine national laboratories, over 20 universities, and the energy department's offices of vehicle technologies and bioenergy technologies.
Wagner is a Fellow of the American Association for the Advancement of Science (AAAS), the Society of Automotive Engineers (SAE) International, and the American Society of Mechanical Engineers (ASME). He has served on the editorial boards of four international journals and on executive committees for ASME and SAE. Wagner has organized over 30 technical conferences and symposiums, has authored more than 100 technical publications, and has delivered over 60 invited presentations in 10 countries.