Missouri S&T students compete to define innovation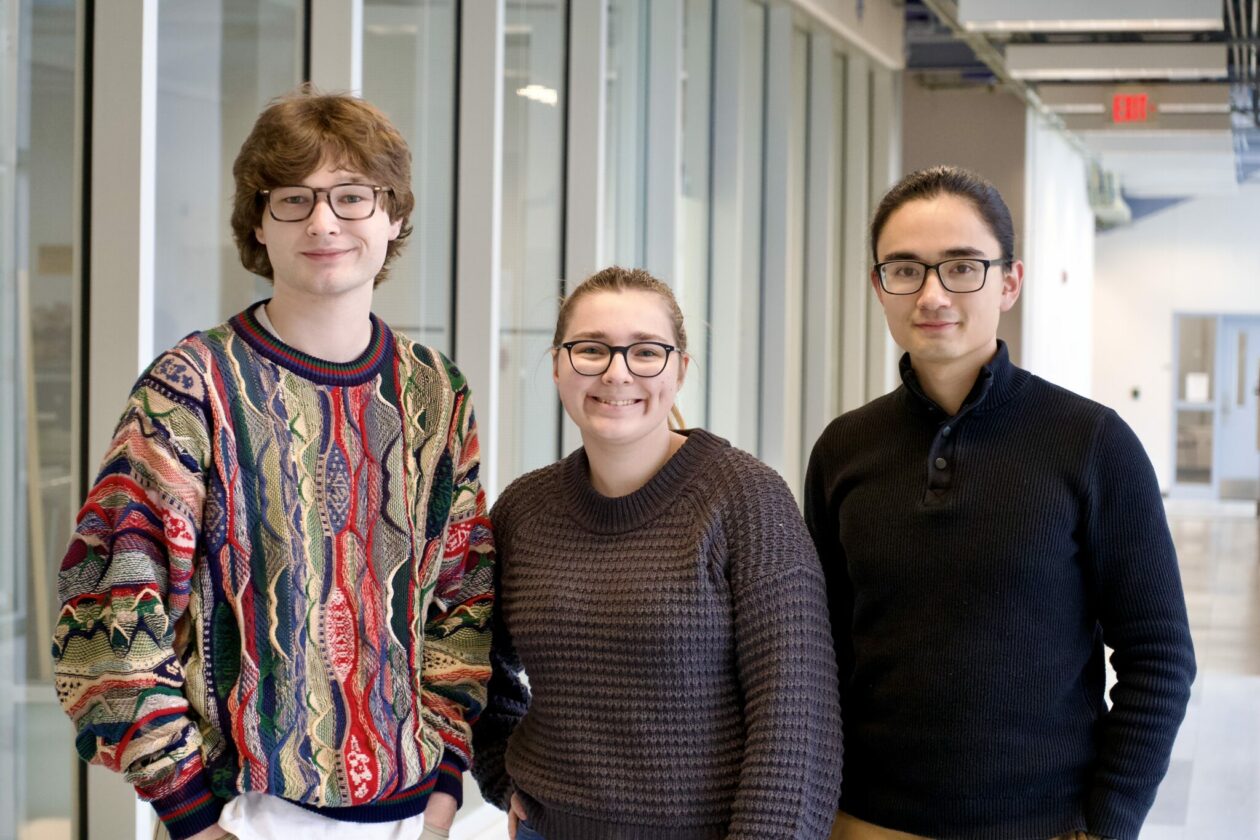 The popularity of the word innovation seems nowhere near its peak, but what does the term actually mean? A recent competition challenged Missouri S&T students to address that question with a physical or digital creation.
The competition was part of the university's two-year anniversary celebration in October of the $300 million gift from the late Fred Kummer, a 1955 Missouri S&T graduate, and his wife, June. It was organized by the Kummer College of Innovation, Entrepreneurship, and Economic Development, the Center for Arts and Innovation, and Kummer Student Programs, which oversees the Vanguard Scholars Program for first-year and transfer students interested in pursuing degrees and careers in science, technology, engineering and mathematics (STEM) and related disciplines.
The winning team in each category received a $400 prize. Each team that won its category also won the category's people's choice award, bringing the prize total to $500 for each team.
"Our goal was to show how innovation in the 21st century is about taking small, incremental steps rather than making huge bounds forward," says Joseph Nguyen, a member of the team that won the video category. Nguyen is a sophomore in mechanical engineering from Springfield, Missouri. The other members of the team are Carter Allen, a sophomore in mechanical engineering from Chillicothe, Missouri, and Elizabeth Say, a sophomore in metallurgical engineering from Tulsa, Oklahoma.
Set against a sparse yet lush backdrop of rushing water, forests and lonesome roads, the video Navigating Innovation emphasizes the evolution of humanity's ability to chart its own course, but only to an extent.
"Navigating innovation requires us to always anticipate what's next," says Nguyen. "We don't know what technological advances there will be in the future, so we have to take small steps in an often-unknown direction toward a goal."
Alexander Richardson, a first-year student from St. Defiance, Missouri, was a member of the team that won the physical display category. Richardson, who has not declared his major but is leaning toward aerospace engineering, says the idea for a sculpture created with broken glass came to him in a dream. The other members of the team are William Blankenship, a first-year electrical engineering student from Urbana, Missouri, Ashton Parker, a first-year mechanical engineering student from O'Fallon, Missouri, and Jack Schriber, a junior in aerospace engineering from St. Charles, Missouri.
"The idea behind the sculpture is that great innovation breaks through present barriers to create something amazing," he says. "The shards of glass represent the remains of barriers, after having been broken through by something greater – the innovation – as it rises up into the sky."
The shards of glass from a broken window and a diffuser from a fluorescent light fixture were salvaged from recycling; the remains of a shredded pillow were used as filler to solidify the sculpture. The big-ticket item was a bin purchased at Walmart for $6 and used as a base.
"We're college students," Richardson says. "We're on a budget."
Exploring different approaches and perspectives
Dr. Rachel Kohman is director of Kummer Student Programs. She believes the competition encouraged students to think more deeply about the meaning of innovation, and then harness creativity to translate their vision into something tangible.
"This is an excellent example of our cross-disciplinary approach to preparing our students to lead in the future," she says. "Our goal is to help students develop analytically as well as creatively, to work individually and as members of diverse teams, and to learn to approach challenges from various perspectives."
Nguyen, who says he's always had strong visual sensibilities, is no stranger to switching perspectives. In high school, his side hustle was taking graduation photos and creating dance and prom videos. As a student at S&T, where his work-study job is shooting photos for new student programs, he approached the competition with a mission: combine engineering and creativity.
"For innovation to happen, I think it's important to paint a vision that others can see," he says. "For me, photography and cinematography are a natural way to narrate. Taking pictures of people working on projects creates a visual aspect of what they're learning and exploring. Plus, it's something I enjoy."
In part, the opportunity to work creatively in a technological realm drew Nguyen to mechanical engineering.
"I want to be limitless, always evolving, improving and seeking to make things better," he says. "If I want to design and build a satellite, I can begin by drawing it, and then bring it to life through engineering."
Richardson's participation was rooted in teamwork.
"A guy in my fraternity thought I was good at creative projects, so he asked if I'd like to help build a team," he says. "We built the team and then got started brainstorming."
What began as a study group evolved into a team ready for competition. After deliberating and weighing pros and cons, Richardson's idea for a glass spire prevailed and the process of creating the piece began.
Like Nguyen, Richardson considers innovation as much process as result. He cites Thomas Edison as an example.
"Most people consider him an inventor, but I think of him as an innovator," he says of Edison, who is recognized as one of the first to apply the principles of organized science and teamwork to the process of invention. "In many cases he took what had already been proven, broke it down and then rebuilt it into something more effective and useful."
About Missouri University of Science and Technology
Missouri University of Science and Technology (Missouri S&T) is a STEM-focused research university of over 7,000 students. Part of the four-campus University of Missouri System and located in Rolla, Missouri, Missouri S&T offers 101 degrees in 40 areas of study and is among the nation's top 10 universities for return on investment, according to Business Insider. S&T also is home to the Kummer Institute, made possible by a $300 million gift from Fred and June Kummer. For more information about Missouri S&T, visit www.mst.edu.