Missouri Lt. Gov. Mike Kehoe shares life experience with Missouri S&T graduates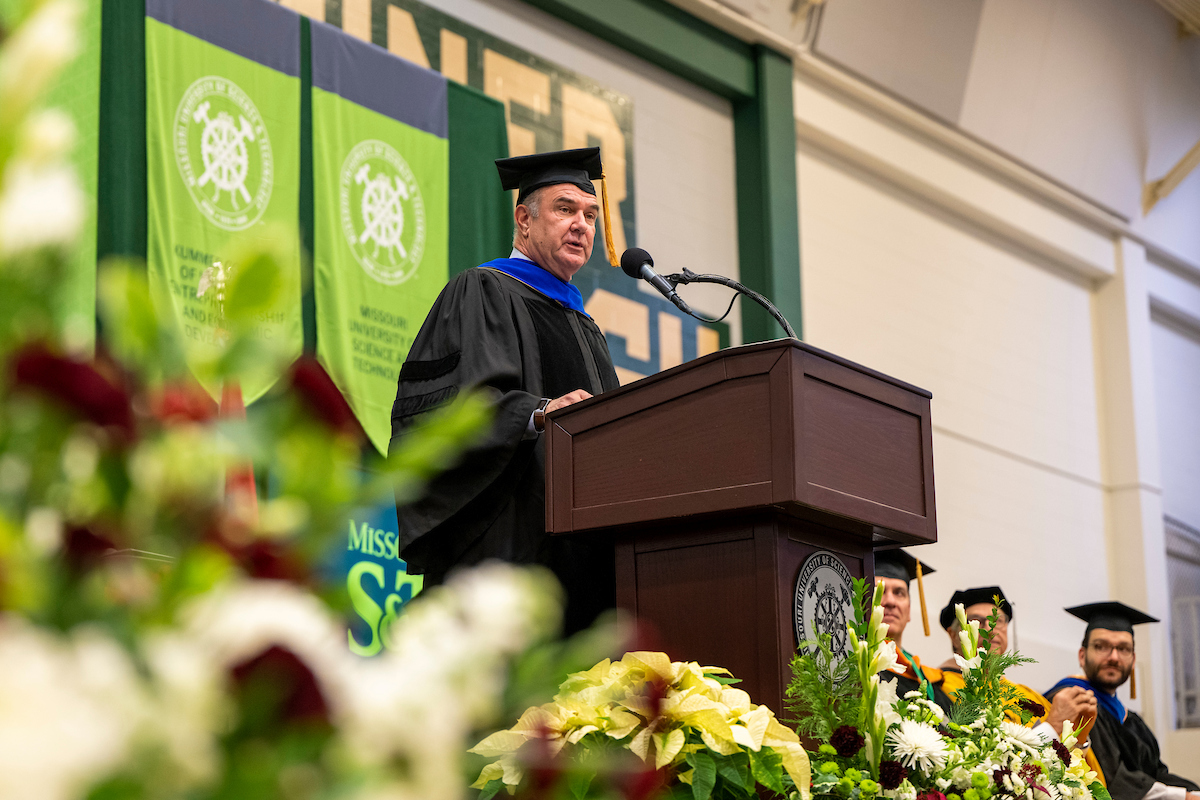 Missouri Lt. Gov. Mike Kehoe shared life lessons and advice with graduates at two Missouri University of Science and Technology commencement ceremonies held Saturday, Dec. 17, on the Missouri S&T campus.
Kehoe told the graduates about being raised by a single mother, getting a job washing cars at a Dave Sinclair Ford dealership at age 15, and working through the ranks to company ownership and eventually Missouri government. He shared with the graduates important lessons he learned during his career.
"I can tell you with absolute certainty that working hard and valuing those you work with will give you the foundation to do great things," Kehoe said. "You'll learn leadership is not passed through the bloodline, you have to earn it. You have to help others become better around you. One of the secrets of leadership is empowering the people on your team. When you give the people the opportunity to do the right thing, they will often attain great things.
"Success does not come to those who sit back and wait for it," he said. "You have proven this fact because you are seated at this ceremony today. Each of you has encountered roadblocks and challenges in pursuit of higher education. You have proven you have the tenacity and dedication and the commitment to set a goal and see it through until the end. You now know exactly what you are capable of doing.
"In the future, I challenge you to never sell yourself short, because you will soon find out work does not end here. Quite frankly it's just the beginning," Kehoe said. He also offered the graduates ways they can prove themselves.
"Be the new employee who works hard at every task given, regardless of how insignificant it may seem," he said. "Be the employee who is willing to volunteer when others are not. Demonstrate loyalty and it will very likely be reciprocated. Demonstrate respect and it will very likely be reciprocated. Work is always work, but it becomes a lot more fun and rewarding when you invest yourself and become good at it."
Kehoe told the graduates he asked for speech-writing advice from a friend who is a Missouri S&T engineering graduate.
"Anyone can be an engineer," he said. "But the people who gives the extra effort and work through issues like people's personalities, the politics of the situation, the interaction with customers and vendors, those folks will rise to the top of their field."
Kehoe has served as Missouri's 48th lieutenant governor since 2018. Prior to this, he represented the Sixth Senatorial District, where he served as both assistant majority leader and majority leader.
Kehoe chairs the Missouri Food, Beverage and Forest Manufacturing Products Task Force. He serves on the Missouri Development Finance Board and the Missouri Capitol Commission and promotes Missouri tourism and the Missouri Arts Council. Under his leadership, the Buy Missouri program has grown to over 400 members representing 85 counties. He strives to increase awareness of state and federal programs for veterans, seniors and their families.
Kehoe and his wife, Claudia, have called mid-Missouri home for more than 30 years and are the parents of four children. He remains a businessperson at heart, never forgetting the lessons learned at Osage Industries and Mike Kehoe Ford-Lincoln. In addition to his public service, he enjoys being a first-generation farmer and working at his beef cattle production business located on the family farm in Phelps County.