Dr. David Westenberg named Curators' Distinguished Teaching Professor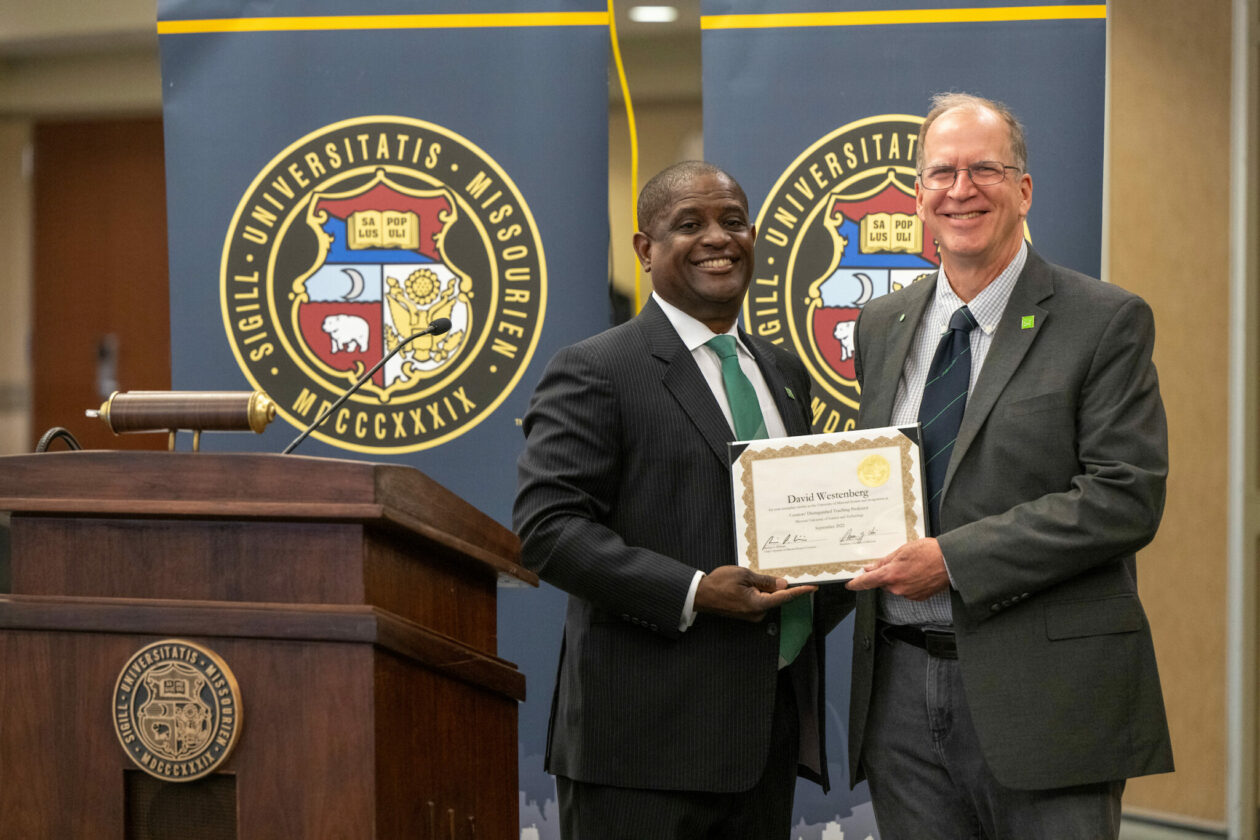 Dr. David Westenberg, professor of biological sciences at Missouri University of Science and Technology, has been named Curators' Distinguished Teaching Professor.
The Curators' Distinguished Teaching Professorship was established at S&T in 1990 to honor outstanding professors, call attention to teaching excellence, and foster improvements in teaching and learning.
Westenberg, who joined the Missouri S&T faculty in 1997, holds a Ph.D. in microbiology and molecular genetics from the University of California, Los Angeles. He spent two years in Germany as an Alexander von Humboldt Fellow and four years as a United States Department of Agriculture (USDA) postdoctoral fellow at Dartmouth College. His research focuses on the role of rhizosphere microorganisms on plant nutrition and bioremediation with an emphasis on the Bradyrhizobium japonicum/soybean symbiosis. His research goal is to use the interaction between bacteria and their host plants to enhance crop yield, improve plant nutrition and remove toxic materials.
Westenberg's lab is currently studying the antimicrobial properties of bioactive glass with colleagues in materials science and engineering. Past projects include the antibacterial properties of oil smoke vapors, the interaction of metals with microbes, the use of bacteria to recycle concrete waste and enhance soil properties, and the use of microbes for biofuel production. His research has been funded by the Missouri Research Board, Missouri S&T Materials Research Center and Center for Biomedical Research, Missouri Soybean Merchandising Council, USDA, Pegasus Corp. and Dow Chemical.
Westenberg co-directed the Missouri S&T Science Education and Quantitative Literacy professional development program for K-12 teachers. He has taught teacher workshops for the BioBuilder Foundation and the Howard Hughes Medical Institute Biointeractive program and has given educational presentations and organized symposia at local, regional, national and international conferences.
Westenberg has been S&T's faculty athletics representative since 2013. He served for over 10 years as S&T's pre-medical advisor, participated in the NCAA Faculty Athletics Representative Fellows program and was a finalist for the 2018 NCAA Dave Pariser Faculty Mentor Award. In addition to research and teaching, he is co-advisor of the Missouri S&T iGEM synthetic biology student organization and advisor for the Missouri S&T Chapter of the National Society for Leadership and Success. He has received numerous awards for teaching and service including the inaugural College of Arts, Sciences, and Education Dean's Medal in 2021, the University of Missouri System President's Award for Community Engagement in 2020, and the American Society for Microbiology Carski Award for teaching and student success in 2020.