Missouri S&T launches robot delivery service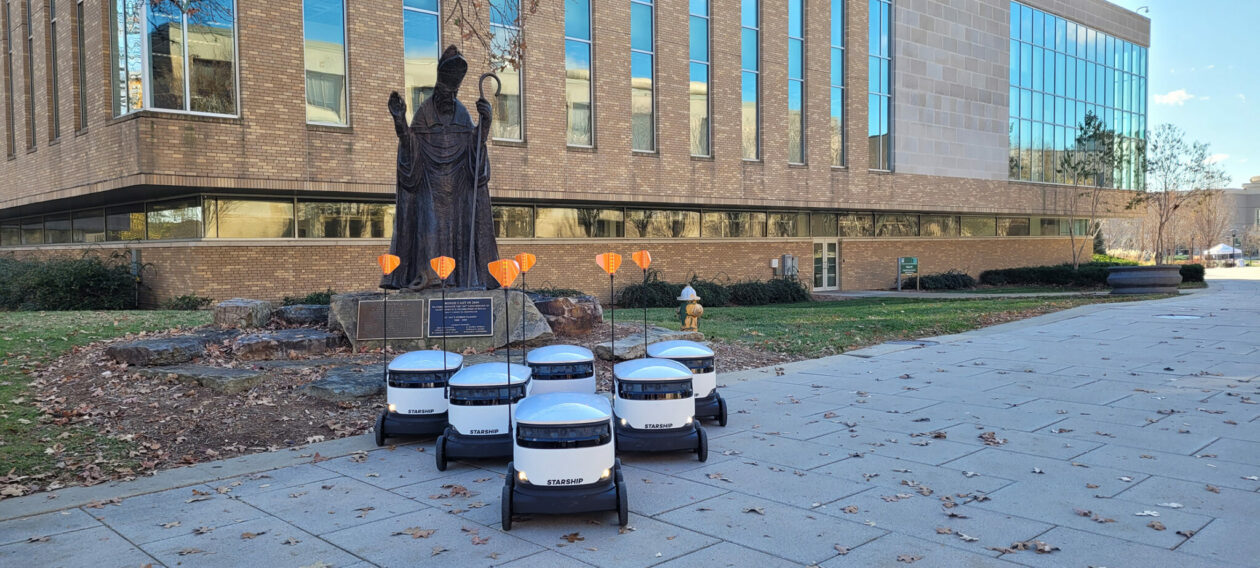 Starship Technologies rolled ­­out its robot food delivery service today on Missouri S&T's campus.
Starship's fleet of 16 autonomous, on-demand robots will deliver from all campus eateries. S&T's students, faculty and staff can now use the Starship app (iOS and Android) to order food and drinks from local retailers to be delivered anywhere on campus, within minutes. The service works in conjunction with the student meal plan.
"I'm really excited for these robots," says S&T student Olivia Romisch, a junior in civil engineering from Overland Park, Kansas. "Having the ability to get breakfast delivered right to my door simply with my meal plan will be a lifesaver for early classes and long days."
Starship provides these services to campuses across the country, including Bowling Green State University, the University of Utah and University of Idaho. Since launch, all campuses have increased the number of robots, dining options and hours of operation to meet demand for the service.
To get started, users open the Starship Deliveries app, choose from a range of their food or drink items, then drop a pin where they want their delivery to be sent. They can then watch as the robot makes its journey to them, via an interactive map. Once the robot arrives, they receive an alert, and can then meet and unlock it through the app. The delivery usually takes just a matter of minutes, depending on the menu items ordered and the distance the robot must travel. Each robot can carry the equivalent of about three shopping bags of goods.
"We're looking forward to serving the Missouri S&T campus community," says Chris Neider, director of business development at Starship Technologies. "We know these students appreciate tech so we think it will be a great experience for them to interact with our robots every day. Plus, we can't wait to hire some of them for valuable real-world training."
Starship Technologies operates commercially on a daily basis around the world. Its zero-emission robots have made more than 4 million autonomous deliveries, traveled millions of miles and make more than 140,000 road crossings every day. The robots use a combination of sophisticated machine learning, artificial intelligence and sensors to travel on sidewalks and navigate around obstacles. The computer vision-based navigation helps the robots to map their environment to the nearest inch. The robots can cross streets, climb curbs, travel at night and operate in rain and snow. A team of humans can also monitor their progress remotely and can provide assistance if needed.
The Starship food delivery robots are provided by Starship Technologies in partnership with Missouri S&T Dining Services, part of Compass Group. No university funds were used. 
About Starship Technologies
Starship Technologies is revolutionizing deliveries with autonomous robots. The robots are designed to deliver food, groceries and packages locally in minutes. The delivery robots have traveled millions of miles and completed 4 million autonomous deliveries around the world. Starship was founded by Ahti Heinla and Janus Friis (Skype Chief Architect and Co-founder) and Alastair Westgarth is the CEO.
About Missouri University of Science and Technology
Missouri University of Science and Technology (Missouri S&T) is a STEM-focused research university of over 7,000 students. Part of the four-campus University of Missouri System and located in Rolla, Missouri, Missouri S&T offers 101 degrees in 40 areas of study and is among the nation's top 10 universities for return on investment, according to Business Insider. S&T also is home to the Kummer Institute, made possible by a $300 million gift from Fred and June Kummer.